Today's credit aggregates data from the Reserve Bank of Australia reported an acceleration of mortgage growth; although it remained soft on a historical basis.
CBA's head of Australian economics, Gareth Aird, expects housing credit to remain low, eliminating the need for the Australian Prudential Regulatory Authority (APRA) to tighten macro-prudential curbs on mortgages:
We expect to see a modest lift in housing credit of ~5% in 2021. Such an outcome would not concern the Australian Prudential Regulation Authority (APRA) or the RBA.

It is worth noting that housing credit does not include offset balances. There has been strong growth in offset balances over the past year (see chart opposite). Households have built up large cash buffers over the COVID-19 period.

All up, a print today that lines up with our view that macro-prudential polices are unlikely to be implemented in 2021 despite a red-hot housing market and strong growth in new lending expected to continue over the year.
I wholeheartedly agree. Another factor working against macro-prudential is that mortgage growth is being driven by owner-occupiers, rather than investors: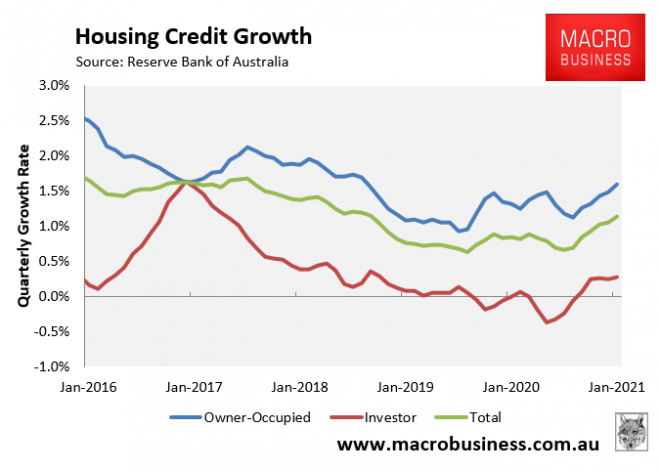 This is the polar opposite to New Zealand, where mortgage demand is being driven primarily by investors, which recently prompted the Reserve Bank of New Zealand to tighten loan-to-value-ratio requirements on "speculative" investor mortgages:
"There is evidence of a speculative dynamic emerging with many buyers becoming highly leveraged.

"A growing number of highly indebted borrowers, especially investors, are now financially vulnerable to house price corrections and disruptions to their ability to service the debt. Highly leveraged property owners, in particular investors, are more prone to rapid 'fire sales' that potentially amplify any downturn".
These conditions are not present in Australia. Hence, we do not see Australian authorities following in any hurry whatsoever, in part because investor mortgage flows are so subdued.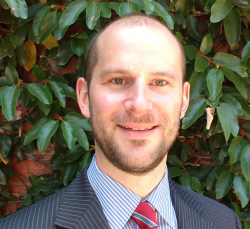 Latest posts by Unconventional Economist
(see all)