Via ITNews:
The federal government has expanded the scope of Australia's fledgling permanent migration scheme for highly-skilled technologists after tripling the program's intake for this financial year.

The change is contained in new direction for the two feeder visas used for the 'Global Talent Independent' (GTI) program – subclass 858 and subclass 124 – quietly issued last month.

The direction (direction 89) replaces an earlier one outlining the target sectors for the GTI program when it was first launched in November 2019 to attract tech talent from across the globe.

The program initially focused on finding applicants likely to earn more than $153,600 each year in one of seven "future-focused fields", including cyber security, fintech and quantum computing.

But as the new direction reveals, the government is now accepting applicants from 10 target sectors that cover far more ground than the original set of definitions.

New target sectors of note are education, tourism and the "circular economy", while the remaining seven areas are largely an expansion of the original seven.

The remaining seven sectors are resources; agri-food and agtech; energy; health industries; defence, advanced manufacturing and space; digitech; and financial services and fintech.

They are broadly similar to the former fields, with 'digitech' seemingly covering what was previous 'quantum information, advanced digital, data science and ICT, as well as cyber security.

A spokesperson told iTnews that the expanded sectors would "maximise opportunities" to sustain the country's economic growth, while building resilience for future global shocks and creating jobs.

"Priority sectors have been identified to ensure that Australia's investment priorities are focused to align with opportunities that support our post Covid-19 economic recovery," the spokesperson said.

But according to Ruobing Yang, a legal practitioner director at specialist immigration law firm Ashton Legal, comprehensive details of the changes, including which skillsets fall into each sector, remain scarce

"We don't have the details for direction 89 target sectors yet," he told iTnews.

"Under direction 85, Immigration has a fact sheet for each sector which then breaks it down into very detailed skillsets.

"So I'm hoping that they will release another fact sheet which will be about to tell us … in education, what are the specific skillsets they're looking for."

GTI intake boosted to 15,000

Changes to the scheme's scope come just months after the GTI cap was increased to 15,000 places, three times the 5000 target intake during the scheme's first year in 2019-20.

The government had previously indicated that the scheme would be central to a shake-up of its permanent migration program, driven largely by the coronavirus pandemic and recent upheaval in Hong Kong.

A total of 4109 people were granted GTI visas from 5923 expressions of interests (EOIs) over the first seven months, despite initially struggling to attract applicants, as revealed by iTnews.

But as recently released freedom of information (FOI) documents [pdf] show, more than 5500 EOIs have already been lodged for the scheme so far this financial year (as at 31 October).

This has subsequently seen processing times for EOIs blow out at the Department of Home Affairs from an average of 28 days in May to 136 days in October [pdf].

Despite the increased quota, Yang said that the 15,000 visas would be inclusive of "all the secondary applications as well", including partners and children.

"So the actual numbers would be quite a bit lower. The main applicants that they invite would be way less than 15,000, but I'm sure the quota will be filled up," he said.

He also noted that around 30 percent of EOIs were being issued to people working in ICT to date, many of whom already hold working visas, including at some of the largest IT outsourcers.

"Some of the largest IT companies, particularly HCL and Tata, they don't in principle sponsor people for a permanent visa," he said.

"So when this Global Talent visa came out, I assisted with quite a few applicants that are already working in this field.

"They knew that there's no pathways for employee nominated visas and for independent skilled migration it's getting increasingly difficult, so a lot of them are going through this Global Talent [visa]."

Figures released by Home Affairs [pdf] appear to confirm this, with the largest number of EOIs approved in 2019-20 in the former "quantum information, advanced digital, data science and ICT sector".
I have no issues with so long as the base salary provisions remain in place but, as the article suggests, details are scarce which does not reassure.
If the salary floor is reduced then it will only add to what is already a running joke in IT.
The Australian Population Research Institute's (APRI) 2017 report entitled "Immigration overflow: why it matters", examined the widespread rorting of Australia's 457 visa system, especially by Indian IT firms.
One of the findings from this report was "the high and increasing numbers of IT professionals being granted 457 visas", which "constitute by far the largest occupation group within the 457 program". You will also see from the below table that permanent migrants are heavily represented in the IT space: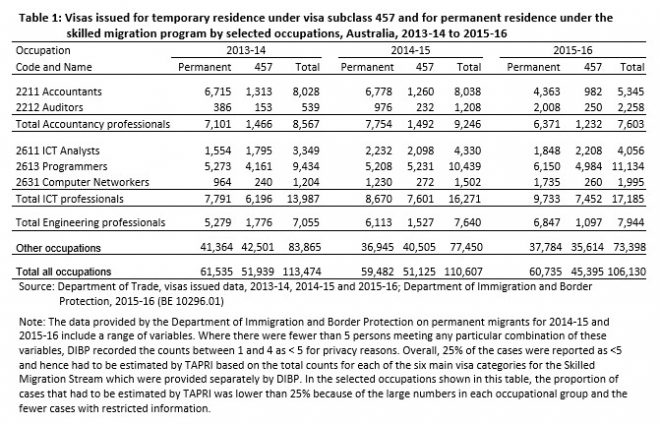 The APRI showed that Indian IT service companies have been successful in winning a major chunk of Australia's IT consulting work on the basis of these 457 visa holders, partly because they are paying them much lower salaries than the market rate for IT professionals in Australia:
As Table 2 shows, some 76 per cent of the 7,542 457 visas issued in the three IT occupations listed were to Indian nationals. The great majority of these were sponsored by Indian IT service companies as intra-company transferees…

Once in Australia their staff are being paid at much lower rates than experienced resident IT professionals and in some cases even new local graduates.

Even more disturbing is the relatively high proportion of these Indian IT professionals (28 per cent) whose 457 visas were approved at the extremely low base salary of $53,900 or less. This is despite the fact that only eight per cent of the 457 visas granted to Indians in the two ICT occupations in 2014-15 were aged less than 25.

The median starting salary for local ICT graduates under the age of 25 is around $54,000. Coincidentally, the 457 minimum salary 'floor' is set at $53,900…
The report also showed how the biggest sources of migrants (both temporary and permanent) – IT, accounting and engineering professionals – are also the areas with the biggest surplus of workers, thus debunking the view that foreign workers are required to overcome skills shortages: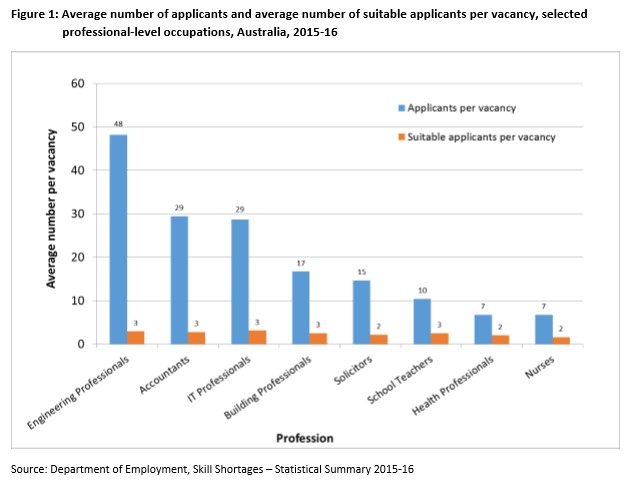 The Department of Employment also illustrated that 457 visas grew much faster than the growth in IT jobs, despite a large pool of applicants available per advertised job and large numbers of IT graduates being unable to gain full-time employment:
A key feature of the IT labour market is the large number of candidates competing for available vacancies. There were, on average, around 29 applicants per surveyed vacancy and most employers were able to choose between multiple suitable applicants (an average of 3.1 per surveyed vacancy)…

Notably, a number of employers recruiting for graduate or junior level vacancies had applicants who they considered to be overqualified for the advertised position….

While 457 visa grant numbers for IT professionals are variable over time, grants have been generally trending upwards since 2005-06 (when the data series began).

The number of IT professional 457 visa holders is increasing at a faster rate than the number of employed IT professionals. In 2009-10, the number of 457 visa holders equated to 3.0 per cent of employed IT professionals, but by 2014-15 it had risen to 4.3 per cent…

A range of data suggests that there is some spare capacity in the graduate labour market at present. Notably, graduate outcomes for students studying in the field of Computer Science (which includes the vast majority of students studying in the Information Technology field of education) have been declining for four consecutive years…

In 2015, 67 per cent of computer science graduates were in full-time employment four months after graduation, below the average of 69 per cent for all graduates. Graduate outcomes are now 17 percentage points below the level recorded in 2008 (84 per cent).
It is clear that Australia's IT sector was one of the most heavily abused by Australia's 'skilled' migration system, given the large number of temporary and permanent foreign workers employed in the sector.
Indeed, the scam was so rife, that businesses managed to turn labour costs into a profit centre:
NICK MCKENZIE: In a series of conversations, the visa fixer asked Jasvinder Sidhu to find new visa applicants among his friends and family back in India. The fixer would then arrange for a corrupt employer to provide the paperwork for a fake job and visa sponsorship.

JASVINDER SIDHU: They were offering multiple sponsorships in commercial cookery, in mechanics, IT as well because he said his boss could arrange 457 in IT – information technology.

NICK MCKENZIE: The visa scam came as little surprise to Jasvinder Sidhu. He knows of many Indians who've paid large cash sums to corruptly obtained skilled or student visas in an effort to get permanent residency.

JASVINDER SIDHU: I've been hearing it eight, nine years and the last time I heard was last week when somebody paid $45,000 cash.

NICK MCKENZIE: Now Sidhu is determined to expose what he's learned about Australia's immigration underworld.

JASVINDER SIDHU: These people will then create your fake timesheets, fake pay slips and they will pay in your bank account and obviously everything else will also be fake, which is superannuation and other related documents.

NICK MCKENZIE: So you're paying for a fake, a phantom job and in return you get your skilled visa?

JASVINDER SIDHU: Yes. So you are paying extra to get or create a job which doesn't exist and to create a service which was never delivered and you're getting permanent residency, which is not fake. This is a real output…

Yes, there's corruption from top to bottom. Thousands and thousands of people are being sponsored and they're all fake. The whole system cannot work that smoothly if there's no corruption in the system.

NICK MCKENZIE: Someone on the inside has to know?

JASVINDER SIDHU: Oh, yes, definitely. Even if you do a bit of overspeeding, you are caught, but this is a huge corruption – huge level of corruption and it is so widespread.
As you would expect, indeed predict, the monstrous oversupply crushed the training of locals given falling wages and no prospects.
Specialist IT visas for highly-skilled migrants are a good idea. The above rubbish is not.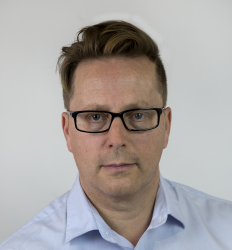 Latest posts by David Llewellyn-Smith
(see all)