The notion that 'skilled' temporary 457 visas are designed to overcome skills shortages is easily dis-proven by looking at Australia's information technology (IT) sector, which is the biggest user of such visas.
Yesterday, News.com.au published an illuminating article profiling a skilled Australian IT worker that has arrived home from working as a project manager at Amazon's Seattle campus but cannot gain employment despite hundreds of job applications:
AT 25 years old, James was living a tech-head's dream.

The university graduate had been snapped up by a global tech giant after a short stint in software development at a Melbourne company.

As a project manager at Amazon's Seattle campus, he was in a high responsibility role and leading projects with massive scale.

The pressure was huge and the reward proportionally significant. The young techie was developing skills and gaining experience that would put him in good stead for the rest of his career. He was dealing with problems that involved 20 to 30 other teams, servicing a large portion of the company's customer base, on projects that needed to be turned around super fast.

James loved the work and the culture, but he didn't necessarily want to work his way up at one of the Silicon Valley giants where most IT graduates dream of making their mark. He wanted to come home, and bring his skills to Australia.

But, bizarrely, he says he's found the tech job market down under far more difficult to crack…

Since leaving his job at Amazon, James has tried to get a job in Australia that he believes his experience from Amazon and previous roles have readied him for.
The jobs are out there and he's been putting his hand up for them, but nothing's biting.

Over the past six months, James says he has applied for 10 to 20 jobs in the tech industry each week. By his own count, the would-be IT worker is up to 250 applications, and still, nothing.

"It's incredibly disappointing," he told news.com.au. "One thing I've started asking recruiters a lot is 'what have I done wrong?' They tell me 'you actually haven't, your resume's solid, your history is solid'.

"There's nothing wrong. It's just the mentality in this country is that you must have three years or you must have five years experience.
"They're looking for a number on a piece of paper but not looking at skills and ability. Why do I need specific experience when I have the ability to learn on the run?"

The jobs James has been applying for are mainly project manager, business analyst and delivery lead roles.

In the few call backs he's had, the 28-year-old says he's been told he was rejected because he doesn't have three years experience.

"The three-year mandate is an IT thing that's happened for the past 20 to 30 years. It's considered a good amount of time that you've learnt the job," he said. "The problem in Australia has become that no one wants to train anyone to get that three years to take on a more senior job.

"The mentality is if we train them, they leave, and then it's a waste of money. So, let's never train them."
It's an interesting case study that runs counter to the whinging coming from the IT businesses that the Turnbull Government's modest changes to temporary skilled visas would deprive them of workers capable of doing the job. The fact is there's a large pool of local IT workers that could do the work, provided companies were willing to perform some training – like they used to do.
I know what you are thinking: one case study is hardly conclusive. This is true. But the data also strongly supports the view that the IT sector is way oversupplied with local workers and should not be getting flooded with foreigners.
The Australian Population Research Institute's (APRI) recent report entitled "Immigration overflow: why it matters", examined the widespread rorting of Australia's 457 visa system, especially by Indian IT firms:
One of the findings from this report was "the high and increasing numbers of IT professionals being granted 457 visas", which "constitute by far the largest occupation group within the 457 program". You will also see from the below table that permanent migrants are heavily represented in the IT space: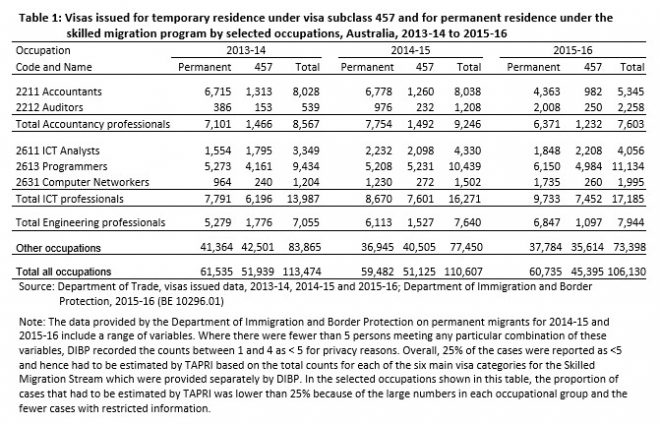 The APRI showed that Indian IT service companies have been successful in winning a major chunk of Australia's IT consulting work on the basis of these 457 visa holders, partly because they are paying them much lower salaries than the market rate for IT professionals in Australia:
As Table 2 shows, some 76 per cent of the 7,542 457 visas issued in the three IT occupations listed were to Indian nationals. The great majority of these were sponsored by Indian IT service companies as intra-company transferees…

Once in Australia their staff are being paid at much lower rates than experienced resident IT professionals and in some cases even new local graduates.

Even more disturbing is the relatively high proportion of these Indian IT professionals (28 per cent) whose 457 visas were approved at the extremely low base salary of $53,900 or less. This is despite the fact that only eight per cent of the 457 visas granted to Indians in the two ICT occupations in 2014-15 were aged less than 25.

The median starting salary for local ICT graduates under the age of 25 is around $54,000. Coincidentally, the 457 minimum salary 'floor' is set at $53,900…
The report also showed how the biggest sources of migrants (both temporary and permanent) – IT, accounting and engineering professionals – are also the areas with the biggest surplus of workers, thus debunking the view that foreign workers are required to overcome skills shortages: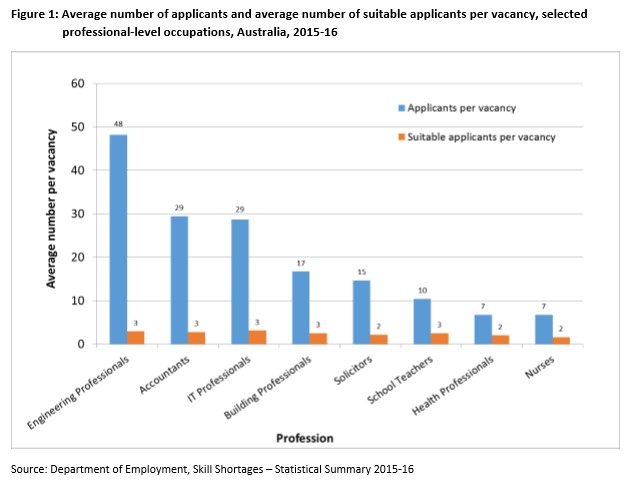 The Department of Employment's latest report on IT Professionals also revealed that 457 visas have grown much faster than the growth in IT jobs, despite a large pool of applicants available per advertised job and large numbers of IT graduates being unable to gain full-time employment:
A key feature of the IT labour market is the large number of candidates competing for available vacancies. There were, on average, around 29 applicants per surveyed vacancy and most employers were able to choose between multiple suitable applicants (an average of 3.1 per surveyed vacancy)…

Notably, a number of employers recruiting for graduate or junior level vacancies had applicants who they considered to be overqualified for the advertised position….

While 457 visa grant numbers for IT professionals are variable over time, grants have been generally trending upwards since 2005-06 (when the data series began).

The number of IT professional 457 visa holders is increasing at a faster rate than the number of employed IT professionals. In 2009-10, the number of 457 visa holders equated to 3.0 per cent of employed IT professionals, but by 2014-15 it had risen to 4.3 per cent…

A range of data suggests that there is some spare capacity in the graduate labour market at present. Notably, graduate outcomes for students studying in the field of Computer Science (which includes the vast majority of students studying in the Information Technology field of education) have been declining for four consecutive years…

In 2015, 67 per cent of computer science graduates were in full-time employment four months after graduation, below the average of 69 per cent for all graduates. Graduate outcomes are now 17 percentage points below the level recorded in 2008 (84 per cent).
It should be clear that Australia's IT sector has been one of the most heavily abused by Australia's 'skilled' migration system, given the large number of temporary and permanent foreign workers employed in this sector as well as the huge oversupply of local workers willing to do the job. To IT you can add accounting and engineering – other heavy users of skilled temporary and permanent migrants.
The fact is, Australia's skilled migration system is no longer about alleviating skills shortages but rather funneling foreign students into Australian universities (using the carrot of permanent residency), underpinning local demand and aggregate economic activity (by growing the domestic market via population growth), and holding wages down (to the benefit of corporations and the detriment of workers).
The system has become a farce that is working against the interests of incumbent residents – by clogging our cities, making housing less affordable, and undermining wages and working conditions – and needs a fundamental overhaul.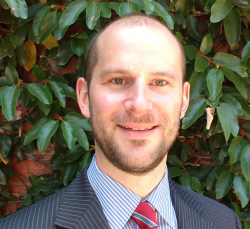 Latest posts by Unconventional Economist
(see all)