Via CCP mouthpiece, The Global Times:
The price of liquefied natural gas (LNG) has surged to record highs in recent tradings, with the weekly spot price assessment settled at an all-time-high price of $21.45 per million British thermal units. While most market analysts are focusing on the underlying market factors including seasonable price movement, a few analysts are seeking to lay the price hike on China.

Choosing to politicize a trade matter, a few industry analysts from Western media outlets have baselessly linked a normal price rally driven by winter demand peak with the feud between China and Australia.

Overplaying the reported temporary power shortages in some regions of China, an article on the Forbes last week call the recent LNG price spike a "perverse effect of China's trade attack on Australia," making totally false and unreasonable criticism on China.

There is no doubt the price of LNG has shot up compared with the bottom of the market in May, but the $21.45 price tag is only slightly higher than the prior record of $20.50 recorded in February 2014. The main reason of the latest rally apparently has no connection with China-Australia diplomatic tensions, but lies in seasonable and market factors.
The article in question is by Tim Treadgold:
But the most perverse effect of the coal ban is strong demand for other sources of energy, particularly liquefied natural gas (LNG) which has just hit an all-time record price of $20.70 per million British thermal units.

Chinese gas buyers have joined Japanese and South Korean power utilities in scrambling for supplies with Australia one of the major beneficiaries because it is the world's second second biggest LNG exporter.

Where China has hurt Australia has been largely in small export industries such as barley, timber, meat, seafood and wine, all businesses able to re-direct most of their exports to other countries.

One of the best measures of how the China v Australia dispute can be demonstrated to be more political than commercial lies in the overall trade numbers which show a modest (2%) decline in Australian exports to China in the 11 months to the end of November and a 5% increase in Australian imports of Chinese goods.

In dollar terms, China sold $76.3 billion worth of goods and services to Australia up to November 30 while Australian exports to China totaled $132.5 billion.
Here's the chart:

The CCP organ has a point. LNG prices have skyrocketed only in part owing to the coal ban which has triggered a surge in Chinese buying. The other factors are the cold Asian winter and supply outages. That said, China did surpass Japan as the largest global LNG importer in the final months of 2020 so its coal bans are playing some role: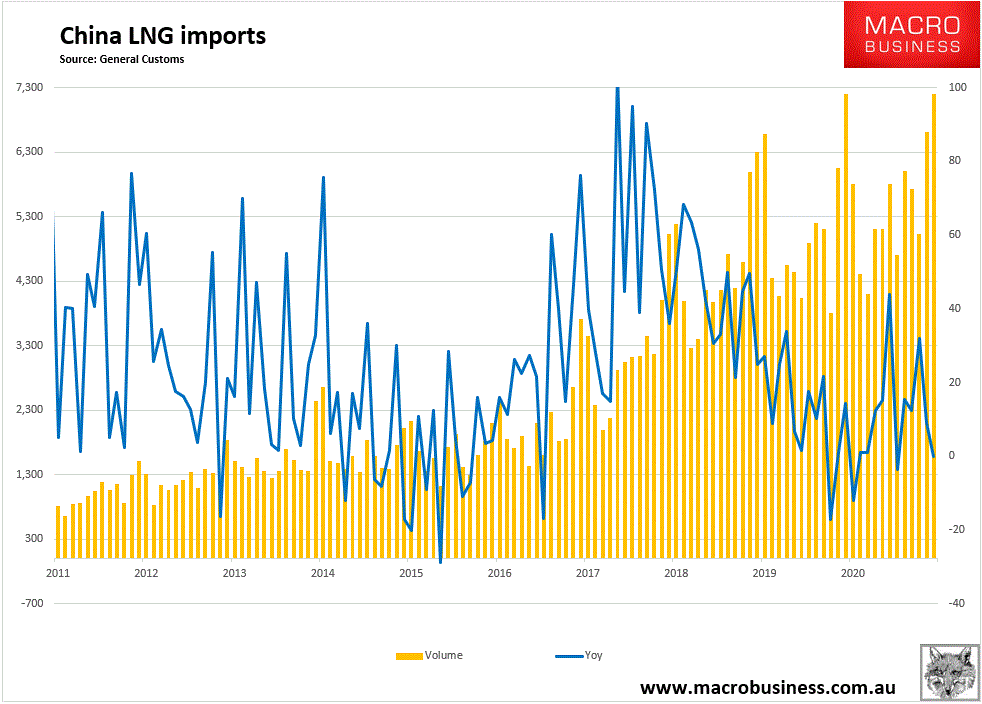 The seasonal factors mean the current price surge will be short-term for spot LNG. Contract LNG is attached to Brent oil so it will likely keep rising.
I expect, and so do futures, that the current JKM spot price will retrace to $8Gj or so in 2022. But at that point, it will still be 400% higher than recent lows and the overriding factor for why will be import substitution in China owing to the trade war on Australian coal.
There is no need to play down seasonal factors. It is abundantly clear that China's trade war on itself will continue to deliver perverse results for as long as it lasts given its huge bulk commodity import dependency: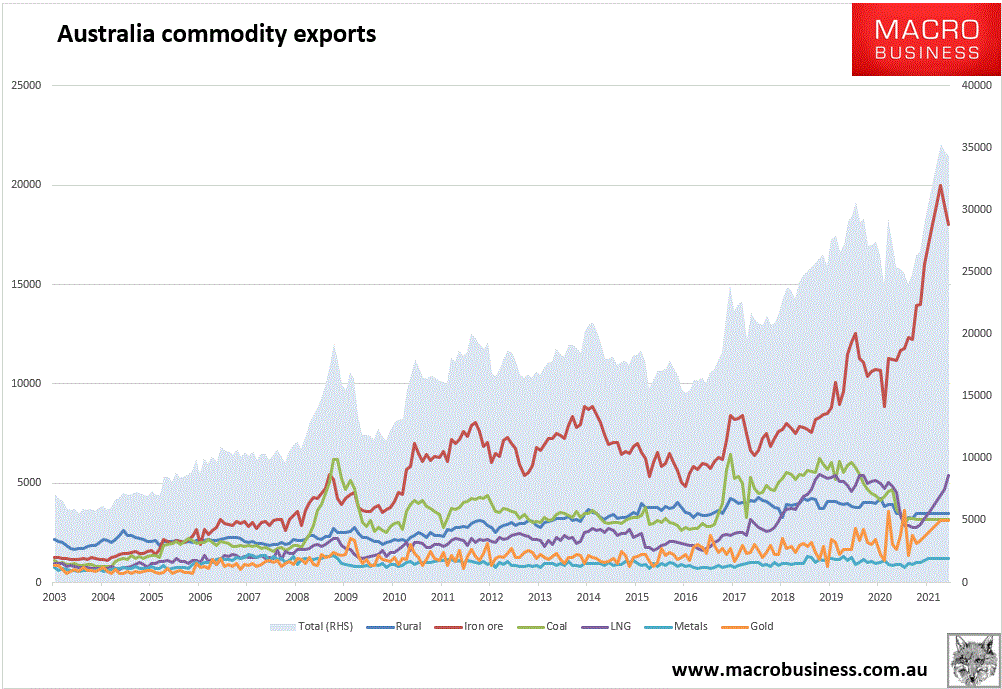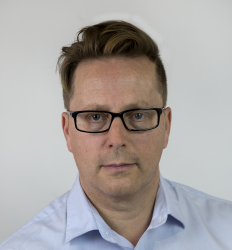 Latest posts by David Llewellyn-Smith
(see all)