Australian universities earned over $7 billion in student fees from China in 2019, with outgoing Australian Catholic University vice-chancellor Greg Craven describing the sector's reliance on Chinese markets as being like a "drug addiction".
Craven says the big universities will have to accept that their budgets will never be as big as they were before COVID-19, and that Australian universities will drop out of the global top 100 higher education rankings. He also says most vice-chancellors know very little about politics or government.
From The Australian:
Professor Craven said the Group of Eight had to accept their budgets would never be as large as they were before COVID-19 and Australia's position among the world's 100 leading higher education institutions was "finished".

"One solution is very simple: the Go8 universities basically have to accept their budgets will never be what they're like before," he said. "How are they going to do that? By trying to save money on staff and teaching … you're not going to be able to do that, you're going to have to cut research.

"You're going have to accept you're no longer going to be Manchester United on a good day — you're going to be Wolverhampton Wanderers.

"That's something the government needs to think about. If that's right — the days of lots of Australian universities being in the top 100 (world university rankings) is finished. This is after cannibalisation, after trying to kill your neighbour. One has to contract"…

Professor Craven said the over-reliance on China's student markets was a major problem.

"The old system of relying on international students is over, it's finished," he said. "The wider market has collapsed and there is no certainty about when it will come back. And with the Chinese market — which universities were reliant on — there is not just the issue of COVID but possibly sovereign risk.

"They all knew about the issue with China. I would go on panels and publicly warn about this, and the other vice-chancellors would say nothing. It was like a drug ¬addiction."
MB has continually questioned the odious links between international students and university rankings.
In a nutshell, a system has been created by the federal government and Australia's universities to encourage strong growth in full fee paying international students via:
The Australian government offering the world's most generous student visa working rights and opportunities for permanent residency; and
Australia's universities dropping entry and teaching standards.
The bounty from exploding student numbers (see next chart) has then been funneled into research aimed purely at propelling Australia's universities up international rankings, rather than into areas that actually provides benefits to Australians.

As gaining a higher ranking equates to more prestige and is a sign of quality, these rankings were then used as a marketing tool to further grow international student enrolments, alongside justifying higher fees.
While universities ploughed the international student billions into research to boost their rankings and executive salaries, actual teaching quality was destroyed.
This is evidenced by the ratio of students to academic staff rising materially across Australia's universities during the long international student boom: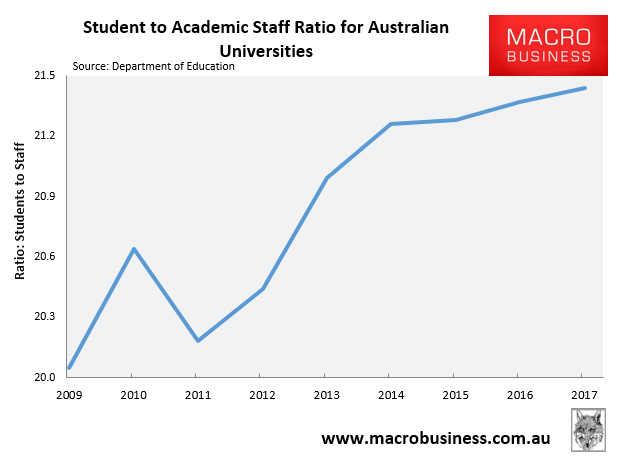 The majority of international students come from Non-English Speaking Backgrounds (NESB), and require more teaching effort than domestic students. As such, the bigger student loads, alongside the higher maintenance of international students, indicates a significant decline of both teaching capacity and quality across Australia's university system.
We also witnessed domestic students carrying NESB students through their courses via group assignments, alongside an increase in soft marking scandals and cheating scandals and the erosion of free speech as international students number ballooned.
The whole stinking university edifice needs a royal commission to clean it out.
Operating low-quality degree factories for maximum revenue was never in the national interest.
Australia's universities must return to their primary role of providing high quality education to Australians.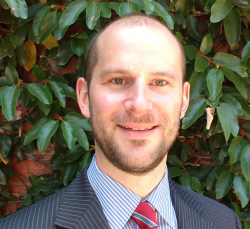 Latest posts by Unconventional Economist
(see all)