Australia's property market began 2020 with strong momentum. Property prices had accelerated in the 10 months following the Coalition's shock election victory in May 2019. This was led by Sydney and Melbourne whose values were rising at a double-digit annual pace.
Then came the global coronavirus pandemic, which stopped the property market and Australian economy in their tracks.
Borders were closed in March. Economic activity was shut down. Job losses ensued. It was the biggest shock since the Great Depression and we were highly pessimistic about the impact on Australia's already expensive housing market, particularly in the migrant epicentres of Sydney and Melbourne.
In the middle of the year we anticipated double-digit housing value losses, driven by Sydney and Melbourne, based on the following seemingly stiff headwinds:
Collapsing immigration and rising supply;
Rising unemployment and falling household incomes;
Unwinding of mortgage repayment holidays and emergency income support;
Tightening credit availability (despite low mortgage rates); and
Little prospect of further mortgage rate reductions.
We believed the Australian property market could experience a significant number of forced sales leading to a feedback loop that would drive prices lower.
Alas, circumstances proved our forecasts wrong. The housing market is rebounding driven by the smaller markets: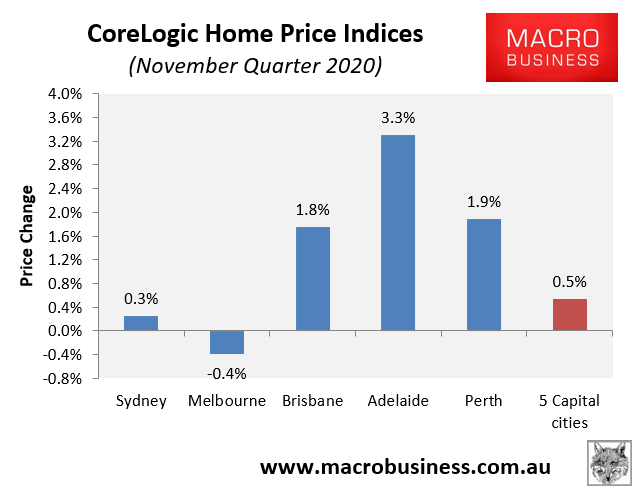 Australia's successful elimination of COVID-19, the economy's better than expected recovery, and the unprecedented fiscal and monetary support have stars aligned for strong house price growth in 2021 – a scenario few commentators outside Dr Cameron Murray and Chris Joye anticipated (we tip our hat).
The remainder of this report delves into why MB has changed its view to becoming bullish on housing in 2021. We then follow-up with brief examinations of the prospects facing the five key Australian markets.
Unexpected strong economic rebound
One of the key problems facing economists in 2020 was that we were flying blind throughout much of the crisis.
Because official data providers like the Australian Bureau of Statistics (ABS) and Reserve Bank of Australia (RBA) report infrequently, with a long lag, and on a backward looking basis, we were often left to use 'gut feel' or partial surveys to gauge what was going on in the economy, rather than solid data.
When the June quarter national accounts were released in early September, the news was bleak. The Australian economy experienced its biggest contraction on record, with real GDP down an unprecedented 7.2% since the beginning of the year (the economy also contracted slightly in the March quarter). Melbourne, where MB's two main authors reside, was also only halfway through a long and painful 16-week lockdown as it fought to contain its deadly COVID-19 second wave outbreak.
Unbeknown to most, the economy was already poised for a monumental rebound, thanks to Australia's (ex-Victoria's) world-leading virus management and unprecedented stimulus.
At the time of reporting, Australia has virtually eliminated COVID-19 with only four active cases in the community (all other active cases are returned travelers in hotel quarantine). Our governments have also implemented a gigantic stimulus program that has arguably over-stimulated the economy, given the better-than-expected management of the virus; although this was obviously unforeseen at the time these stimulus policies were announced.
A brief stock take of the federal government's stimulus measures suggests around $180 billion of income support was delivered to the economy in the June and September quarters alone, including:
Initial welfare boost = $18 billion
JobKeeper payments = $71 billion
JobSeeker and other coronavirus supplements = $28 billion
Business cashflow boost = $28 billion
Early superannuation release = $35 billion
The states also provided around $3 billion in COVID-19 related subsidies over the September quarter.
The upshot is that the Australian economy experienced a stronger than expected rebound in the September quarter, which was only revealed to economists early this month.
Specifically, real GDP rebounded by 3.3% over the quarter to remain 4.2% below its December 2019 peak: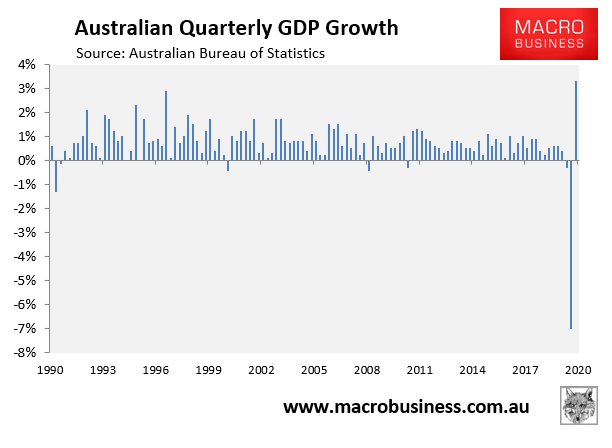 The news was even better with respect to real final demand (effectively GDP minus net exports), which rebounded by 4.5% in the September quarter to be down 3.8% from its December 2019 peak: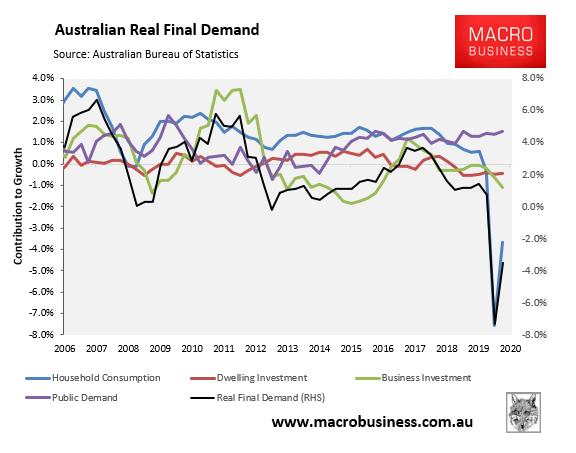 This rebound was driven by a strong 7.9% bounce in household consumption expenditure over the September quarter as the nation's economy outside of Victoria reopened.
It was especially notable given Victoria, which comprises around one-quarter of the nation's economy, remained under lockdown and detracted from national growth: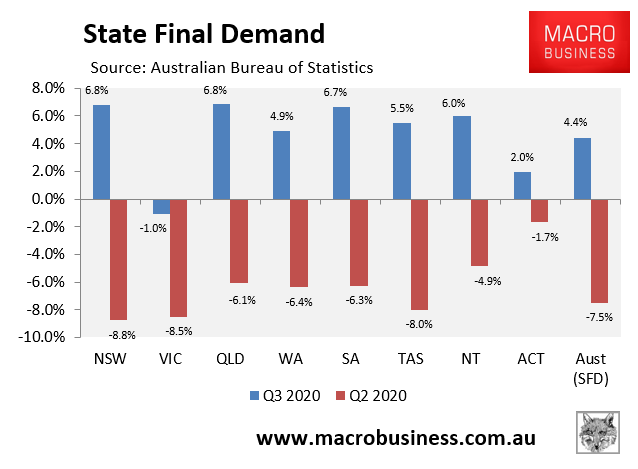 As Victoria has now opened up, its economy will inevitably experience strong catch-up growth over the December and March quarters, thus fortifying Australia's economic rebound into 2021.
Stimulus delivers household income boom
Australian households power the economy. Household consumption has historically accounted for around 55% of Australia's final demand. Therefore, the strength of household income and consumption will largely determine whether the economy powers through 2021.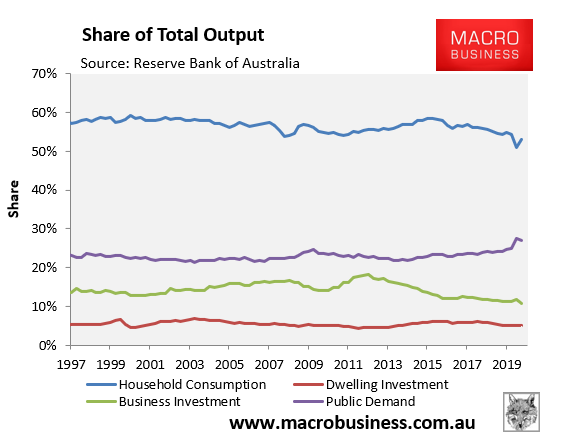 The news on this front is positive.
As shown in the next chart, household disposable income has boomed on the back of the above mentioned emergency income supports, whereas household consumption has begun to rebound strongly as shutdowns were relaxed: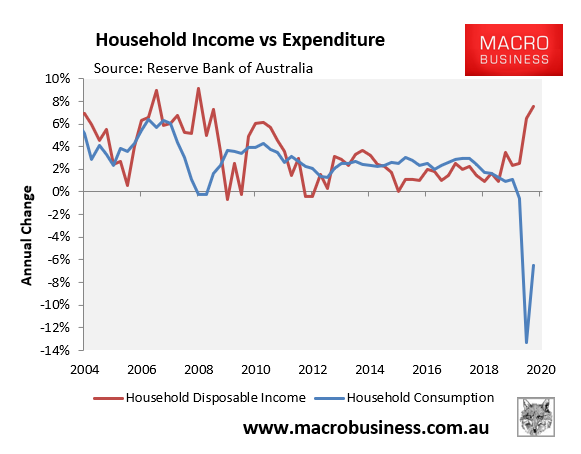 Turning to the income side of the equation first, Australian households amassed a giant war chest of savings over the June and September quarters, with $67.7 billion of disposable income saved in Q2 and a further $60.0 billion saved in Q3: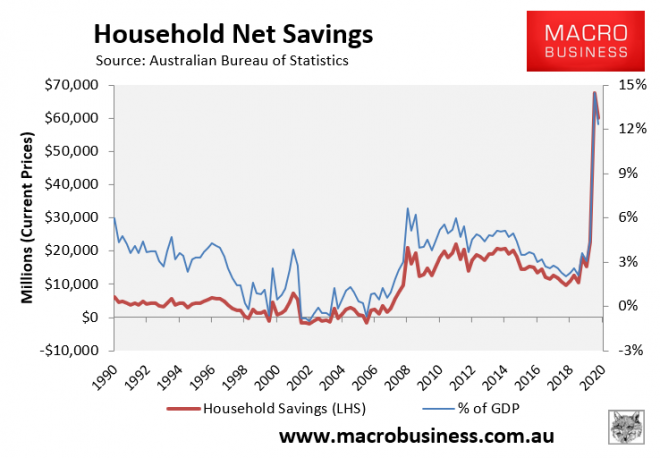 This equates to a whopping 14.5% of GDP (Q2) and 12.3% of GDP (Q3) that has been saved by households.
The next chart, which presents the savings data in rolling annual terms, shows that an unprecedented $165.7 billion of household income was saved in the year to September 2020, 77% of which was saved in Q2 and Q3 alone: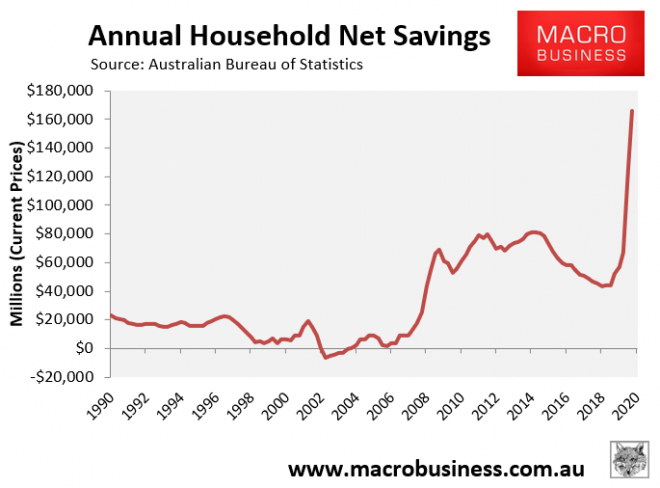 Although emergency support measures are scheduled to be withdrawn over the next six months – namely JobKeeper, the JobSeeker supplement, early superannuation access, and mortgage repayment holidays – there is a massive pent up supply of unspent stimulus in the form of household savings now available to be spent across the economy.
$12.5 billion of Stage 2 personal income tax cuts, which were brought forward to 1 July 2020, will also help to support aggregate household disposable income and will partially offset the hits delivered as emergency supports are unwound.
Wages & salary income should also inevitably rebound as the private sector economy recovers post lockdowns, thus transitioning the economy from public support to market driven income.
This brings us to the expenditure side of the equation.
The primary reason why Australian households have saved so much is because they were prevented from spending due to COVID-19 lockdowns and restrictions. As these barriers have now been removed, these same households are likely to go on a spending spree in 2021, in turn driving a strong economic rebound alongside property price growth as some of the saved disposable income inevitably leaks into assets.
Infrastructure spending to boom
Government spending was already a key support for the Australian economy prior to the onset of the COVID-19 pandemic. It took on additional responsibility via the emergency income support measures listed above.
In the year to September 2020, Government Final Consumption Expenditure (GFCE) surged by 7.8%, although Government Fixed Capital Formation (GFCF) was flat: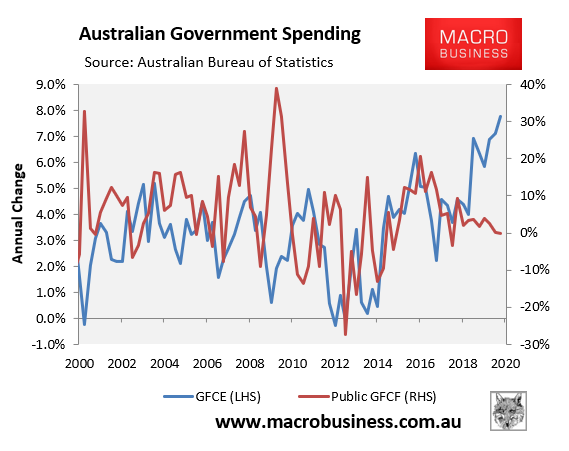 Nevertheless, combined public sector spending grew by 6.0% in the year to September 2020, making a positive contribution of 1.5 percentage points to Australia's final demand growth. This compares to a 6.8% decline in private sector demand, which subtracted 5.2 percentage points from Australia's growth in the year to September: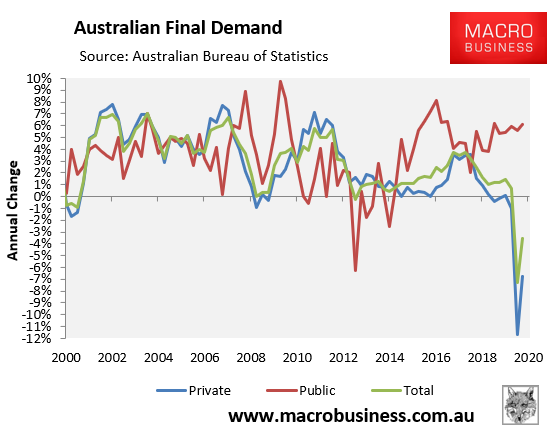 The outlook for government spending growth in 2021 is mixed. While the scheduled unwinding of the Jobkeeper and Jobseeker coronavirus supplements by mid year will negatively impact GFCE, GFCF is forecast to boom courtesy of massive infrastructure spending by state and federal governments.
Here, the CBA forecasts that public capex from all state and federal budgets will be up 37% this fiscal year (+$31.9 billion) and will contribute 1.7 percentage points to GDP growth in 2020-21:

Business investment to weaken
Business investment, which historically has comprised around 15% of Australia's final demand, was already weak before COVID-19 and fell sharply through 2020, down 9.9% in the year to September 2020: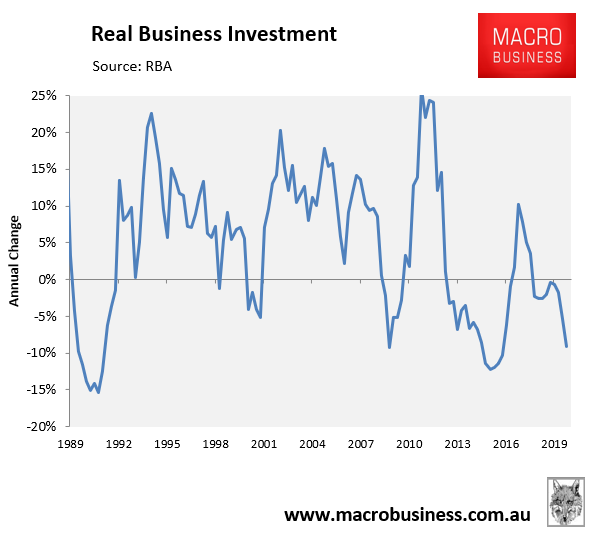 The latest capex survey from the ABS, released late November, presented a weakening outlook, with total capex forecast to decline by around 10% in 2020-21:

This makes logical sense. Given the gaping spare capacity across the Australian economy, there is little point adding to the overcapacity via investment.
Regardless, the forecast decline in business investment will likely subtract around 1.2 percentage points from Australia's final demand in 2020-21.
Dwelling investment to rebound
Dwelling investment, which historically has comprised around 5% of Australia's final demand, has been weak for an extended period and fell by 7.6% in the year to September 2020, subtracting 0.4% from Australia's final demand growth: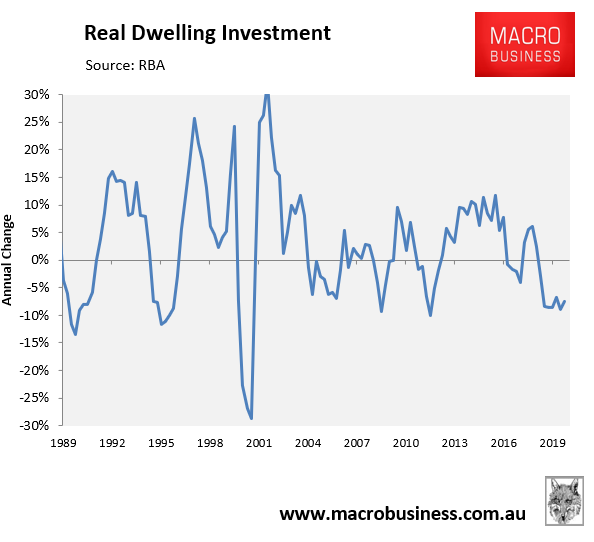 The outlook for 2020-21 has improved, however, with the Morrison Government's HomeBuilder stimulus and First Home Loan Deposit Scheme driving detached house approvals to 20-year highs and more than offsetting softness across the apartment market: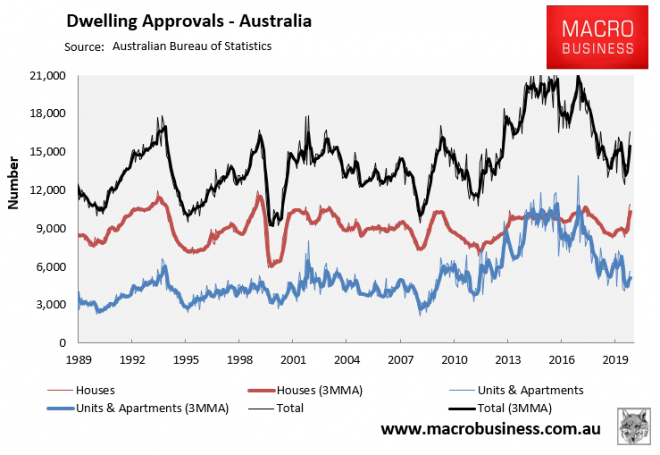 The National Housing Finance & Investment Corporation (NHFIC) forecasts total net dwelling additions to rise to 181,000 in 2021 from 170,000 in 2020, driven by detached houses.
Thus, overall dwelling construction is set to rise in 2020-21, adding marginally to Australia's final demand growth.
Unemployment to fall
Weighing everything up, we expect Australia's true rate of unemployment to continue to fall into 2020-21 on the back of the strong rebound in household consumption:

In turn, three of the housing risk factors that we identified mid-year – i.e. rising unemployment, falling household incomes, and the unwinding of emergency policy supports – either no longer apply or, in the case of household incomes, have turned into tailwinds for property prices.
This brings us to the credit side of the economy, where developments have turned outright bullish for property.
Lighting the mortgage match
One of our key assumptions with respect to the property market was that Australia's mortgage interest rates had basically bottomed, thus ending the 30-year tailwind for the property market from falling mortgage rates.
While the RBA could at that stage theoretically cut the cash rate by another 0.25%, we believed the banks would have minimal wiggle room to cut deposit and wholesale borrowing rates without compressing their net interest margins.
In short, we wrongly believed that with bank deposit and wholesale rates at their lower bound, monetary policy would become ineffective.
The RBA torched these assumptions with its introduction of the Term Funding Facility (TFF), which has successfully driven mortgage (and other borrowing) rates lower.
The TFF was announced in March as part of a monetary policy package to reduce funding costs across the economy and to support lending. However, we were slow to register its significance.
The TFF provides low cost three-year funding for authorised deposit-taking institutions (ADIs) to support the supply of credit. And it has been highly successful in replacing relatively expensive wholesale funding with cheap funding from the RBA:

Most of the initial allocations of the TFF were drawn upon by the time the first phase of the facility closed in September. Then the RBA Board adjusted the TFF in response to economic conditions, expanding and extending the facility, and in November it lowered the interest rate on new drawings to only 0.10% (from 0.25%).

Drawdowns from the TFF have significantly increased the RBA's balance sheet and the facility has contributed to a material easing in credit conditions, driving bank funding costs and lending rates to fresh lows:

The impact has been greatest on fixed rate mortgages, where the average interest rate has cratered to only 2.20%, well below the average variable rate (3.65%).
In turn, the share of mortgages that are fixed rate recently surged to a record high, thereby significantly lowering the average interest rate on new mortgages:

The cratering of mortgage interest rates has also reduced repayments (both principal and interest) to levels not seen since 2014: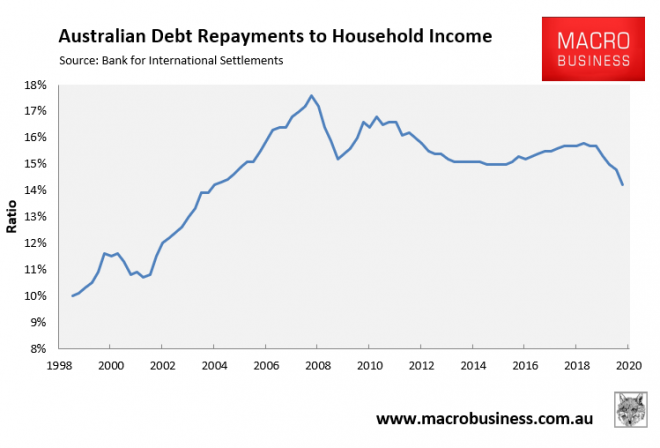 The other major credit policy change came in late September when Treasurer Josh Frydenberg, with the backing of the RBA and Treasury, announced the axing of responsible lending rules.
This announcement came out of nowhere given it directly contravened the very first recommendation of last year's Hayne Banking Royal Commission:

We had anticipated that banks would be forced to heavily scrutinise loan applications and restrict credit to those adversely impacted by the COVID-19 downturn (including millions of people receiving JobKeeper and JobSeeker). However, the announced axing of responsible lending rules obliterated this assumption.
While these reforms are yet to officially pass parliament, the intention is clear: the federal government has green-lit banks to lend to anything with a pulse. It was also bonafide evidence that Australia is the property equivalent of a narco state.
Indeed, alongside this announcement, Treasurer Josh Frydenberg declared war on regulator ASIC over its enforcement of the responsible lending rules, stating that ASIC needs to be overhauled so it conforms to the will of parliament:
"They must pursue their mandates in a manner that is consistent with the will of the parliament… There need to be mechanisms to hold them to account"…

There has been a long-running dispute between Asic and Frydenberg over responsible lending rules and a backlash by the financial sector against tougher regulation proposed by the banking royal commission.

Asic's decision to appeal a legal loss over responsible lending in what is known as the "wagyu and shiraz" case sparked outrage among government backbenchers and in September, after heavy lobbying from the banks…
The upshot of these credit loosening policies is that mortgage growth has surged to levels not seen since early 2014 which, given past correlations, is bullish for property values in 2021: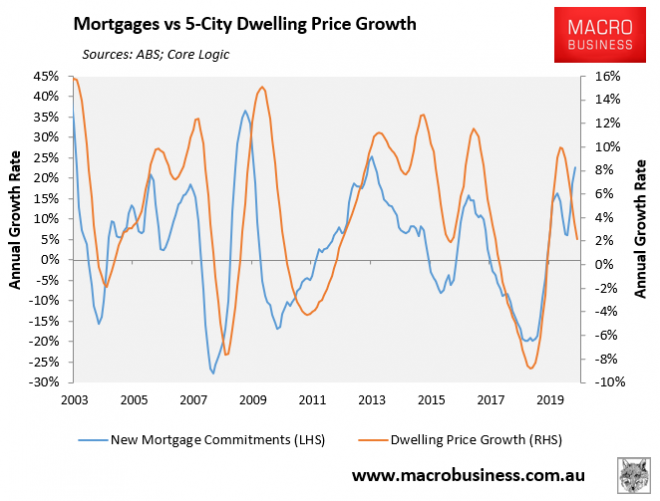 The only difference this cycle is that mortgage growth is being driven by owner-occupiers (including first home buyers) rather than investors: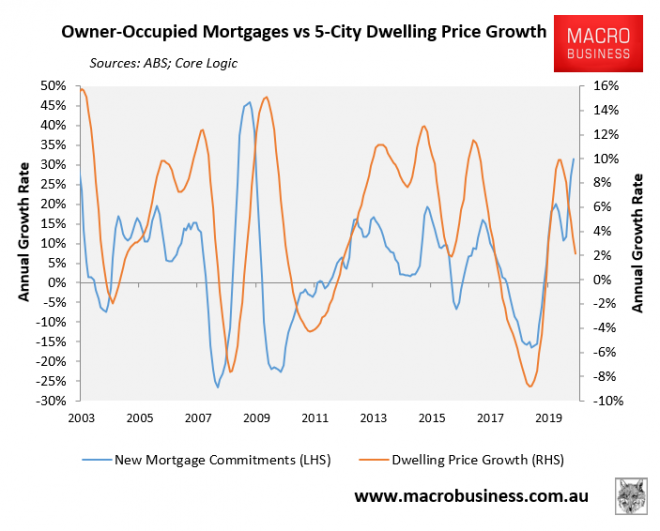 Collapsed immigration the only remaining headwind
The only major headwind facing the Australian property market is the expected collapse in immigration, which has already fallen heavily: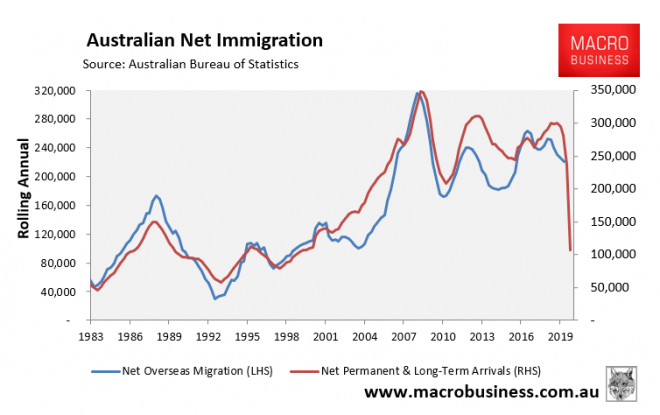 The Federal Budget forecast net overseas migration (NOM) to turn negative for the first time since the Second World War, recording declines of -71,600 in 2020-21 and -21,600 in 2021-22, before recovering to 95,900 in 2022-23 and 201,100 in 2023-24: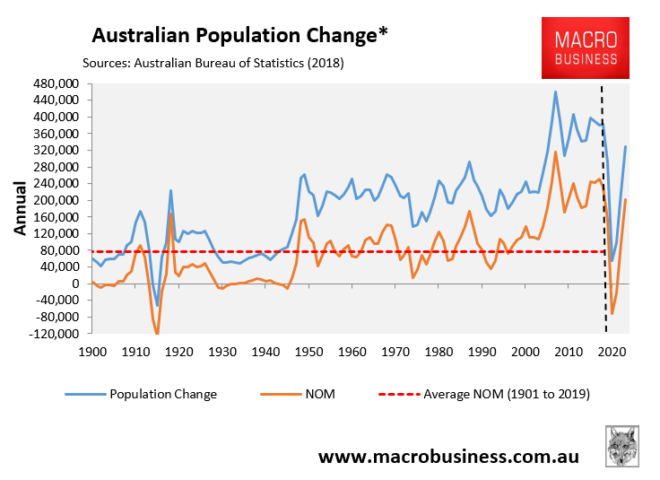 Accordingly, NHFIC forecasts new dwelling supply will exceed new demand by around 127,000 dwellings in 2021, and 68,000 dwellings in 2022, with cumulative new supply expected to be around 93,000 higher than new demand by 2025:

Already we are seeing the impacts in the migrant epicentres of Sydney and Melbourne, where rental vacancies have ballooned: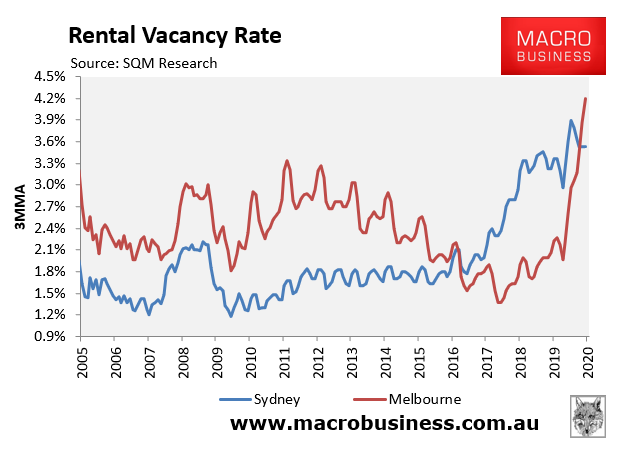 Apartment rents have also fallen heavily in these markets since March:

We view the Federal Budget's NOM forecasts as excessively bearish given a vaccine rollout from mid-2021 looks likely. This could see immigration and international tourism return faster than expected, reducing the headwinds to the property market. Even so, 2021 looks cactus for immigration.
Overall, with Australian households awash with liquidity alongside easing credit conditions, we believe the national property market will register strong growth of between 7% and 12% in 2021.
However, the growth outlook is far from universal, with the smaller markets of Perth, Brisbane and Adelaide likely to outperform Sydney and Melbourne. Each of these markets are examined briefly below.
Sydney
As at the end of November, Sydney dwelling values were only 2.3% below their pre-COVID peak (April 2020) after recovering 0.6% from their September 2020 low: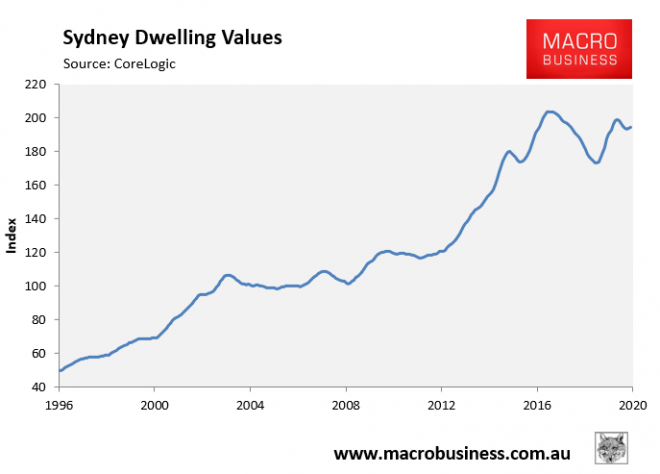 However, Sydney's dwelling values still remained 4.6% below their July 2017 all-time peak.
We are tipping growth for Sydney in 2021 in the range of 6% to 10%.
Mortgage growth is accelerating: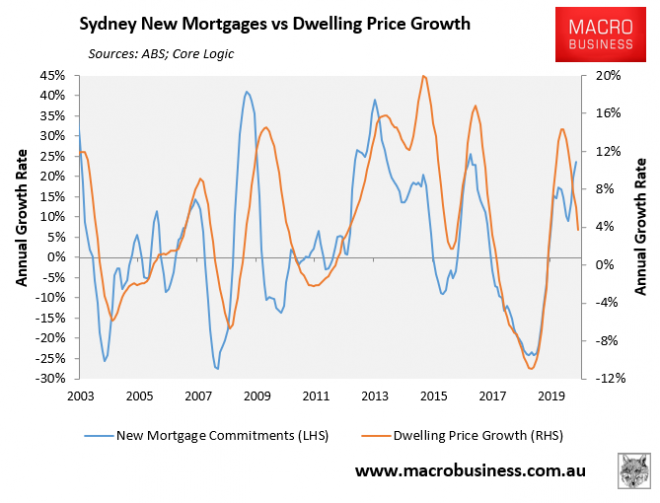 And auction clearances have rebounded to solid levels: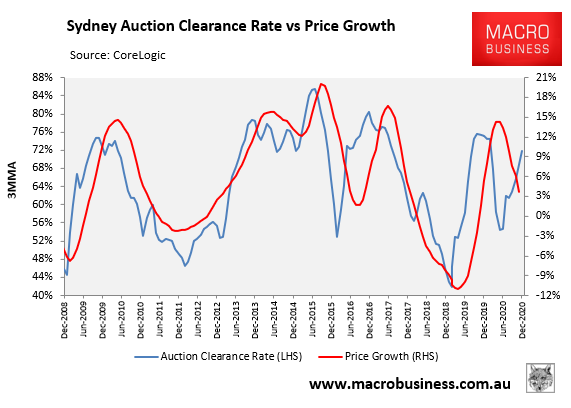 However, growth will be tempered by the collapse in immigration, which will throw the market into structural oversupply (also reflected in rising rental vacancies and falling apartment rents – see above):

Another factor temporing Sydney's outlook is the city's relatively poor affordability which, while much improved on 2017, remains expensive against the historical average: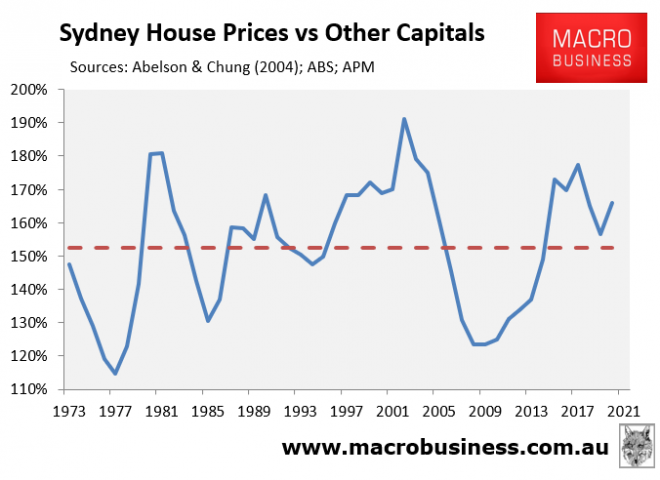 Melbourne:
As at the end of November, Melbourne dwelling values were 5.0% below their pre-COVID peak (March 2020), which was also the all-time value peak for Melbourne: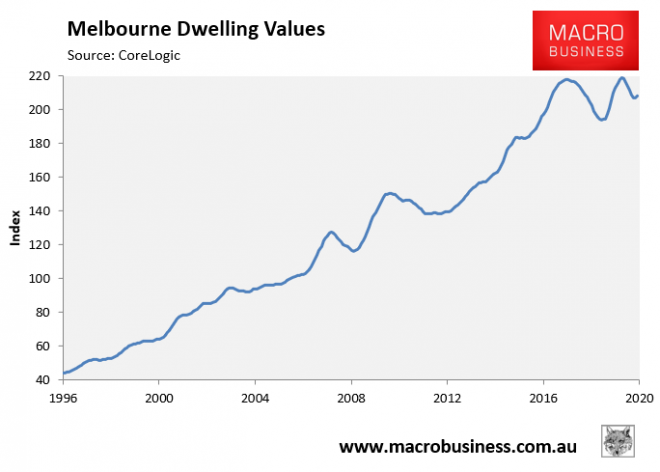 Melbourne dwelling values have also only recovered 0.5% from their October 2020 low, reflecting the city's slower recovery from the crisis.
We are tipping softer growth for Melbourne in 2021 in the range of 3% to 7%.
Mortgage growth has yet to rebound; although we expect it to do so shortly: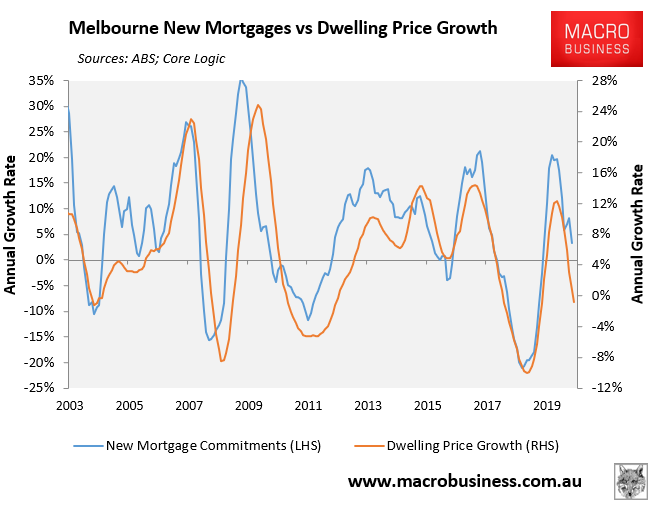 Auction clearance rates have also taken longer to recover, reflecting Melbourne's second wave shutdown: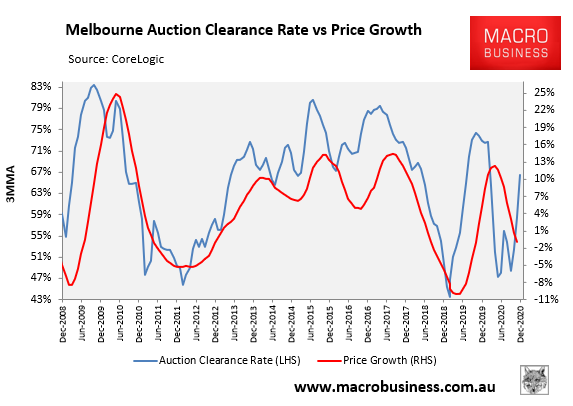 Like Sydney, Melbourne is also highly reliant on immigration, which has collapsed, creating an even bigger structural oversupply of dwellings (already reflected in sky high rental vacancies and crashing apartment rents – see above):

Melbourne's relative affordability is also very poor, with its valuation against the other capital cities running near all-time highs: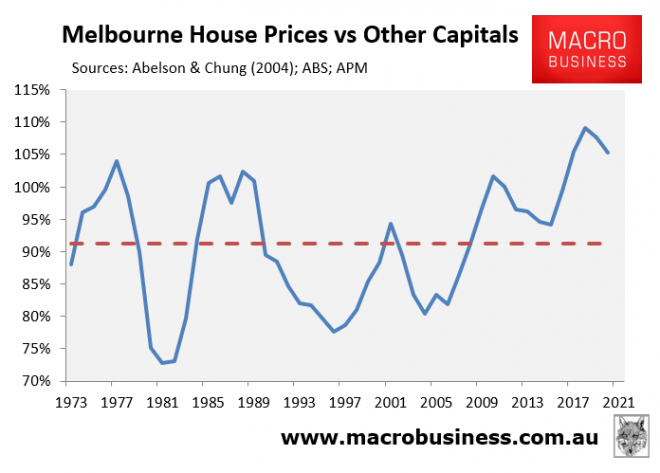 Add Melbourne's economic hangover into the mix following the city's painful 16-week second wave shutdown, and we believe that Melbourne will underperform the other major capitals in price growth over 2020.
Brisbane:
Brisbane dwelling values hit a record high in November after rising 1.8% from their August COVID-19 low: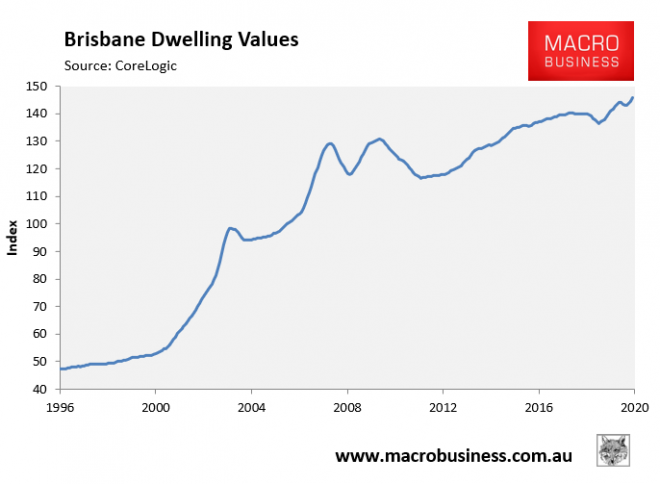 We are tipping strong growth for Brisbane in 2021 in the range of 9% to 13%.
Mortgage growth in Brisbane has rocketed to levels not seen in more than a decade: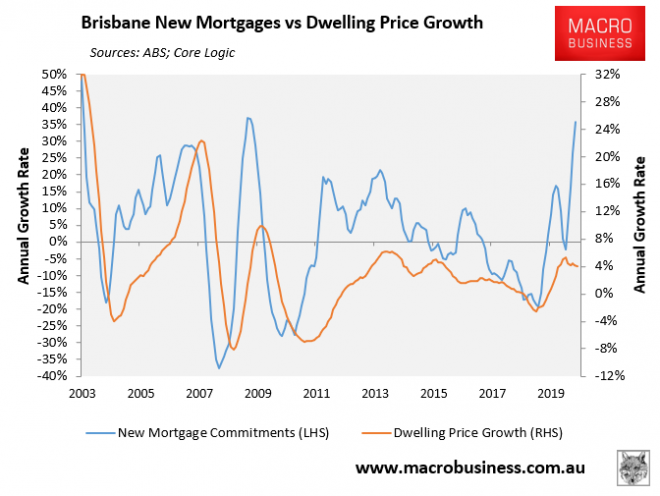 Unlike Sydney and Melbourne, Brisbane is also far less reliant on net overseas migration and is not facing a large structural oversupply:

Accordingly, its rental market is actually tightening and rents are rising: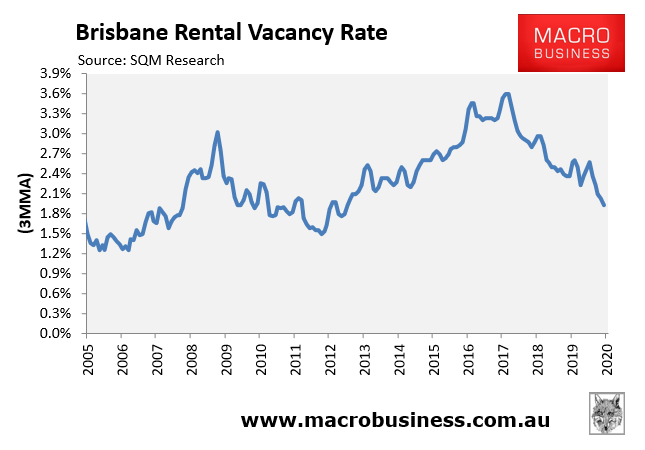 Finally, and most importantly, Brisbane is very good value relative to the other capital city markets, with its prices tracking near historical lows against these markets: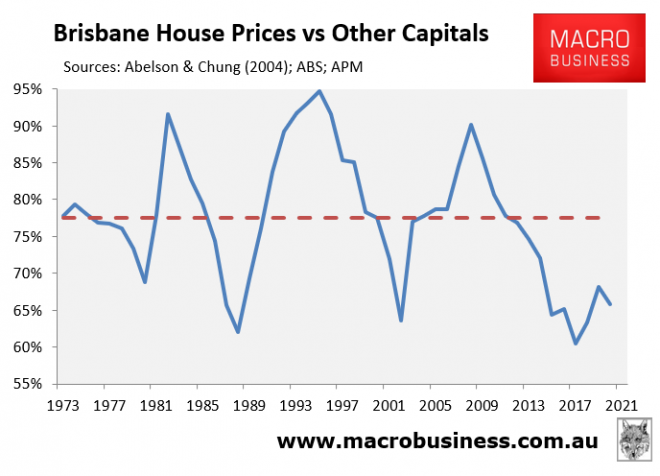 In short, Brisbane should easily outperform its East Coast peers, Sydney and Melbourne, in 2021.
Perth:
Perth's prospects are even brighter after dwelling values fell by around 22% over the six years from mid-2014: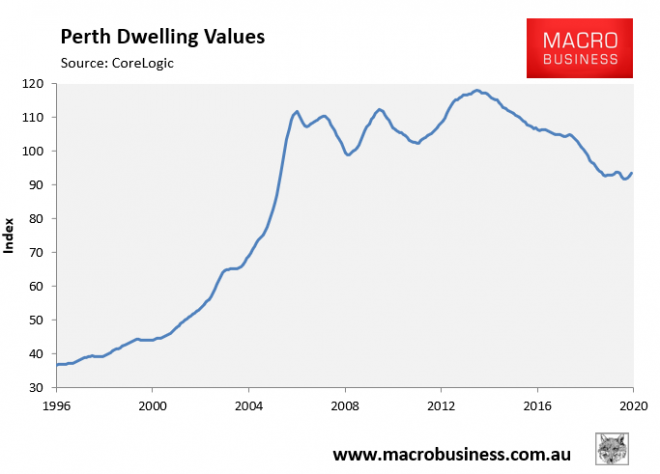 We are tipping very strong for Perth in 2021 in the range of 10% to 14%.
Mortgage growth has literally exploded to levels above the previous iron ore booms: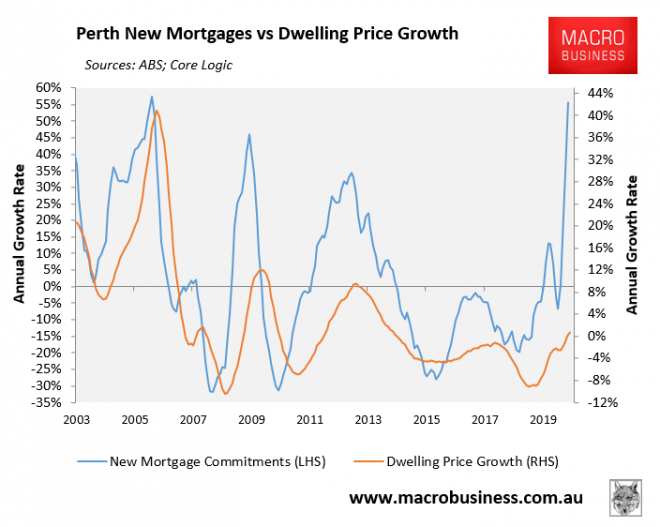 Perth's structural housing supply is reasonably balanced:

And Perth's rental vacancy rate has tanked at the same time as rents are surging: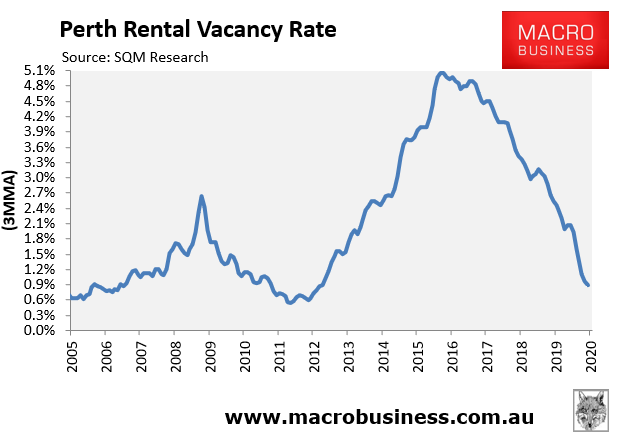 Perth's relative affordability is the best on record, with values at their cheapest recorded level compared to the other capitals:
Finally, iron ore exports/prices are rising into the stratosphere: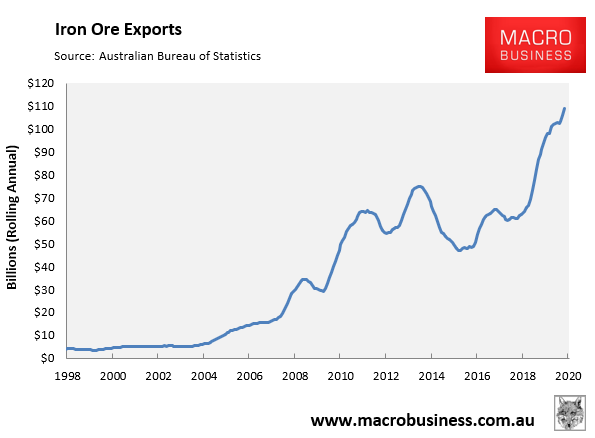 Perth's property market is rigged to boom.
Adelaide:
Adelaide's housing market was also at a record high in November after rising by 3.3% in the prior three months alone: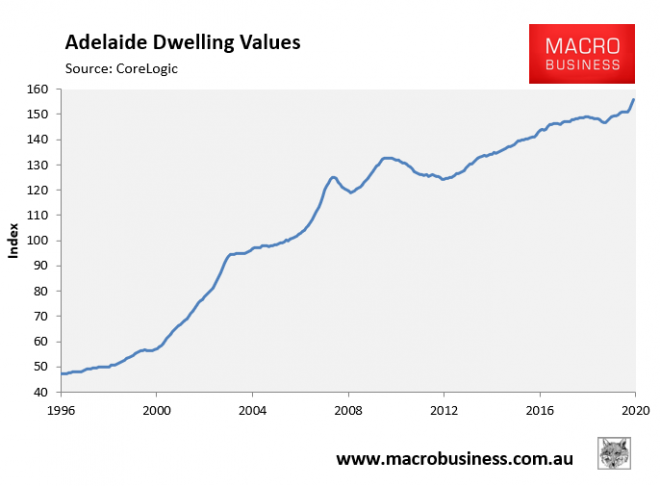 We are tipping Adelaide dwelling values to rise by between 7% and 11% in 2021.
Mortgage growth has accelerated to previous highs: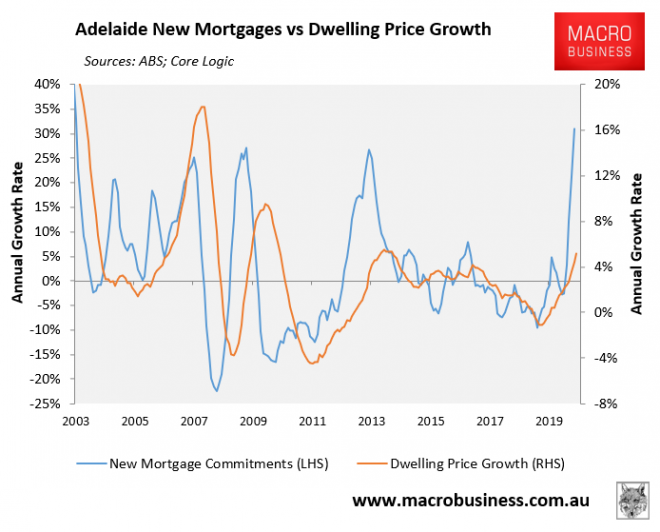 Adelaide's structural supply is better balanced than Sydney and Melbourne, but less so than Brisbane and Perth:

However, rental vacancies have still tightened significantly and rents are rising at a reasonable pace: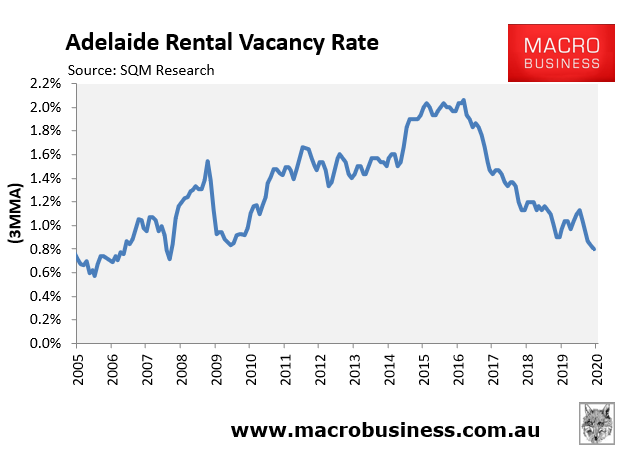 Finally, Adelaide is relatively affordable with prices trading well below historical averages relative to the other capital city markets: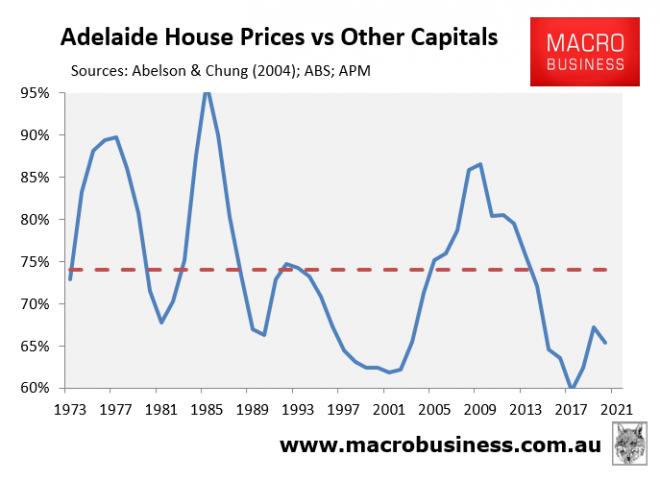 Affordability, cheap money, and a low reliance on net overseas migration makes Adelaide property a relatively attractive proposition.
But avoid high-rise apartments
Despite the strong price growth forecast for 2021, readers should avoid the high rise apartment segment. High-rise apartments are generally lower quality, heavily dependent on migrant flows (especially international students), oversupplied, and are suffering from falling rents.
For example, while the Brisbane property market as a whole is attractive, high rise apartments in Brisbane are not. As the saying goes, "land appreciates, buildings depreciate".
Conclusion
Most signs are pointing up for Australian property prices in 2021.
Australia is one of the few nations in the world to have eliminated local transmission of COVID-19, and the economy is rebounding accordingly.
Australian households have built a war chest of savings, thanks to emergency income support and early access to superannuation savings.
The RBA is doing everything it can to lower borrowing costs even further.
The federal government, through its axing of responsible lending rules and neutering of ASIC, has green-lit banks to lend to anybody with a pulse.
Assuming no third wave virus outbreak, the only obvious major headwind for Australian property in 2021 is the collapse in immigration, which will drive an oversupply in Melbourne and Sydney, tempering growth in these two cities.
That's why we see Perth, Brisbane and Adelaide as likely stronger markets.
Despite the Chinese trade war on Australia, we see nothing in the external environment that poses a material risk to these outcomes for 2021.
Below is the Nucleus Wealth podcast discussing this report.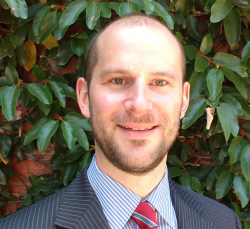 Latest posts by Unconventional Economist
(see all)