A terrific piece at Domain on the weekend describes the state of China ties within the ALP:
In mid-May, a small sticker appeared on a Labor senator's office door in Parliament House. To an untrained eye it was innocuous – four wolf's claw marks on a clear background. But it was a symbol of what was becoming parliament's most talked-about exclusive society.

The logo was confirmation that Victorian senator Raff Ciccone had been inducted into the "Wolverines", a bipartisan group established to speak up against China's growing assertiveness.

Ciccone was the second opposition MP to join the informal group, which counts colleague Kimberley Kitching as a founding member.

Days after the sticker went up, Labor's deputy senate leader Kristina Keneally called Ciccone into her office. She told him he should be mindful of what other colleagues would think of him for having the sticker on his door and the perception that would create. Ciccone was left with the impression that it was a directive from Keneally to take it down. Months later, the sticker remains in place.

The encounter underscored the bitter divisions within Labor over China.

…within the ALP, the divisions run deep. Worst of all, the question of how to handle the relationship with our biggest trading partner sometimes appears to be used as a proxy for rancorous factional rivalries. Some voices drop in and out, unaware of profound and complex changes that have taken place since the last time they engaged in what is the most consequential national security dilemma of our time.

"We are facing the greatest strategic challenge in our region since the end of World War II, and we're worried about whether someone can put a sticker on their door," one senior Labor MP said.

A few weeks after Ciccone – who is from the conservative Shop, Distributive and Allied Employees' Association – joined the Wolverines group, Labor's leadership organised for former intelligence chiefs Dennis Richardson and Allan Gyngell to brief members of the ALP parliamentary caucus on China. Both men criticised the Wolverines, with Gyngell telling them the anti-China influence group was "immature, juvenile and destructive". The briefings were leaked to the media within days.

When The Sydney Morning Herald and The Age approached Labor MPs for comment this week, some claimed there was no division. Some tried to talk this journalist out of writing the story. Moments after phone calls ended, some of the MPs phoned the offices of senior shadow ministers or leader Anthony Albanese to tip them off about the story.

…The MPs who unsettle their colleagues most tend to be from the NSW Right or Western Australia. While a number of senior figures within the NSW Right have been trying to drag the party out of this era, there is still deep unease at the influence of Bob Carr. The former Labor premier and foreign minister has lauded the "great leadership" of Chinese President Xi Jinping and become one of the biggest critics of the government's handling of the China relationship.

A number of MPs from the Victorian Right – including Kitching, Anthony Byrne and Peter Khalil as well as former MP Michael Danby – have pushed the party to adopt a stronger line on Beijing. While Labor's deputy leader and defence spokesman Richard Marles is regarded by most colleagues as fundamentally sound on national security, a speech in Beijing last year where he called for greater defence co-operation between Australia and China caused some unease.

…Along with ongoing problems in the NSW Right, Danby says there is a "creepy West Australian mentality which only looks at the iron ore price and kowtows to Beijing".

…this year we've been hearing many voices from within the ALP – and they are increasingly crowding out those of Marles and Wong. While the two shadow ministers try to run a nuanced criticism of the Morrison government when they believe it has gratuitously angered Beijing, others in Labor attack the Coalition every time China strikes at Australia.

"We bash the government whenever China does something mean to us, and it seems we never consider whether it might be China's fault. It's rewarding the bully," one Labor MP said.

"Now, there may be occasions where you can make a nuanced argument that the government has mismanaged an issue, but our modus operandi is to bash them every time."

…Outside of parliament, the union movement is also at odds. Right-wing unions such as the Australian Workers' Union and the Shoppies have been pushing for the party to adopt a stronger line on Beijing, while left-wing union the CFMEU this week accused the Morrison government of "undiplomatic, reckless and sometimes bizarre" attacks on Beijing.

…But lately, the most vitriolic anger appears to be directed at Kitching, who chairs parliament's Foreign Affairs, Defence and Trade References Committee.

While some Labor MPs have strong opinions on where to go with the China relationship, many appear blissfully ignorant.
Now, let's add another story at The Guardian written by China legend Richard McGregor:
Scott Morrison got to his feet at the Australian Defence Force Academy in Canberra for the country's annual defence strategic update that the full extent of its modern resonance hit me.

Speeches like the one delivered by Morrison are designed to peer over the horizon to threats that look uncertain and unformed today, but could materialise into something serious in decades to come. Morrison was anything but vague in his depiction of the coming storms in the Indo-Pacific. He went back to the future for guidance, mentioning the 1930s four times. It's an era, he said, that he'd been "revisiting on a very regular basis, and when you connect the economic challenges and the global uncertainty, it can be very haunting".

Before Covid-19, before the first wave of mysteriously stricken patients began to crowd into hospitals in Wuhan, and the lies and the chaos and the lockdowns that followed as the virus spread out from the giant inland city to the rest of China and then overseas, I used to make lists of all the things that Australia and China were battling over. Cyber attacks, Taiwan, the South China Sea, Huawei, the Pacific Islands, Hong Kong, foreign interference, universities, Xinjiang, Australian prisoners held in China, Crown casinos, and a multitude of spying allegations. As soon as one issue dropped off the front pages, another one rushed to take its place. Even the two countries' sports stars were fighting, with champion swimmer Mack Horton accusing his rival, Sun Yang, of being a drug cheat.

The virus lifted the mutual acrimony to a new level. In Canberra's telling, the Australian government's call for an independent investigation into Covid-19 was an entirely reasonable response to a pandemic that had cratered the global economy. In Beijing, the Foreign Ministry denounced it as a "political manipulation" made at the behest of Washington. Or, as one Chinese netizen put it, Australia was "this giant kangaroo serving as a dog of the US". Beijing announced trade sanctions on beef and barley to drive home its displeasure. Both nations warned their citizens that traveling to each other's countries was dangerous. It didn't really matter, as no one could travel anyway, but in terms of political signalling, it was potent. This was a relationship headed downhill fast.

To get a sense of just how bad things might get, let's go back to Australia's longest serving prime minister, and the disrespectful send-off that some old-fashioned socialists in Melbourne provided for him in 1978.

Menzies was given the nickname "Pig Iron Bob" by waterside workers in 1938. They were protesting against the sale of pig (crude) iron to Japanese steelmakers, which Menzies, as the then attorney general, forced through in the face of industrial action. Coming just after the Imperial Army's massacre of Chinese in Nanjing, the waterside workers objected to Australian resources being used to feed the Japanese war machine. In that respect, the "Pig Iron Bob" posters didn't make sense. Far from being a "militarist", the criticism of Menzies was that he hadn't, at that point, been hawkish enough. Nonetheless, once the Pacific war was under way and Australian troops were on the frontline battling the Japanese, many conservatives, with the benefit of hindsight, came to sympathise with the communist union. Menzies himself, on the left at least, struggled to live the nickname down.

These days, the Australian government has a close relationship with Japan and views China as the major threat to peace and stability in the region. This, by the way, drives Chinese diplomats in Australia around the bend. It doesn't take long once you meet for them to remind you that China and Australia were allies in the Pacific war. That's certainly true, though the diplomats don't like to be reminded in turn that Australia was allied at the time not with Mao Zedong's communists, but Chiang Kai-shek's Nationalists, who, after losing the civil war, fled to Taiwan, an island which remains unfinished business to this day. The diplomats also seem blind to the fact that China under Xi Jinping has much in common these days with the Japan of the 1930s.

But back to pig iron, which, like iron ore, is an essential ingredient in making steel. Luckily for Australian resource companies, and the Treasury, which collects taxes from them, China's economy is still heavily reliant on building things which use steel. Even though its share of global of economic output is about 20%, China makes more than half of the world's steel. As a journalist based in Tokyo in the 1990s, I had to track the annual iron ore price negotiations between Australian miners and Japanese steel mills, at that time by far our biggest customer. Analysts in Tokyo and around the world would pore over the latest signs from local steel mills of an uptick in production, which at that time averaged in total about 100m tonnes a year. Anything more would be a bonanza for the miners. China, however, has reached into another dimension. It is making nearly 1bn tonnes of steel a year, to build new cities and infrastructure, 10 times what Japan used to produce.

For a country like Australia, located nearby and sitting on huge reserves of high-quality resources, China's steel boom has been a once-in-a-lifetime windfall. China is Australia's biggest export market, and iron ore sales comprise the biggest component of that. Even as the pandemic persisted in much of the world, Australian iron ore exports were reaching record levels in 2020 as China's economy recovered and steel production along with it. The shiploads leaving Western Australia for ports along China's east coast have been fetching fat prices too, as production from mines in Brazil, Australia's main competitor, were disrupted by accidents and the coronavirus.

So, when Morrison looks in the proverbial cartoonist's mirror, does he worry that one day, instead of seeing a wartime hero like Churchill looking back at him, it will be a prewar Menzies in his place? In other words, does he worry that China's relations with the west will become so bad that his job as prime minister will be not to reap the benefits of iron ore sales, but instead face the prospect that he might have to restrict them? "Steel Scott", anyone? I know it doesn't have quite the same stench as "Pig Iron Bob" but it could take on a more sinister ring in the hands of a skilled political opponent.

Morrison has hardly discouraged such hyperbole. After his speech at the defence academy, he told the Sydney Morning Herald that he had deliberately thrown in those multiple references to the 1930s because he thought the Australian people weren't sufficiently aware of the potential dangers ahead. "That's why I thought it was important to stress the point," he said. Morrison wasn't just thinking of the end of that decade, but its opening years as well, which ushered in the Great Depression and a sustained economic downturn, which in turn contributed to the conditions which created the world war that followed.

Before Covid-19, such grave historical references wouldn't have passed the laugh test. Slow the sales of our single most valuable export, at a time when we need economic growth and tax revenues more than ever? But don't think that the idea of Canberra interrupting iron ore sales to China hasn't crossed the minds of senior executives in the C-suites of our big miners. Nor have the Chinese missed the signals themselves, which is why they are focused on securing alternative suppliers for core industrial resources, by reviving iron ore mines in Guinea, West Africa, as well as cultivating closer ties with Brazil.
There are three major interlocking themes here that Labor must understand or it will be permanently consigned to opposition.
First, the shift towards skepticism of CCP intentions in the world and in Australia is structural. It was always coming but was supposed not to arrive until China invaded Taiwan in a couple of decades. Thankfully, it was brought forward by three events. The election of Donald Trump, the Hong Kong uprising and COVID-19. Bejing has itself confirmed this with the launch of its wolf warrior diplomacy. It no longer even pretends to be the nice guy. The last Lowy Institute and Pew surveys are as unequivocal as any poll you will ever read: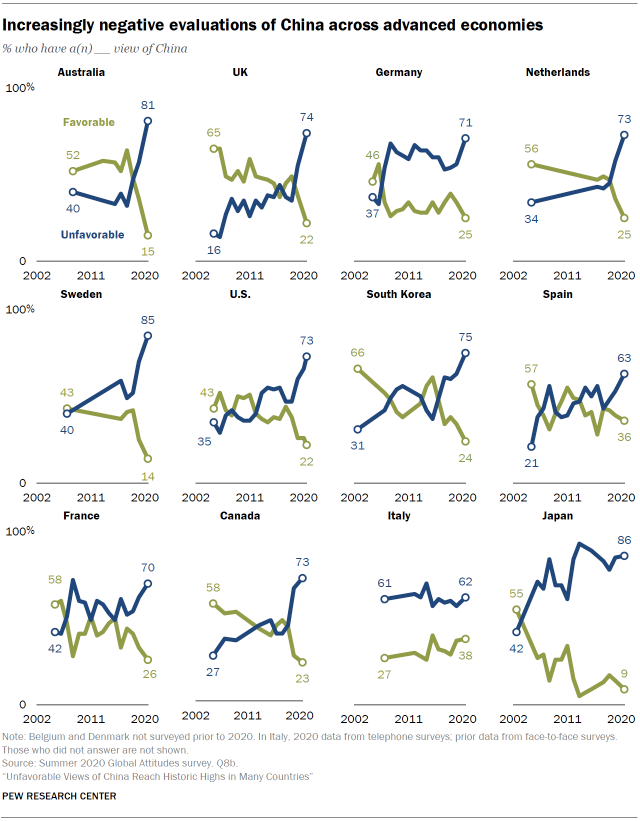 It's all well and good to whine about "McCarthyism". But that is a vague historical reference. So far as global and local feeling is concerned, anybody now sympathising with the CCP is consorting with an enemy. How much of an enemy is yet to be defined. The shift has occurred ideologically, politically, technologically and biologically. The perception change is less advanced in the two greatest theatres – economically and militarily –  but are both moving as well. In economic terms, we are halfway there. In military terms, less so but tensions are rising.
Second, the Colation has grasped the political nettle on this. China relations will feature at the forefront of every single election campaign henceforth. It knows Labor is divided and weak and will drive the CCP wedge into it like a hot knife into butter. It will have the support of history on its side as it does so.
Third, because political parties are much the same these days in policy terms, contemporary elections are won and lost on single issues. Find an issue in which the other party is outside of the acceptable policy center (wherever that may have migrated to), wedge it and you win. Especially if it involves national security. Think stopping the boats on steriods.
It's no more simple or complex than that. Until Labor turns convincingly hawkish on China it will never be elected. This will happen despite having better policy on just about every other front (which it pretty much does already).
The Australian people have made a structural shift to China hawkishness. If Labor won't follow them then they won't shift to it.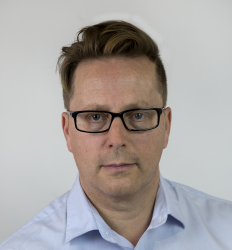 Latest posts by David Llewellyn-Smith
(see all)