Iron ore prices for October 14, 2020:

Spot down. Paper down more overnight. We're going lower here.
Indeed, I'm starting to wonder if there isn't a little shock unfolding. Brazil is recovering steadily:

More importantly, property sales in China have tanked:

A few cities have tightened property curbs for investors in recent months but that does not explain such a crash. What might is this, via FT:
Shares in China Evergrande sank 17 per cent after the latest effort by the world's most indebted property developer to shore up its balance sheet fell flat.

China's largest developer said in a filing on Wednesday that it raised $555m from a share placement priced at a discount of 14.7 per cent to the stock's last close — far short of its target of just over $1bn.

Andy Maynard, a Hong Kong-based trader at China Renaissance, said the placement was "testament to negative sentiment for the stock and potentially the sector", adding: "Most share placements, follow-ons, secondaries, IPOs have gone well [this year]".

…The share placement comes as the developer is struggling to reduce a debt pile of more than $120bn at a time when Chinese regulators have drafted new measures to curb leverage within the sector.
This follows recent difficulty with refinancing its huge $120bn debt pile and launching immense sales discounting, at The Economist:
Early in september Evergrande, China's biggest home-builder, announced the kind of sale more commonly seen in clothing stores: "30% off all properties, one month only!" Some debated whether it was a gimmick or a genuine discount. But its motivation was clear. Deep in debt, Evergrande needed cash—and quickly. Events since then have highlighted the urgency, and also raised the question of whether its struggles threaten the wider economy.

…On September 24th a letter spread online suggesting that its giant edifice was shaky. Written on Evergrande stationery, it warned of a cash crunch and appealed to the government of Guangdong, its home province, to push through approval of a backdoor-listing plan. According to a previous agreement, Evergrande would owe investors 130bn yuan ($19bn) if its subsidiary failed to list on the Shenzhen stock exchange, where it would obtain a higher valuation than it currently has in Hong Kong, before the end of January. Evergrande has said that the letter, seen by reporters for Bloomberg and Reuters, is a fabrication.

The part of the letter that attracted most attention was its prediction that Evergrande's failure would lead to "systemic financial risks". Has it truly achieved too-big-to-fail status? The letter, whether authentic or not, made a straightforward case. First, if Evergrande were to collapse, the impact on the economy would be severe. The letter estimated that the developer, with projects in 229 cities, generates more than 3m jobs. Second, the financial fallout would be far-reaching. Evergrande reportedly owes money to 171 domestic banks and 121 other financial firms, on top of all of its bondholders. The letter seemed calculated to elicit a helping hand from a government that prizes stability, both social and financial.
This was actually the second time this year that Evergrade had discounted sales by 30%, It did so during the pandemic as well. It hasn't gone well, also Bloomie:
Under pressure to curb leverage, the junk-rated developer seized the eight-day stretch popular with home buyers to press its entire workforce into the sales effort. Evergrande said Friday that it achieved contracted property sales of 142 billion yuan ($21 billion) from Sept. 1 to Oct. 8, about 71% of its two-month target, though average prices dropped to a four-year low.
In my view, Evergrande is too-big-to-fail for the CCP, if not the financial system, even though it is not an SOE. Empty apartment building is the core of the Chinese recovery. If they let Evergrande go then we'll see exactly the kind of freeze in sales volumes that is unfolding as dumped stock embeds deflation expectations in prospective buyers.
For that reason, I've been pretty sanguine about this issue so far. But a one-quarter crash in empty apartment sales overall in the past few weeks is not to be sneezed at for steel demand in the not-too-distant future.
So far, steel mills have been running crazy levels of output and inventories regardless of conditions, even as new orders recently crashed in the steel PMI: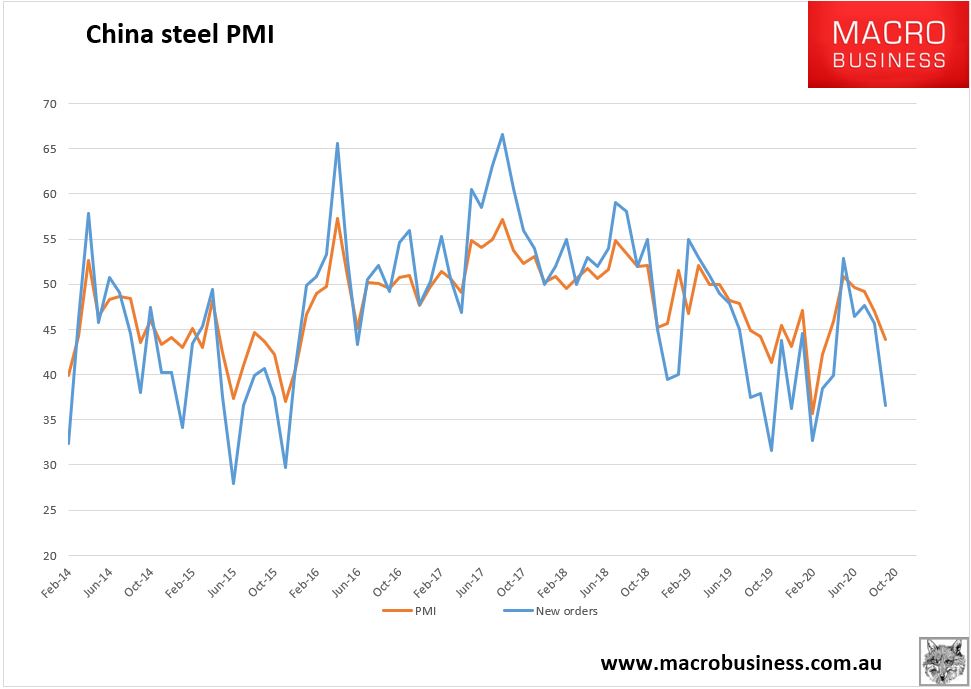 My guess is that this has been policy-driven. But I am wondering now how sustainable it is as the problems in the development sector flow downstream to inputs.
If empty apartment sales don't turn soon, and I mean v-shaped like, then the seasonally weak period for iron ore through to December may develop into a rather unexpected price shock.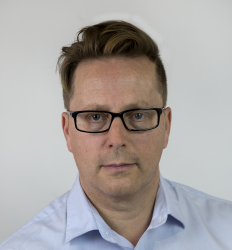 Latest posts by David Llewellyn-Smith
(see all)