SQM Research has released its rental vacancy data for September, which revealed a flat vacancy rate nationally but ballooning vacancies across Melbourne and major CBD markets.

Melbourne's rental vacancy rate has nearly doubled over the past year to 3.8% – the highest reading since December 2011.
Sydney's rental vacancy rate, by comparison, retraced to 3.5% but remains at elevated levels: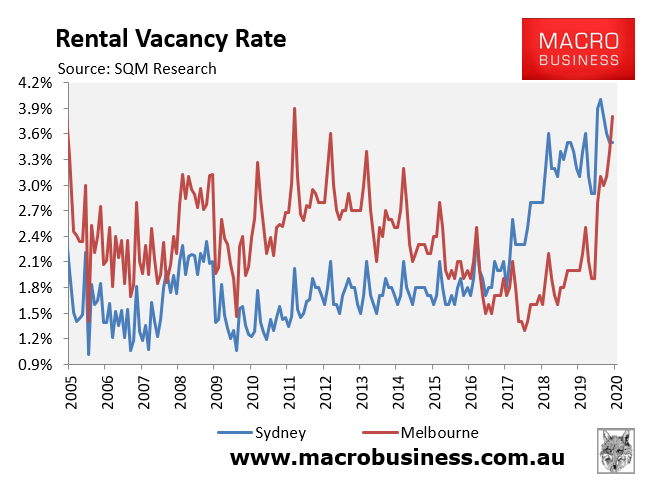 Rental vacancies across the smaller capitals are far tighter, with Brisbane at 2.0% and the others running below 1%.
The bigger story here is the ballooning vacancy rates recorded across the major capital city markets.
Melbourne CBD's vacancy rate has climbed to a record high 10.8%:

Brisbane CBD's vacancy rate has climbed to 12.5%:

Whereas Sydney CBD's vacancy rate retraced to 12.8%, but remains elevated:

Finally, asking rents are declining across Sydney and Melbourne:

Commenting on the results, SQM managing director Louis Christopher noted:
"Elevated rental vacancy rates in Sydney and Melbourne continue to push city rents downwards. This is particularly the case in the CBD and inner ring suburbs close to the CBDs. However, outside Sydney and Melbourne vacancy rates are falling again. And then when we consider regional locations Vacancy rates have fallen below 1% which really represents the point of little to no rental vacancy. In short, in September the population was still looking to stay away from the large cities. We think this trend may soon reverse, but to what extent remains a mystery."
The bigger issue here is the projected collapse in immigration and population growth.
As reported yesterday, both Sydney and Melbourne are facing gigantic supply gluts in 2021 and 2021.
NSW is projected to have 42,000 net dwelling additions versus a 2,000 population decline in 2021 and 34,000 net dwelling additions versus 7,000 population increase in 2022: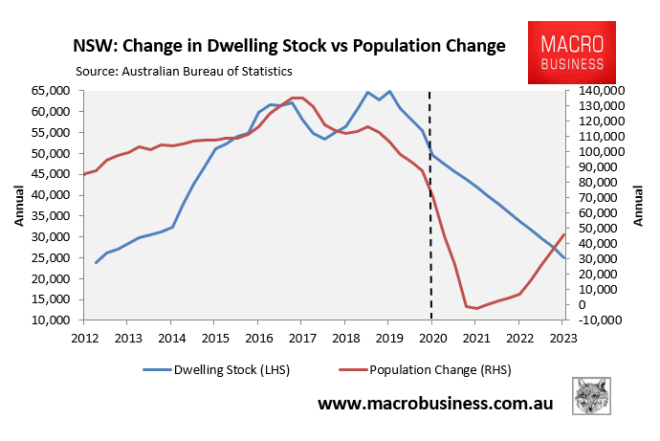 Whereas Victoria is projected to have 51,000 net dwelling additions versus 13,000 population growth in 2021 and 48,000 net dwelling additions versus 30,000 population increase in 2022: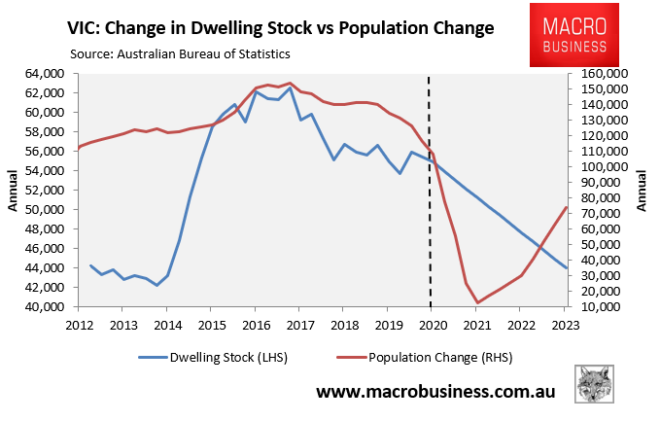 Sydney and Melbourne apartment rents had already fallen by around 5% over the six months to September:

Further deep rental falls are likely in Sydney and Melbourne based on this data.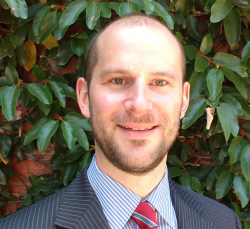 Latest posts by Leith van Onselen
(see all)