Tucked away deep in Budget Paper 3 were the below forecasts for net overseas migration (NOM), with the Treasury's Centre for Population now expecting NOM will turn negative for the first time since the Second World War (WW2), recording declines of -71,600 in 2020-21 and -21,600 in 2021-22, before recovering to 95,900 in 2022-23 and 201,100 in 2023-24:

Accordingly, Australia's population growth will slow dramatically, falling to its lowest level since 1942, before rebounding back to 329,000 by 2023-24:

The chart: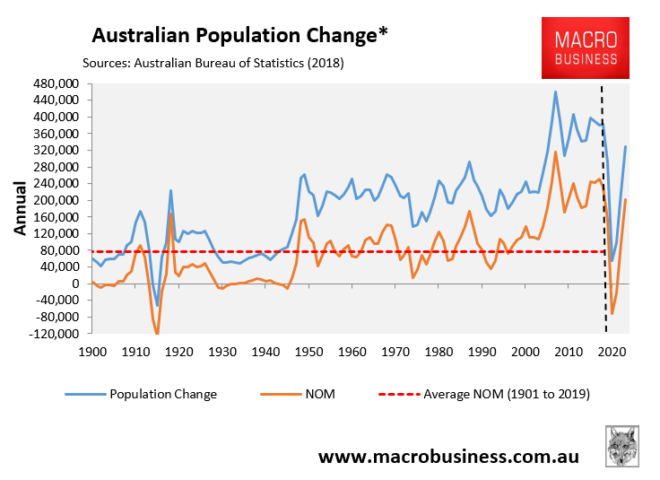 Specifically, Australia's population is only forecast to grow by 56,000 in 2020-21 and by 98,000 in 2021-22.
NSW's population is forecast to decline by 2,000 in 2020-21 and will rise by only 7,000 in 2021-22.
Whereas Victoria's population is forecast to increase by only 13,000 in 2020-21 and 30,000 in 2021-22.
Hilariously, after shedding hypocritical crocodile tears over poor housing affordability in Australia, brought about by 15-years of mass immigration, leading mass immigration spruiker Dr Liz Allen has warned of economic and social armagedon from the immigration collapse:
Dr Liz Allen, a demographer at the Australian National University told SBS Punjabi that this could have far-reaching consequences for the nation's future.

"Negative net overseas migration, as expected by the government, will see both the median age of the population and structural aging increase. A more accentuated aging population will have major impacts on the financial position of the country and threatens future socio-economic wellbeing," said Dr Allen.
The federal government also left the planned ceiling for the Migration Program at 160,000 places for 2020-21, with most permanent residency visas to be issued onshore.
Instead of being viewed as a disaster, this lower level of population growth will provide Australia with a unique opportunity to catch-up on infrastructure investment, which fell badly into deficit following 15 years of extreme immigration. It will also encourage the economy to transition away from unsustainable, quanity-based 'dumb' growth centred around people servicing to actual productivity and export led growth.
A lower, more sustainable level of population growth is exactly what Australia needs and should be celebrated.
Nothing good comes from perennially crush-loading infrastructure, housing, and the natural environment. Further, the absolute last thing unemployed Australians need is to be competing for scarce jobs against low wage migrants. This will only crush wages even more and decimate Australia's working class.
Nordic countries are regarded as being among the most advanced, happiest and well-functioning in the world with the highest living standards. They have achieved these results without mass immigration and rapid population growth:

Australia should seek to emulate these nations by focusing on maximising productivity and living standards.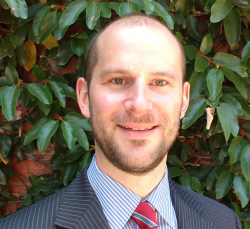 Latest posts by Unconventional Economist
(see all)