ABC News has provided a useful update on the rental smash taking place in Sydney and Melbourne:
…the latest rental vacancy data from SQM Research shows the pandemic is taking a harsher toll here than other capital cities.

The vacancy rate (the percentage of available properties not yet leased) has almost doubled in the 12 months since September last year, rising from 2 per cent to 3.8 per cent.

The average rent has also declined sharply along with that reduced demand.

It's created what real estate agents might call a "renters' market"…

While Melbourne's renting scene has been hit hit, analysts say it's still too early to say if the market has bottomed out…

"Elevated rental vacancy rates in Sydney and Melbourne continue to push city rents downwards," SQM Research managing director Louis Christopher said.

"This is particularly the case in the CBD and inner-ring suburbs close to the CBDs.
The collapse in immigration most certainly suggests that vacancy rates will climb and rents will fall across both major markets.
Based on the 2020 federal budget's population projections and assuming dwelling construction rates fall to decade lows, both Sydney and Melbourne are facing gigantic supply gluts.
Advertisement
NSW is expected to have 42,000 net dwelling additions versus a 2,000 population decline in 2021 and 34,000 net dwelling additions versus 7,000 population increase in 2022: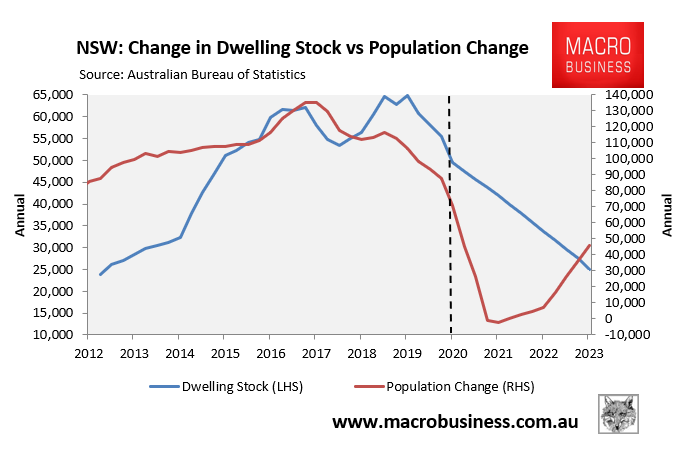 Victoria is facing 51,000 net dwelling additions versus 13,000 population growth in 2021 and 48,000 net dwelling additions versus 30,000 population increase in 2022:
Advertisement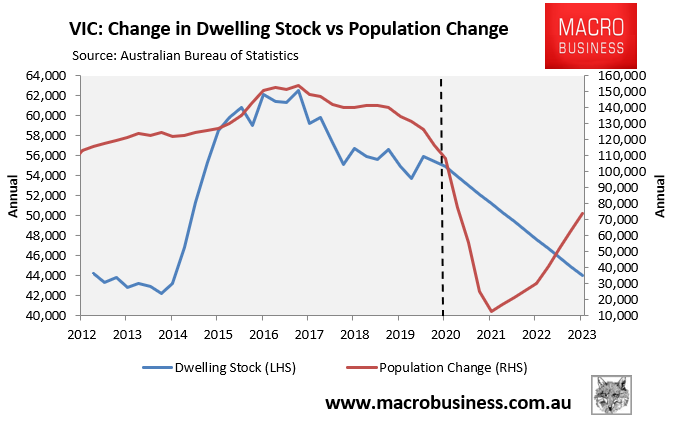 That's an enormous amount of stock coming onto the market with few people to fill it.