The Department of Home Affairs yesterday released permanent migration outcomes for 2019-20:
The permanent migration intake was 140,366 in 2019-20.

Seventy per cent of the visas were granted through the skilled stream (95,843 in total), including 4,109 places under the highly skilled Global Talent – Independent program, launched in November 2019.

There were 23,372 regional visas delivered, from the 25,000 places allocated. This compares to 18,308 regional visas granted in 2018-19 – an increase of 27 per cent.

There were 41,961 visas granted in the Family program, including 37,118 Partner visas.

Two-thirds of permanent visas were granted to individuals already in Australia who transitioned from a temporary visa to permanent residency.

There were also 13,171 visas granted in the Humanitarian Program in 2019-20, including 4,765 visas (45 per cent) for those who were referred for settlement in regional areas.

The size and composition of the 2020-21 Migration and Humanitarian programs will be considered in light of the developing COVID-19 situation and announced as part of the Budget process in October.
The cumulative permanent intake of 153,537 (including the humanitarian intake) was the lowest since 2005 when 133,248 migrants were granted permanent residency: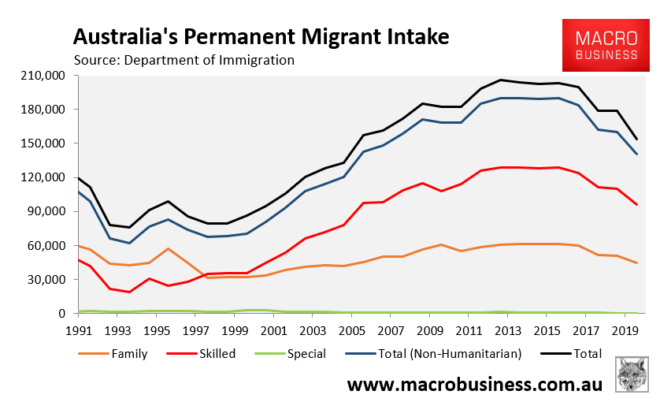 The decline in permanent migration was driven by NSW and VIC, which both recorded near 20% declines in 2019-20: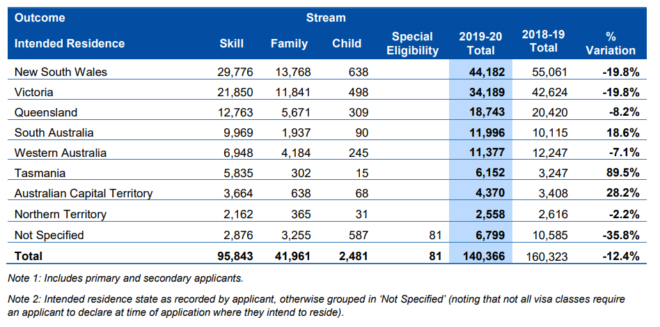 Nevertheless, despite the overall decline, the total permanent intake (including humanitarian) in 2019-20 was still 50% larger than the 20 year average to 2005 of 102,000.
Net Overseas Migration (NOM) – which also includes the flow of temporary residents – was also falling in the lead-up to the COVID-19 pandemic, with 210,600 net migrants recorded in the 2019 calendar year (latest available data):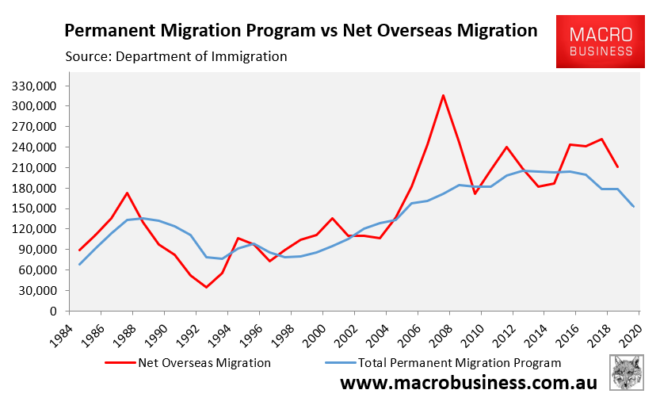 Given border closures have sent net permanent and long-term arrivals plummeting to the lowest level in around 16 years, down 111,850 (36%) from February: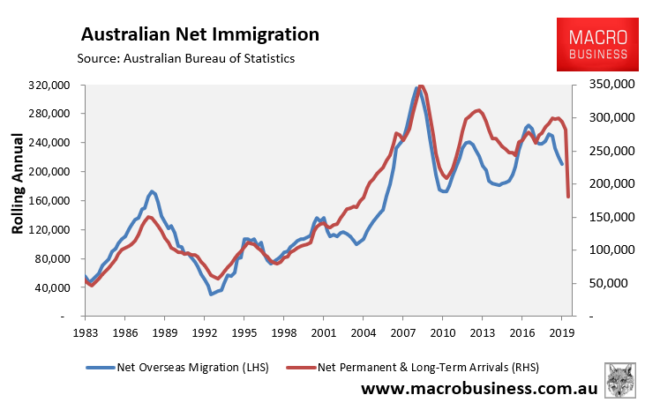 The official data will soon show both permanent migration and NOM falling in unison.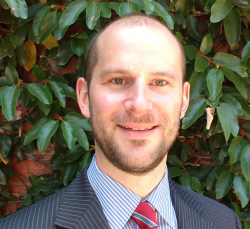 Latest posts by Leith van Onselen
(see all)