I have absolutely no idea why manufacturing is on board with the new Morrison gas policy. All it wants is cheaper gas and power. Morrison will give it neither. Here it is:
Gas will help re‑establish a strong economy as part of the Government's JobMaker plan, making energy affordable for families and businesses and supporting jobs as part of Australia's recovery from the COVID-19 recession.

Prime Minister Scott Morrison said the Government would reset the east coast gas market and create a more competitive and transparent Australian Gas Hub by unlocking gas supply, delivering an efficient pipeline and transportation market, and empowering gas customers.

The Government will get more gas into the market by:

Setting new gas supply targets with states and territories and enforce potential "use-it or lose-it" requirements on gas licenses
Unlocking five key gas basins starting with the Beetaloo Basin in the NT and the North Bowen and Galilee Basin in Queensland, at a cost of $28.3 million for the plans
Avoiding any supply shortfall in the gas market with new agreements with the three east coast LNG exporters that will also strengthen price commitments
Supporting CSIRO's Gas Industry Social and Environmental Research Alliance with $13.7 million.
Exploring options for a prospective gas reservation scheme to ensure Australian gas users get the energy they need at a reasonable price

We will boost the gas transport network by:

Identifying priority pipelines and critical infrastructure as part of an inaugural National Gas Infrastructure Plan (NGIP) worth $10.9 million that will also highlight where the government will step in if the private sector doesn't invest
Reforming the regulations on pipeline infrastructure to promote competition and transparency
Improving pipeline access and competition by kick-starting work on a dynamic secondary pipeline capacity market

To better empower gas consumers, the Government will:

Establish an Australian Gas Hub at our most strategically located and connected gas trading hub at Wallumbilla in Queensland to deliver an open, transparent and liquid gas trading system
Level the negotiating playing field for gas producers and consumers through a voluntary industry-led code of conduct, to be delivered by February 2021.
Ensure Australians are paying the right price for their gas by working with the ACCC to review the calculation of the LNG netback price which provides a guide on the export parity prices
Use the NGIP to develop customer hubs or a book-build program that will give gas customers a more transparent and competitive process for meeting their needs
None of these policy initiatives address the core problem which is a gas export cartel that dominates reserves:
the same gas export cartel dominates all new reserves in the "five basins";
these reserves are ALL expensive to produce and will not reach key markets in NSW or VIC for under roughly $10Gj;
the cartel operates five LNG terminals in NT and QLD that are all in need of more gas and without blanket domestic reservation they will simply send more of the old, cheap stuff offshore as they sell the new, expensive stuff locally.
That's all there is to it. You can build pipelines. You can subsidise development. You can trash the environment. None of it will lower prices if you haven't broken the market power of the gas export cartel. This is why they also support the Morrison plan.
The same applies to power costs. By building more gas power, Morrison is increasing the National Electricity Market reliance upon it without making it cheaper, thus locking in higher prices. If he instead lowered gas prices then the private sector would build the power turbines anyway and electricity prices would fall.
Thus, the only two policy statements by Morrison that make any sense, indeed that is needed at all, are:
Avoiding any supply shortfall in the gas market with new agreements with the three east coast LNG exporters that will also strengthen price commitments
Exploring options for a prospective gas reservation scheme to ensure Australian gas users get the energy they need at a reasonable price
The hilarity of it is this. If Morrison does those two things properly and applies a regulated price cap anywhere from $4-8Gj on east coast gas supplies, then the rest of his plan is redundant because the various gas basins are longer viable. Local prices are too low and so are offshore prices. Thus, Morrison literally cannot deliver on his only two sensible pledges or his fantastically complicated overall plan collapses.
If Morrison cannot and will not deliver on regulated lower prices, then local manufacturing is much better off doing something else entirely. Forget local production and go all-in on LNG imports because they do break the gas cartel. Asian gas contract prices are cratering as the global glut wreaks havoc, via AFR:
Qatar, the world's biggest LNG exporter until last year, has advised it is pushing ahead with a huge expansion of capacity, taking it from 77 million tonnes a year to 110 million tonnes a year by 2025, then potentially to 126 million tonnes two years later.

…Dr Fesharaki noted that for many years Qatar had stuck to its guns on pricing and showed little flexibility in long-term contracts, except to favoured buyers.

That changed only very recently, with a deal struck with Sinopec at a "slope" or index against crude oil of just 10.19 per cent. A second deal with Pavilion in Singapore has confirmed the change of heart in Qatar's policy, he said.

The slope was as high as 15 in Australia's legacy premium-price contracts with LNG buyers in Japan but by last year had slid to 11-12 per cent, already a level that analysts said would put pressure on high-cost Australian projects. A slope of 16.7 represents parity with oil.
Herein is the spectacular joke of the Morrison gas unplan. Local bulk gas buyers typically pay a 14% slope to Brent, enforced by the blood-sucking gas export cartel on contract prices since they collapsed the local market in 2014. Making a few basic assumptions about a rising Brent price and AUD, we can draw the following chart: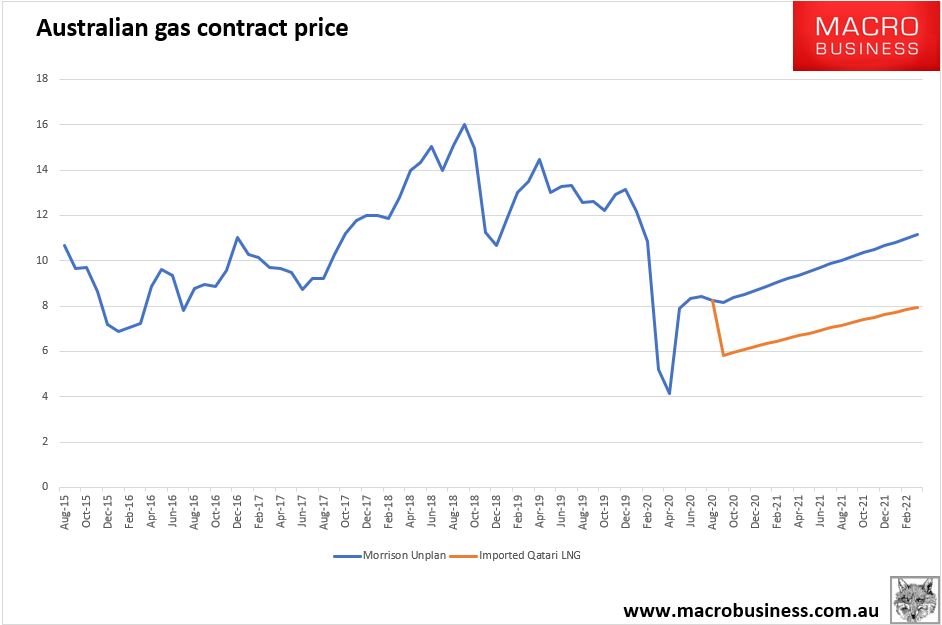 Yes, it is far cheaper to import Qatari LNG than it is to develop the gas in the Morrison unplan.
And it must be remembered that these are bulk contracts, the most expensive volumes available in the global market. Asian spot prices will be consistently $1-2Gj cheaper than this and often, such as now, $4-5Gj cheaper.
If manufacturers use their purchasing power to push the LNG importers to the lowest possible commitments on contract volumes to make them viable, then load up on spot volumes as much as possible, then they will be able to substantially lower their overall gas bill from the $10Gj that Morrison's unplan will deliver.
Most importantly, at that point, imported gas displaces the export cartel as the Australian marginal price setter and local cartel gas prices are forced lower to compete. Meaning the average price of manufacturing's portfolio of gas supplies falls again.
The ultimate joke of truly spectacular proportions in this scenario is that the volumes NSW and VIC import from the glutted Asian markets will often be the very Aussie gas that the export cartel refused to sell them here at twice the price.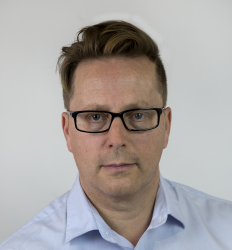 Latest posts by David Llewellyn-Smith
(see all)