Earlier this month, we reported how the Morrison Government's JobKeeper subsidy has been an absolute boon for Australian business owners, juicing company dividends and profits.
This was reflected in the latest national accounts for the June quarter, which showed that employee wages & salaries fell by 3.3% over the quarter while company profits soared by 13.7%: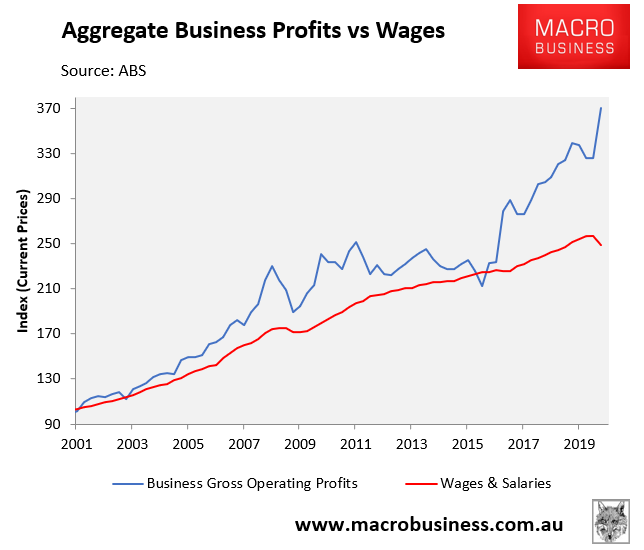 The rorting of JobKeeper has gotten so bad that even the Business Council of Australia's Jennifer Westacott took aim aim at the lavish executive bonuses being paid:
"You hear of restaurants making a 75% increase in profits when they haven't been open. That doesn't make any sense."

Westacott said "companies should not be paying executive bonuses if they are receiving jobkeeper" because "it wasn't designed for that, it was designed to keep people working"…

"If I were those companies, I would exercise some very careful judgement about these. Certainly on executive bonuses, I think that companies should not do that."
An analysis of the financial reports of 290 entities on the ASX 300 also found that at least 25 companies have paid bonuses worth a combined $24.3 million to their executives after claiming JobKeeper subsidies: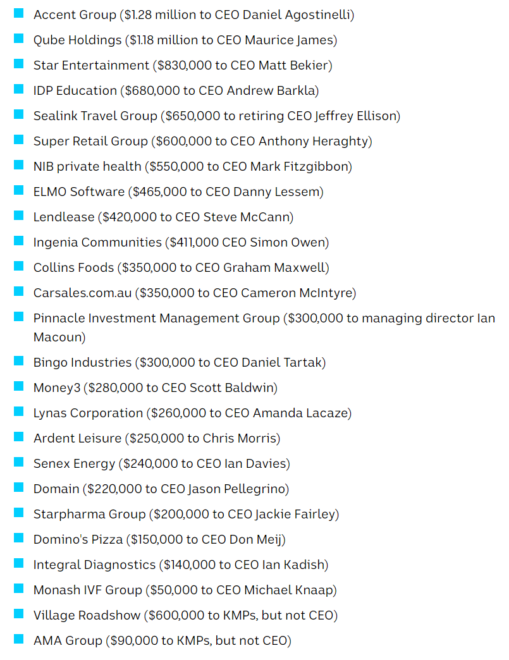 With this sordid background in mind, it is alarming to read that the Morrison Government is planning to launch another 'ProfitKeeper' program in the upcoming federal budget that will subsidise businesses to hire unemployed Australians:
Scott Morrison is considering wage incentives for businesses to take on extra workers…

The jobs incentive plan would likely involve the government making a conditional contribution towards the wages of new employees so small and medium-sized businesses could take on extra staff as the government seeks to drive down the unemployment rate.
Anyone with half a brain can see that this scheme will be rorted en masse and will result in businesses shifting their wage bills onto taxpayers, with owners pocketing the extra profits.
Lets get real for a moment. The reason why unemployment will remain high is because there is a massive deficit of private demand: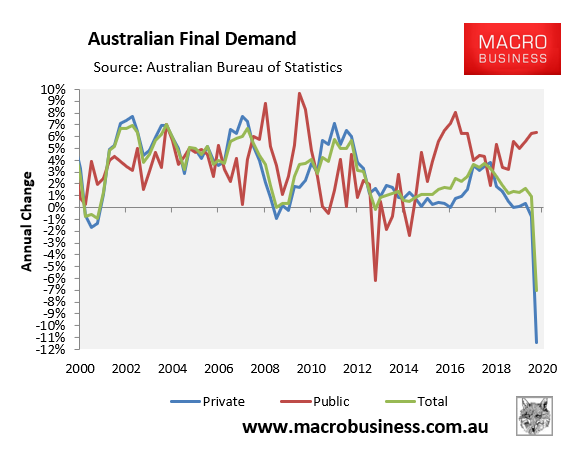 Businesses will not employ more staff until demand increases. And this hare-brained plan does absolutely nothing to fill the demand hole.
Meanwhile, the Morrison Government over the weekend flagged that it has no plans to permanently lift JobSeeker from its normal poverty rate of $40 a day.
This is despite Deloitte Access Economics estimating that withdrawing the JobSeeker Coronavirus Supplement would be equal to a reduction in the size of the Australian economy of $31.3 billion and an average loss of 145,000 full-time equivalent jobs.
Rather than proceeding with this 'ProfitKeeper' scheme, and funneling taxpayer's money to its business mates, the Morrison Government should instead permanently lift JobSeeker. Not only would this boost the social safety net, make the tax-transfer system more progressive and reduce inequality, it would also create an important automatic stabiliser for the Australian economy.
The unemployed are among Australia's most vulnerable residents and almost every dollar of addition income would be spent. Thus, permanently lifting JobSeeker would provide much needed stimulus during a time of high unemployment and chronically weak domestic demand. It would also prevent the loss of many jobs.
Sadly, economic literacy and social justice is in short supply within the Morrison Government.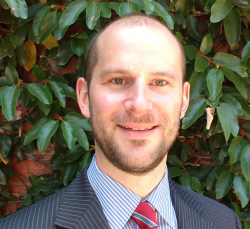 Latest posts by Leith van Onselen
(see all)