by Chris Becker
Save for the record high bubblicious NASDAQ, Wall Street is stalling out in the new financial year as the dual impact of the upcoming presidential election and the disastrous effect of the coronavirus takes hold. But good news everybody – earning season is around the corner!
Wall Street goes through this every quarter in a perverse way, leading to corporate America gaming and cooking their books to meet quarterly expectations instead of yearly or even five yearly financial plans. The financial industry loves this game so let's see what's playing, via Reuters:
The season unofficially begins on Tuesday with results from some of the biggest U.S. banks. Analysts expect S&P 500 companies overall to report a 44.1% drop in year-over-year earnings for the second quarter, when the coronavirus likely took its biggest toll on companies. Earnings fell 12.8% in the first quarter, according to IBES data from Refinitiv.

The second quarter is expected to be the low point for earnings this year. It would be the second-biggest quarterly earnings drop in IBES data going back to 1968, trailing only 2008's fourth-quarter fall of 67%, when banks and other major lenders were hit at the height of the subprime mortgage crisis.

"It's widely assumed at this point that earnings for Q2 are going to be pretty much a disaster," said Willie Delwiche, investment strategist at Baird in Milwaukee.
With the S&P 500 is now trading at 22 times forward earnings, exceeding the 19 times it reached at a record high pre-COVID in February, and above 30 times trailing earnings, almost on a par with the 2001 tech bubble, and surpassing all previous stock market highs: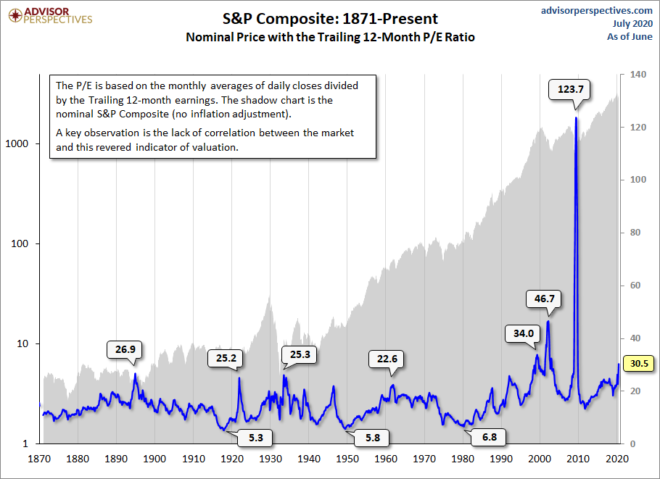 Stocks are supposed to discount and price in the future, and while 2021 should nominally be looking up, the problem is forward guidance from the major companies of the S&P are being revised and/or pulled back even as record stimulus reaches the pockets of CEOs and other drifters from the Trump administration.
It gets worse though:
Analysts see a 24.7% year-over-year decline in earnings for the third quarter and a 13.1% fall in the fourth, while first-quarter 2021 earnings are expected to jump 12.1%, based on Refinitiv's data.

For a graphic on U.S. quarterly profit performance since 1968:

All 11 S&P 500 sectors are slated to see a decline in earnings for the second quarter, with energy, consumer discretionary and industrials among the hardest hit, but utilities and technology showing the smallest declines.
Tech stocks, yes. The NASDAQ is up nearly 900% from its March 2009 lows, having made record high after record high during the pandemic. During the 2000 dot.com tech bubble, it went up 400% and had a price earnings ratio of nearly 200, compared to the ca. 31 times of today.
But can tech stocks alone save Wall Street when half the country enters another lockdown and schools and colleges remain closed? Oh, plus what will be the mostly hotly contested presidential election in over a century.
Bring out your volatility hedges investors and traders alike…get ready to lose yourself in opportunity galore!
Latest posts by Chris Becker
(see all)