For years MB has warned that Victoria (Melbourne) is a ponzi-based economy, dangerously reliant on mass immigration and construction to drive growth, often at the expense of individual incomes and living standards.
Those chickens are coming home to roost.
In April, SGS Economics and Planning warned that Victoria's economy is facing collapse as its long population and construction booms come to an abrupt end:
"This recession will be unprecedented apart from these couple of historical events," said SGS economist, Terry Rawnsley. "It's going to be ugly, that's for sure."

Leading economists and migration experts told The Age that Victoria was especially vulnerable to economic damage from the pandemic because it is geared to construction and international education, which have boomed from high immigration and population growth.

Population increase has underpinned the state's economic growth… The city's population has grown by about 50 per cent since the turn of the century…

"Victoria will inevitably be hit the hardest by this crisis," said Abul Rizvi…
Yesterday, Deloitte Access Economics predicted similar pain for Victoria owing to its extreme reliance on immigration:
The largest downturn is likely to be felt in Victoria given its current spike in cases, as well as that state's dependence on migration and on foreign students in an age of lockdowns and closed borders…

Victoria is likely to take the unwanted title of worst performing state through the COVID crisis.  Population, once a key growth engine, has well and truly stalled.  And Victoria's case numbers were spiking as we went to press.  The need for tighter restrictions has sent job losses soaring and consumers hanging on to their cash rather than spending it…

Victoria's construction sector was already showing signs of weakness before COVID hit.

With high levels of uncertainty, and an unexpected drop in population growth, construction is likely to suffer a severe setback over the coming year.

Demand for office and apartments in Melbourne, including those projects that are halfway through, are being reconsidered as the density of Melbourne's CBD is now less attractive across people's daily lives.
The sad reality is that Victoria's economy has relied far too much on extreme immigration-fueled population increases to drive growth. This was always unsustainable and has delivered falling living standards for incumbent residents.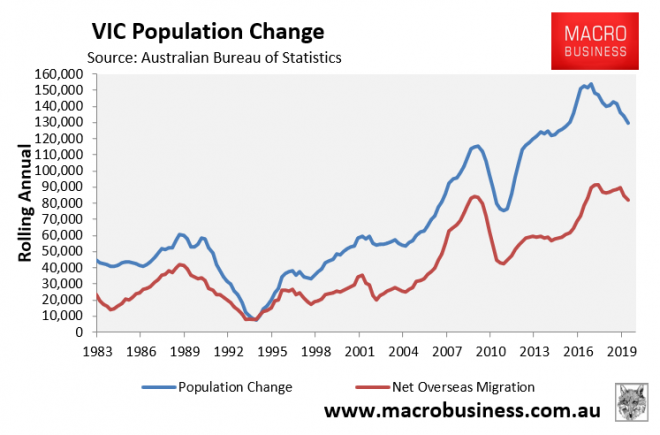 Anyone disputing these facts only needs to look at the below charts showing sluggish export growth, booming imports, and the sharply deteriorated trade balance: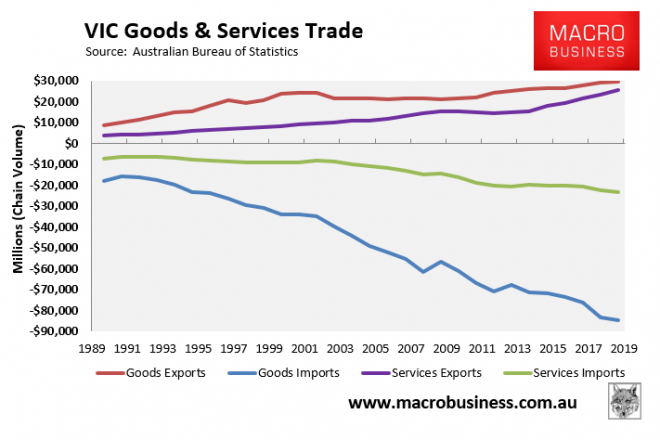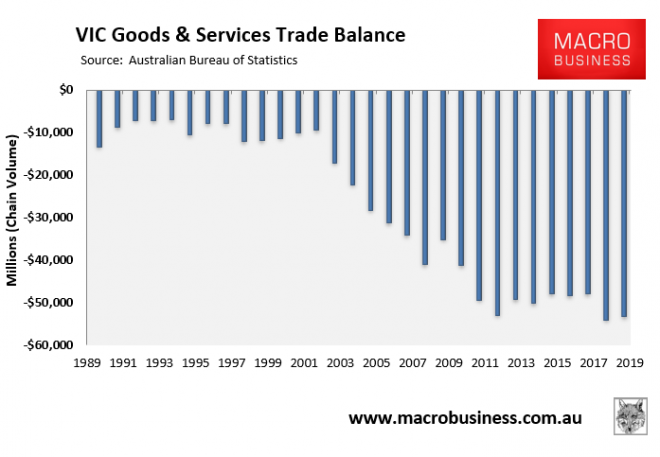 This rampant population growth has created all manner of problems for Melbournians, from crushing infrastructure and congestion to deteriorating housing affordability and quality. Importantly, it has also masked the poor performance of the Victorian economy.
While Victoria's headline growth in Gross State Product (GSP) has been strong, driven by strong population growth, per capita GSP flatlined over the 11 years since the Global Financial Crisis (GFC):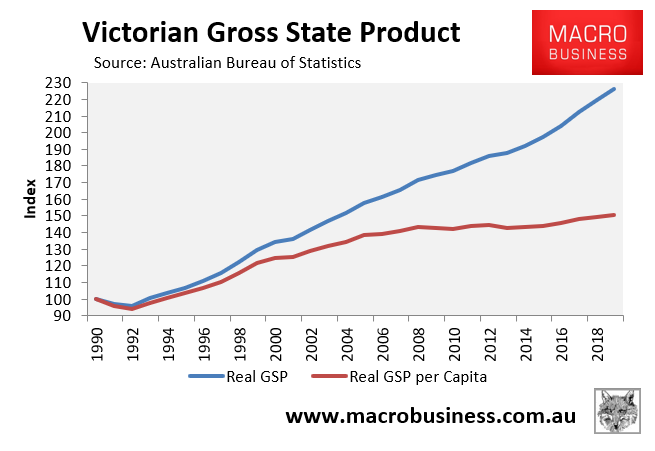 The situation is so bad that Victoria experienced the equal weakest growth in per capita GSP in the nation since the Global Financial Crisis (GFC) hit a decade ago: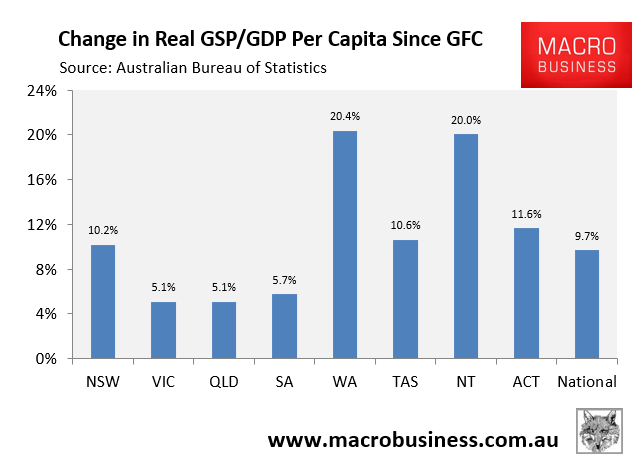 Victoria also experienced the second weakest growth in Gross State Income per Capita since the GFC: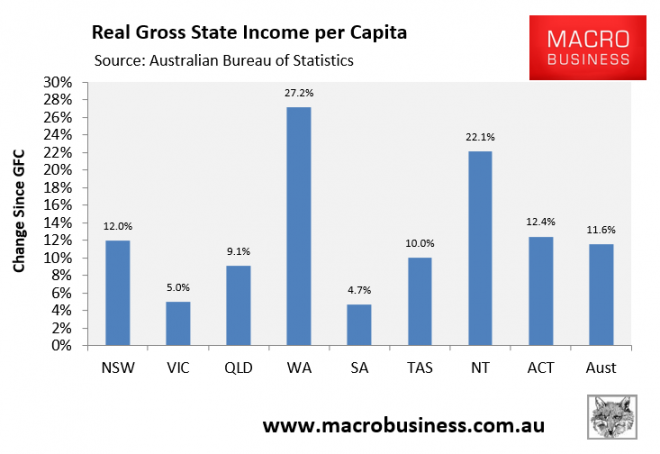 As well as the weakest growth in Real Gross Household Income per Capita since the GFC: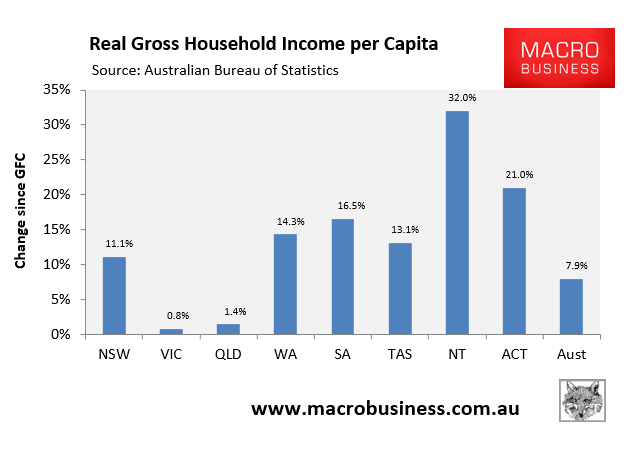 And easily the weakest growth in household incomes over the past 29 years: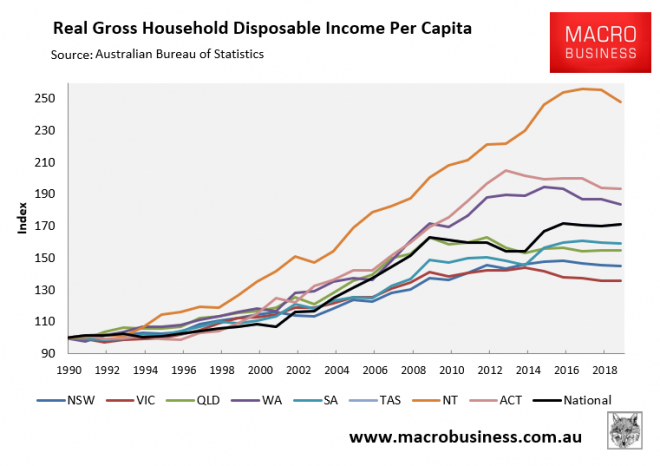 Worse, Victoria's gross Household Disposable Income per Capita was the lowest in the nation as at June 2019, even worse than lowly Tasmania: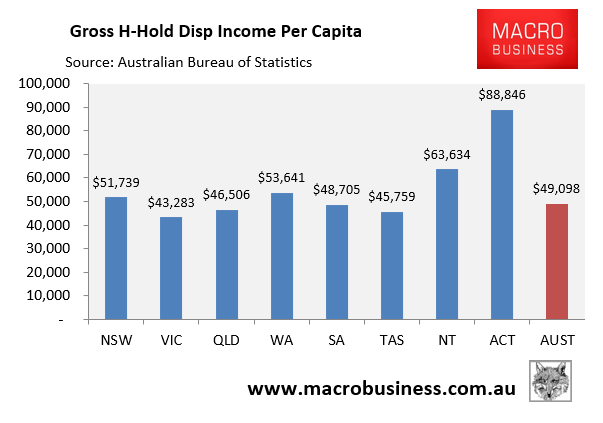 Melbourne also has the second lowest median incomes on the mainland, only beating lowly Adelaide: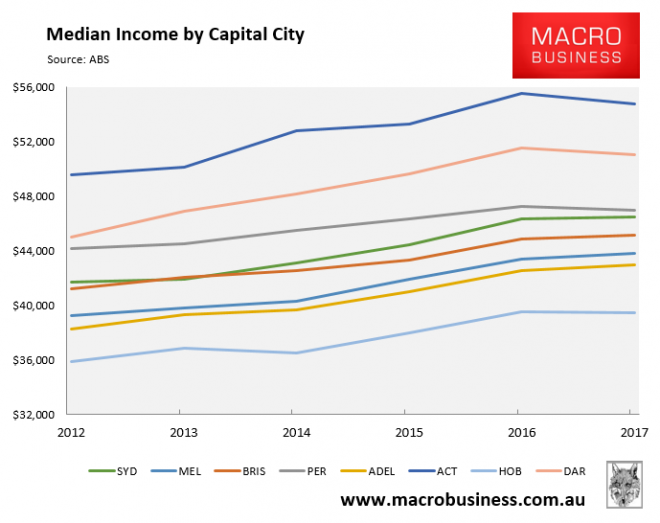 An economic model based on mass immigration is a dumb economy. It places headline growth ahead of improving productivity, sustainability and per capita living standards. In Victoria's case, it also sucks financial resources from the other states in order to support its bulging population.
Policy makers must abandon this model in favour of making productivity the central focus if they wish to grow residents' living standards into the future.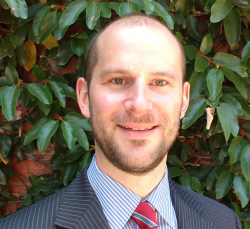 Latest posts by Unconventional Economist
(see all)