Three months ago, the prognosis facing Foxtel was dire. The company had lost almost 600,000 subscribers in the two years to February (see next chart), COVID-19 had cancelled sporting events across the globe hitting Foxtel's sports-centric offering, subscribers were reportedly cancelling en masse, and 270 employees were made redundant.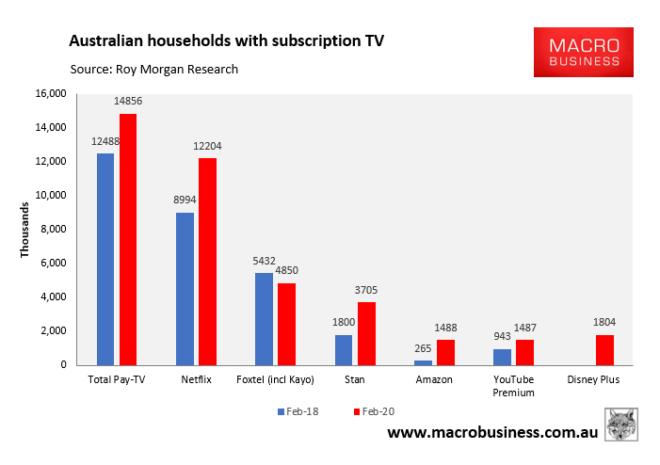 Fast forward to today and Foxtel's fortunes have miraculously improved.
Following a tough negotiation, Foxtel beat Stan for the rights to HBO and Warner Bros programming, giving it an array of exclusive content that is not available on competing services.
Then in May, Foxtel launched a new low-cost streaming service called Binge to compete directly with Netflix, Stan, Amazon and Disney Plus.
At least in pure subscriber terms, Foxtel looks to have turned the tables.
According to new data from Roy Morgan Research, Foxtel added 658,000 new subscribers in the three months to May 2020, taking numbers back above February 2018 levels: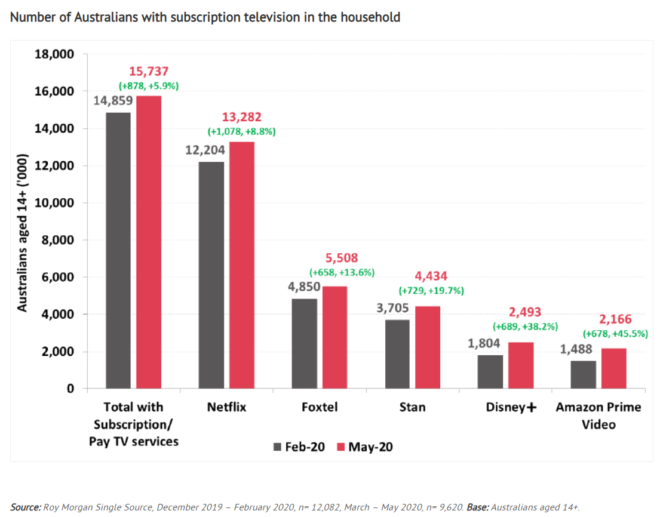 Other streaming providers also recorded strong growth, reflecting growing demand from households forced to spend more time at home.
Foxtel is not yet out of the woods, however, as it is likely experiencing falling profit margins as existing subscribers on expensive plans downgrade to cheaper subscription options. These won't be reflected in raw subscriber numbers, but will crunch average revenue per subscriber.
Foxtel is also still drowning in around $2.5 billion of debt, which will eventually need to be refinanced or repaid.
Nevertheless, the turnaround in Foxtel is miraculous and means the company will live to fight another day.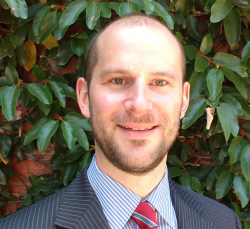 Latest posts by Leith van Onselen
(see all)