It was another shocking weekend of COVID-19 infection in Victoria, with 182 new cases recorded across the state:

Victoria now accounts for 96% of Australia's active cases: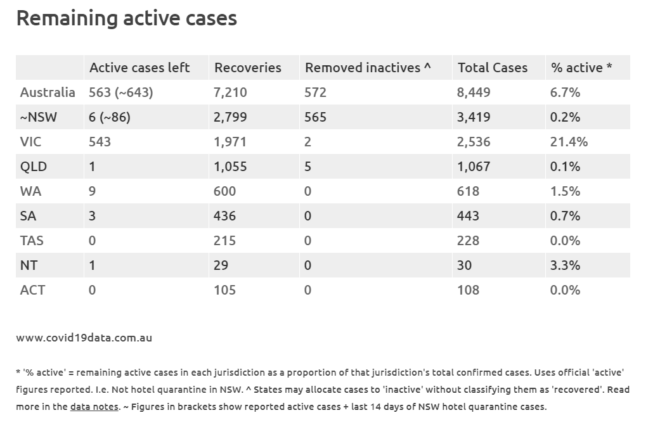 Victoria's COVID-19 transmission has now topped the March peak: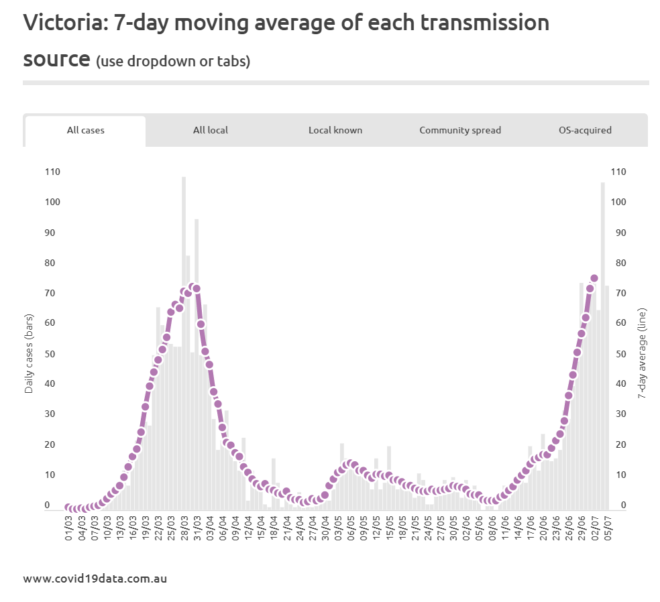 And this is being driven by a handful of local council areas primarily in the city's north and west: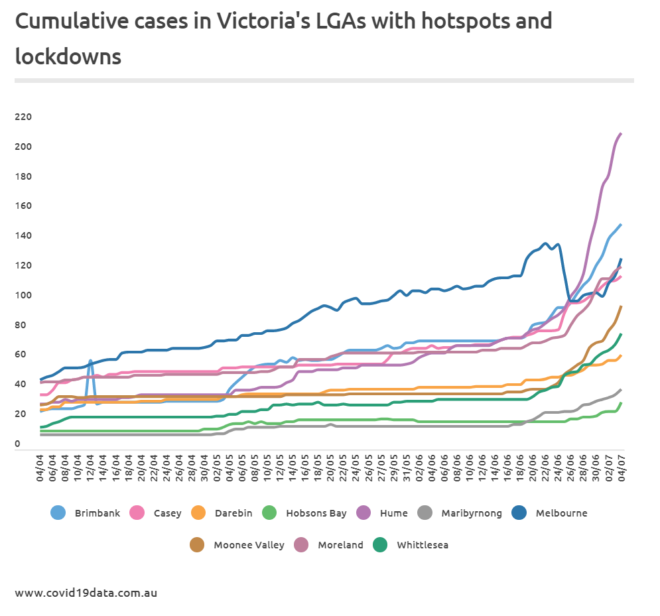 The number of seriously ill patients being treated in Victoria's holidays has also spiked: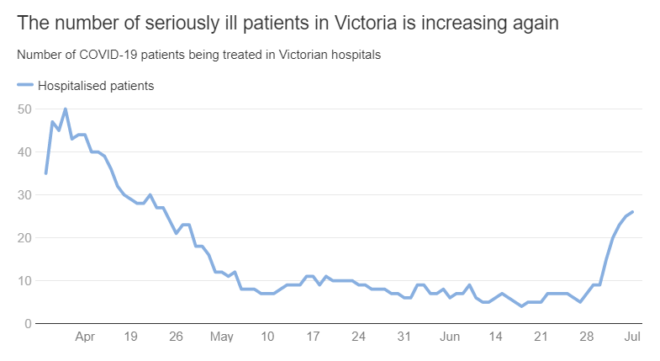 The spike in transmissions caused the Victorian Government to implement a hard lockdown on 3,000 residents across nine public housing towers in Melbourne's north:
They have been shut in their apartments with no notice, with the lockdown enforced by 500 police officers each shift — roughly one officer for every six residents.
Two more postcodes – 3031 (Flemington, Kensington) and 3051 (North Melbourne) – were also added to the suburb lockdown list.
Victoria's hotel industry has pinned the blame firmly on the State Government, which failed to properly manage hotel quarantine:
Victoria's hotel industry has slammed the state government for a "failure of process" over the bungled returned travellers quarantine program.

The Accommodation Association said the government should own up to its failings, fix the mess and apologise to hotels.

Genomic sequencing has revealed a big proportion of the latest coronavirus cases in Victoria were due to infection protocol breaches in hotels hosting returned travellers.

"These hotels stepped up to do their duty and then to be absolutely cast out to sea the way that they have by this government is really disappointing, it undermines the confidence in the relationships we've built," AA CEO Dean Long told AAP.

"We trusted the government to run a good program and that appears not to be the case."

Mr Long said the accommodation industry did not manage these sites, instead that fell to the state government.

"This is effectively an example of a failure of process … and it is leading to a failure of leadership," he said.

"These sites in the city have been nationalised, turned over to the government who have appointed the staff and the processes, and then to blame an industry for the government's own failure is disturbing"…

Hotels under scrutiny such as Rydges on Swanston and the Stamford Plaza Hotel said that they did not hire the security staff.

Victorian Premier Daniel Andrews ducked questions on Friday about who authorised the hiring of outside security guards and how that decision was made.
Too right. Recall the list of failures by the security firms contracted by the Victorian State Government to oversee hotel quarantine:
Security companies were being paid for workers that didn't exist.
Lack of guards to properly secure the hotels due to these "phantom" people.
Guards were given minimal training (six hours of ­infection control training, some had only 5 mins).
Guards not following proper procedure – shaking hands, sharing lifts, sharing lighters, not wearing masks.
Guards wore personal protective equipment for up to eight hours without changing it.
Some guards let families go between rooms to play cards and games with others.
Some guards were sleeping on the job.
Some guards slept with guests.
Subcontracting guards at cheaper rate instead of standard guards.
Subcontracting guards switching shifts between hotels.
A Bangladeshi man that was discharged from a Melbourne quarantine hotel after returning a positive test travelled to Sydney where he potentially spread the virus to colleagues at a Woolworths store in Balmain.
Manchurian Dan Andrews deserves to lose his leadership over this debacle, which has put the entire nation at risk.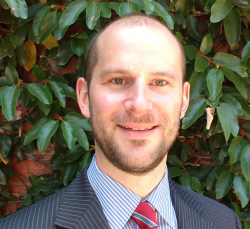 Latest posts by Leith van Onselen
(see all)