In another strong rebuke to the mass immigration 'Big Australia' cabal, the United Nations has released its World Happiness Report, which reveals that nations/cities with small populations are the world's happiest:
The 2020 report ranked 156 countries by how happy their citizens perceive themselves to be, based on their evaluations of their own lives…

Since the first report in 2012, only four countries have claimed the top spot: Denmark in 2012, 2013 and 2016, Switzerland in 2015, Norway in 2017, and now Finland in 2018, 2019 and 2020…

Finland came top by some margin, followed by Denmark, Switzerland, Iceland and Norway.

All the Nordic countries appeared in the top 10…

The 2020 report also ranked individual cities by residents' perception of their own well-being for the first time…

"The World Happiness Report has proven to be an indispensable tool for policymakers looking to better understand what makes people happy and thereby to promote the wellbeing of their citizenry," said Jeffrey Sachs, one of the report's editors…
Check out the populations of the world's happiest countries:
Finland: 5.5 million
Denmark: 5.8 million
Switzerland: 8.5 million
Iceland: 353,000
Norway: 5.3 million
Netherlands: 17.2 million
Sweden: 10.2 million
New Zealand: 5.0 million
Austria: 8.8 million
Luxembourg: 608,000
As you can see, all of the world's happiest nations have populations below 18 million, with most having populations below 10 million.
Now check out the urban populations of the world's happiest cities:
Helsinki, Finland: 1.3 million
Aarhus, Denmark: 1.4 million
Wellington, New Zealand: 420,000
Zurich, Switzerland: 1.8 million
Copenhagen, Denmark: 2.1 million
Bergen, Norway: 420,000
Oslo, Norway: 1.6 million
Tel Aviv, Israel: 3.8 million
Stockholm, Sweden: 2.4 million
Brisbane, Australia: 2.5 million
As you can see, all of the world's happiest cities have populations below 4 million people.
Given the above, why are Australia's policy makers so hell bent on running a mass immigration program that will grow Australia's population to a projected 43 million people by 2066?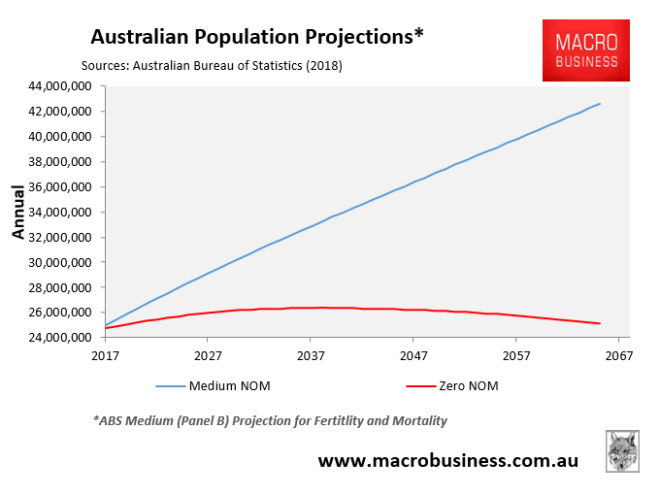 Alongside doubling the size of our major cities and creating two mega cities (Melbourne and Sydney) of around 10 million people each: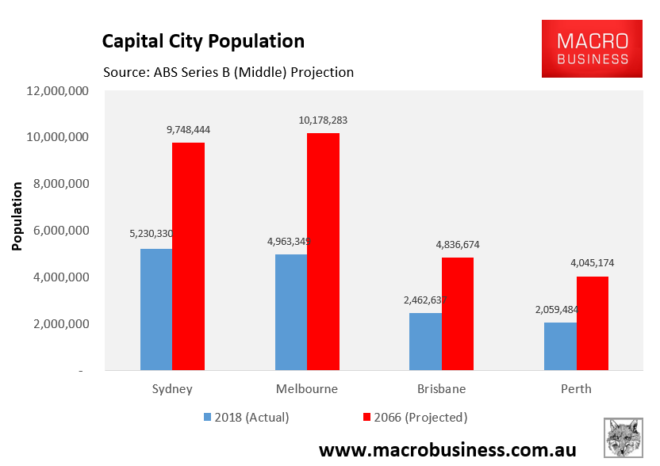 Clearly, this is a recipe for reducing Australian's welfare and happiness.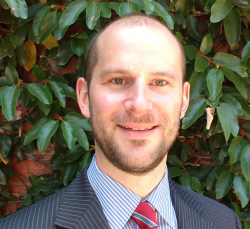 Latest posts by Unconventional Economist
(see all)