Foxtel's problems have been well documented on this site.
Even before the COVID-19 pandemic hit, Foxtel was struggling to remain relevant in the subscription television space, rapidly losing market share to its nimble and cheaper online streaming rivals: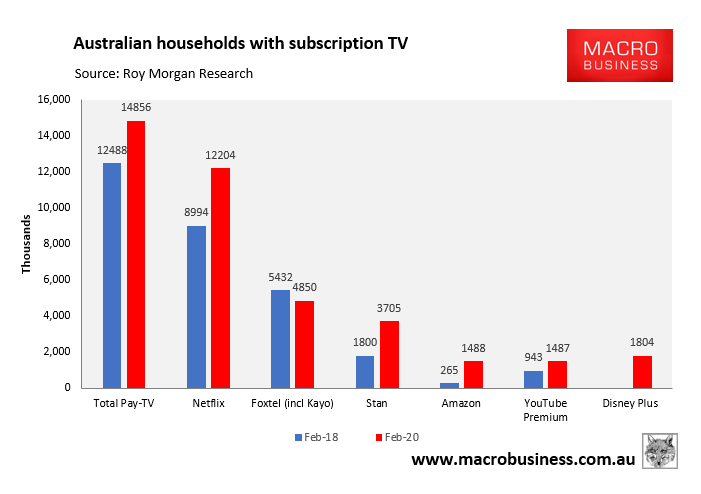 Once the industry leader, Foxtel lost 582,000 subscribers in the two years to February 2020, according to Roy Morgan, at the same time as its online streaming rivals enjoyed strong growth: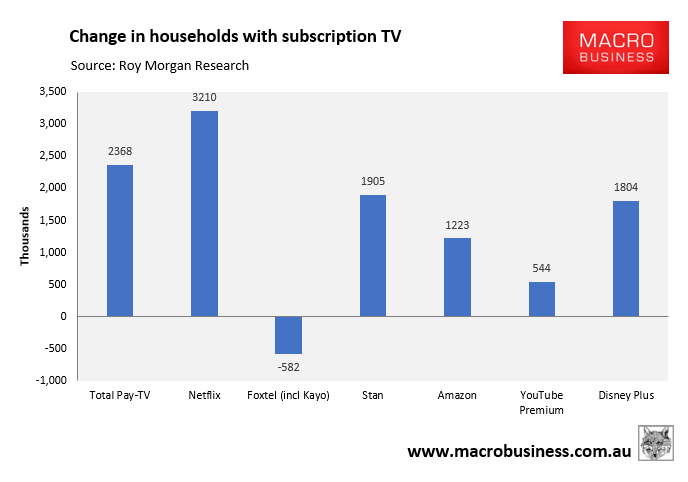 Advertisement
Since February, the situation for Foxtel has obviously gone from bad to worse, with the COVID-19 pandemic postponing live sporting events across the globe, including the 2020 AFL and NRL seasons, resulting in the loss of thousands of more subscribers.
This revenue squeeze has left Foxtel struggling to repay $2.5 billion of debt and forced the company to axe 200 staff in April, followed by another 70 staff last week, in a bid to balance its books.
According to Cox Media founder Peter Cox, Foxtel is "threatened with extinction" and may only survive as long as Newscorp remains willing to continue bailing-out the company's debts:
Advertisement
"They always had a problem in the summer, because they didn't have good sports coverage in the summer," Mr Cox said.

"Now, not to have good sports coverage in the winter is an absolute killer for them" [Peter Cox said]…

Foxtel prices compared with other streaming services are just too expensive…

Long-time media and telco analyst Paul Budde believes it's a potentially terminal issue for Foxtel.

He says within three years, Foxtel will have to completely change its business model.

"[It could] become like another Netflix, or, you know, another model that they may think of, otherwise I don't think they will survive for much longer"…

"Foxtel is expensive as a subscription service, so you will see more and more people copping out of Foxtel because they are not using it, or sport is no longer there, which is what they wanted it for," Mr Budde said.
These are the exact issues that have been raised repeatedly on this site.
Foxtel will only survive by slashing its cost base, jettisoning its legacy cable hardware and broadcasting business, and becoming a 'lean and mean' online streaming provider.
Advertisement