For years Foxtel has tried and failed to swim against the tide of technological change.
Once the dominant monopoly provider of cable pay-TV, Foxtel's business model has been decimated by the rise of online video-on-demand (VOD) streaming services.
These online providers have provided Australian consumers with a myriad of streaming content at low prices, without the requirement for lock-in contracts, cable/satellite hardware, or advertisements.
The proof is in the pudding. Foxtel lost 580,000 subscribers in the two years to February 2020 at the same time as online VOD platforms experienced explosive growth: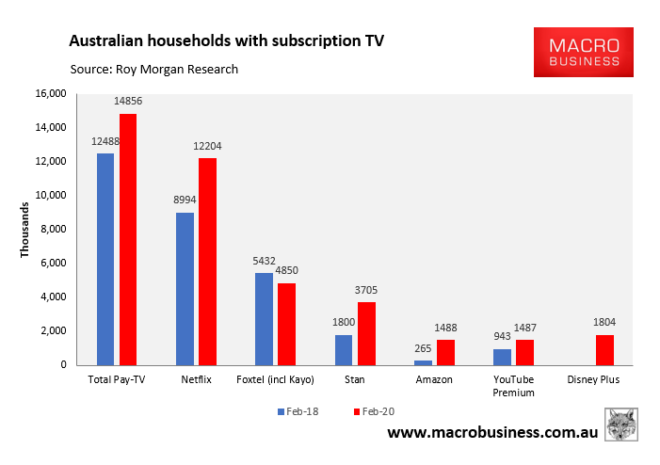 The United States offers an interesting insight into Foxtel's future. There, cable Pay-TV providers reported massive subscription losses in Q1:
The subscriber decline of 1.7 million from the previous quarter, a figure VIP predicted, is the greatest decline ever seen in the first quarter, and sees Pay-TV well on track to meet VIP's estimated total 2020 decline of 8 million subscribers.

This all points to a miserable 2020 for Pay-TV. The VMVPD market has stopped growing just as the bottom has fallen out of traditional MVPDs. The temptation is to say that the increase in subscription cancellations is due to Coronavirus. But recall that COVID-19 only began to hit the country in a big way in the last 2-3 weeks of Q1. If Coronavirus is to blame for the declines, then Q2 will be appalling, with the industry well on track to meet VIP's estimate of 8 million subscribers lost across 2020.
Meanwhile, online VOD platforms like Netflix are set to boom:
Disney Plus and Netflix are set to reach unprecedented subscriber numbers by 2021 according to new figures from Digital TV Research.

According to the analysts, global SVoD subscriptions will increase by 519 million between 2019 and 2025 to 1,161 million – or up by 81 per cent. The total will climb by 170 million in 2020 alone.

Five global platforms will have 640 million paying SVoD subscribers by 2025. According to the figures, Disney Plus will add 176 million subscribers between 2019 and 2025 to take its total to 202 million. Netflix will add 91 million subscribers; reaching 258 million subs worldwide.
Clearly, Foxtel is facing gale force headwinds that threaten its very survival.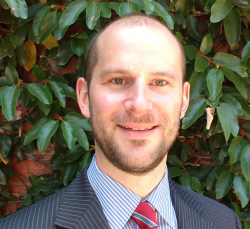 Latest posts by Leith van Onselen
(see all)