Via Bloomie:
American pipeline operators have begun asking oil producers to voluntarily ratchet back their output in the clearest sign yet that a growing glut of crude is overwhelming storage capacity.

Plains All American Pipeline LP, one of the biggest shippers of crude in the U.S., sent a letter this week asking its suppliers to scale back production. The notice came from the company's marketing unit that buys and sells oil to customers. A Texas oil regulator said Saturday that drillers were getting similar notices from pipeline operators

The messages signal the oil market is fast approaching the moment traders have been warning about — when crude supplies overflow storage tanks and pipelines as the coronavirus pandemic drags down oil demand by the most in history.
The surplus output is immense: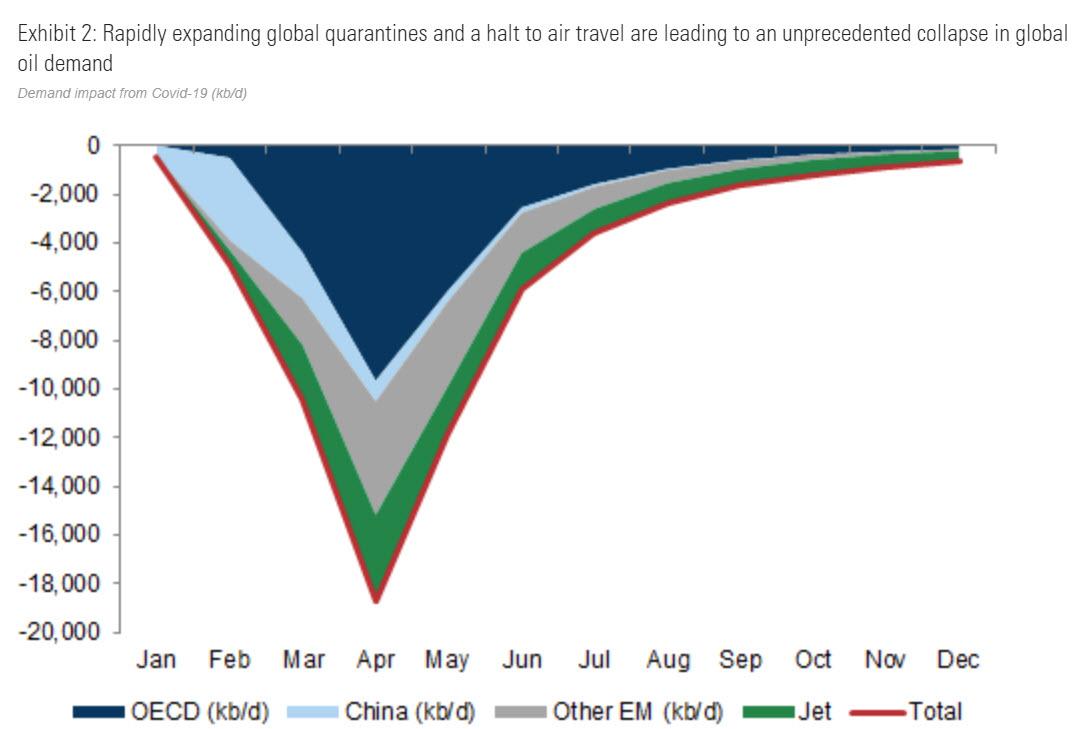 And that's a with fictional v-shaped recovery.
Via O&G:
A combination of surging production from key producers worldwide and capitulating demand in the face of the coronavirus outbreak means that land storage is being overwhelmed, said Robert Hvide Macleod, Chief Executive Officer of Frontline Management AS. The world is likely overproducing by about 20 million barrels a day, or 20% of normal consumption, he said, echoing wider industry views.

"Oil is going on ships at a speed never seen before," he said, noting that the tanker fleet is filling up at five times the pace of the last oil glut in 2015.

The oil market's structure has fallen into a so-called super contango, which means it is now profitable for traders to buy oil today, store it, and reap the profits by selling it at a higher price months or even years down the line. International Seaways Inc., another owner, said on Thursday that the total volume of oil in floating storage may top 100 million barrels during this glut.

IHS Markit, an industry consultant, said storage sites could be filled by the end of the second quarter at current rates of supply and demand, implying producers will soon have to scale back. Firms including Vitol Group and Gunvor Group, two of the world's largest oil traders, say there's intense demand to keep barrels at sea.
When storage is exceeded, oil goes to zero, probably negative.
Don't get too comfy, though, via Goldman:
Global isolation measures are leading to an unprecedented collapse in oil demand which we now forecast will fall by 10.5 mb/d in March and by 18.7 mb/d in April (our 2020 yoy demand forecast is now -4.25 mb/d). A demand shock of this magnitude will overwhelm any supply response including any potential core-OPEC output freeze or cut.

Such a collapse in demand will be an unprecedented shock for the global refining system with margins simply not low enough given the required level of run cuts. Product storage saturation at refineries is therefore set to occur over the next several weeks. At that point, the product surplus will become a crude one and we expect its unprecedented velocity will create similar logistical crude storage constraints. This is the point at which crude prices will fall below cash-costs to reflect producers having to shut-in production. While seaborne crudes like Brent can remain near $20/bbl in 2Q, many inland crude benchmarks where saturation will prove binding are likely to fall much further (US, Canada, Russia, China).

The scale of the demand collapse will require a large amount of production to be shut-in, of potential several million barrels per day. Such a hit on production will not be reversed quickly, however, as shutting-in can often permanently damage reservoirs and conventional producing wells. We therefore increasingly see risks that the rebound in prices will be much sharper than our base-case rally back to $40/bbl Brent by 4Q20, with a normalization in activity increasingly likely to be accompanied by a large inflationary oil shock.
In short, when we do recover there may not be enough!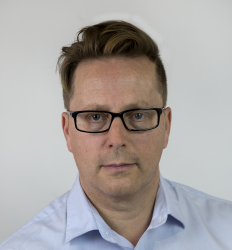 Latest posts by David Llewellyn-Smith
(see all)