Daniel Ghezelbash, Associate Professor at Macquarie University, has published research explaining how purported asylum seekers arriving in Australia via plane are using our over-loaded immigration appeals processes to extend their stays and/or attempt to gain permanent residency:
The data, obtained from a freedom of information request, cover 18,196 cases decided by the AAT between January 2015 and December 2019. Our research only looked at asylum seekers who arrived by plane and had access to a review by the AAT…

For refugees and asylum seekers applying for protection visas in Australia, the process is lengthy and arduous.

The initial assessment of a protection visa application is carried out by the Department of Home Affairs. If this is denied, the options for review then depend on how they arrived in Australia.

Those who arrived by plane can seek review at the AAT, where they are given a fresh hearing assessing the merits of their claim for protection. Those who arrived by boat without authorisation can only access a much more limited form of review before the Immigration Assessment Authority (IAA).

If the asylum seeker's claims fail at the IAA or AAT, they can then seek judicial review at the Federal Circuit Court, but only on the very narrow grounds of there having been some serious legal error.

Overall, we found asylum seekers received favourable outcomes before the AAT in just 13% of cases. This includes instances where a visa has been granted or the matter was sent back to the department for reconsideration.

In the remaining 87% of cases, the original decision to refuse a visa was affirmed by the AAT or the application was withdrawn…

One of the most striking findings relates to the potential influence of professional migration advice from a lawyer or migration agent.

We found that only 4% of unrepresented applicants were successful at the AAT. This figure rose to 28% when an asylum seeker had legal representation…

The Malaysian applicants are significant as they made up more than one-third of the entire caseload for the period (6,488 applications). The large numbers and low success rates among this group significantly skew the overall data. When the Malaysian applications are removed, the success rate for all asylum seekers increases from 13% to 19%.

… the only incentive to put in an unmeritorious asylum claim is that it can buy you more time living and working in Australia…

The AAT is under enormous pressure with its record backlog of cases and associated delays.
What is most concerning is that genuine asylum seekers arriving by boat have far fewer options for review than non-genuine plane arrivals.
Non-genuine plane arrivals have a strong incentive to abuse Australia's appeals processes knowing that they will automatically gain a bridging visa and extend their stays in Australia for years while they await review, thereby allowing them to work.
As noted by former High Court justice, Ian Callinan:
[Ian Callinan] said "almost everyone" with migration law experience had told him there were applicants and representatives who "game the system, well knowing there is an automatic entitlement to a bridging visa"…
This rorting by non-genuine plane arrivals helps to explain the obscene blow-out in temporary bridging visas: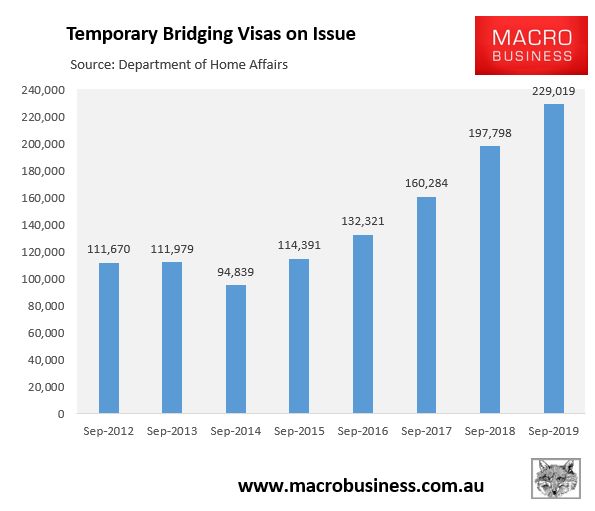 Alongside the massive backlog of cases awaiting review at the Administrative Appeals Tribunal (AAT), where migration and refugee cases ballooned by more than 250% between 2016 and 2019: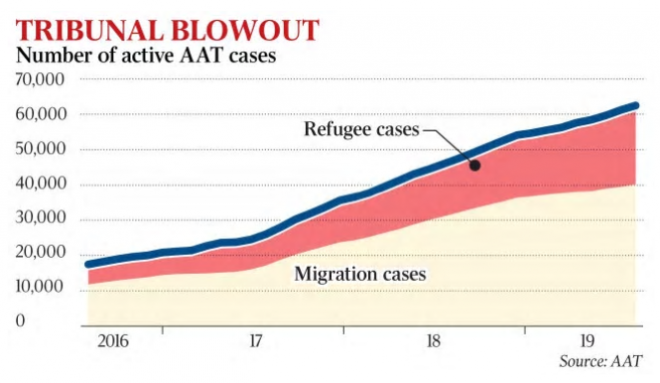 This influx of non-genuine asylum claims is also costing Australian taxpayers dearly, with each migrant and refugee case reviewed by the AAT costing between $2137 and $3036 to review.
The situation has been made worse by online travel visas available to Malaysians and Chinese, which give automated access to Australia. These two nations are helping to drive the strong growth in spurious claims for asylum: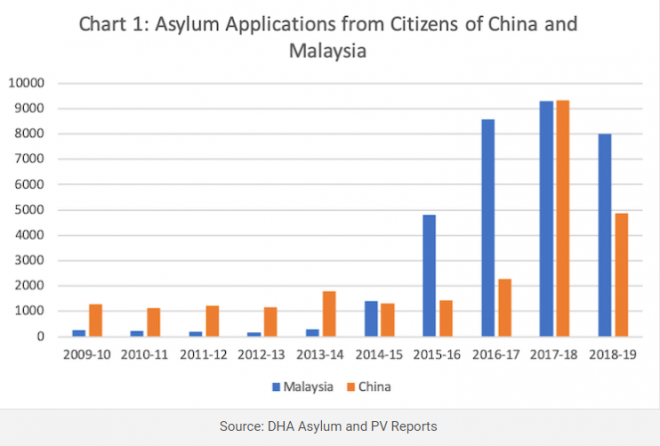 The fact of the matter is that an entire industry has developed around 'gaming' Australia's porous visa system.
Those seeking to exploit Australia's visa system can simply engage the immigration industry and this will set in motion the never ending AAT process. In turn, they will extend their stays in Australia and be able to work.
The obvious solutions to prevent this rorting are to tighten the visa appeals process alongside restricting access to online travel visas from at-risk countries.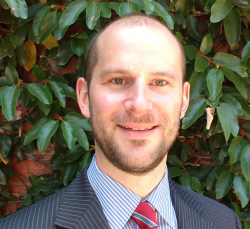 Latest posts by Unconventional Economist
(see all)