One of the biggest immigration failures of the Coalition's reign has been the massive blow-out in bridging visas, which are typically handed out to those awaiting decisions on their applications for permanent residency.
As shown in the next chart, the number of bridging visas on issue has more than doubled over the five years to June 2019 to 205,600: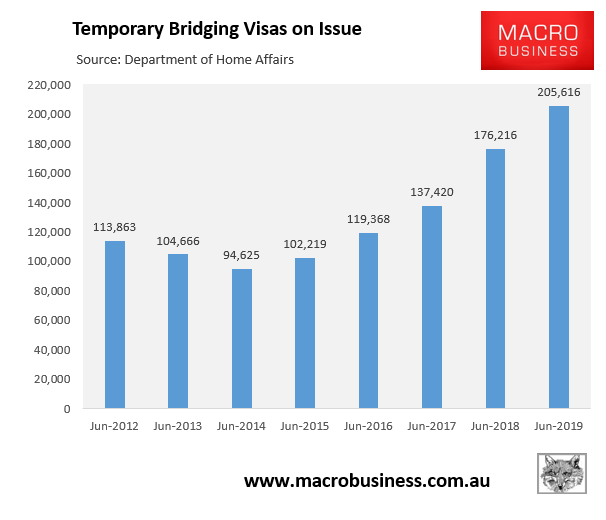 According to new analysis from Abul Rizvi – former Deputy Secretary of the Department of Immigration – this explosion in bridging visas has been driven by spurious claims for asylum by Chinese and Malaysians arriving into Australia by plane:
Chart 1 highlights the surge in asylum applications from Malaysia and China in recent years.

Chart 2 shows that the ratio of asylum applications as a portion of visitor visa granted to Chinese nationals grew by almost four times in 2017-18 compared to 2016-17…

The surge is entirely the result of poor policy such as the staffing cap, Home Affairs rushing implementation of e:visas for Chinese nationals…

Electronic lodgement meant the experience of local Home Affairs staff in China to spot non-genuine visitor visa applications made in paper form was lost. Moreover, use of auto-grant meant scam organisers could test and identify the types of applications being auto-granted and those that were being referred for additional checking by local staff. With this knowledge, scam organisers could profit by selling entry to Australia on visitor visas together with work rights associated with asylum applications…

Chart 3 shows the ratio of asylum applications as a portion of visitor visa grants for Malaysian nationals increased by over 25 times from 2013-14 to 2017-18…

The surge in Malaysian nationals applying for asylum appears entirely due to the general gridlock in the visa system and the slow processing of asylum applications in particular. That has created a honeypot for scam organisers…
Curiously, Abul Rizvi neglected to mention that Malaysians are one of only a handful of nations that have been granted access to Australia's electronic travel authority (ETA). This enables Malaysians to apply for short-term travel to Australia for only $20, without needing to attend an embassy or high commission.
Accordingly, ETAs have opened the door for Malaysians to travel to Australia on tourist visas for the purpose of gaining permanent residency, knowing that as soon as they land in Australia they can apply for asylum.
Then once asylum is claimed, they are automatically granted a bridging visa, thereby extending their stay for years while they await review from the Administrative Appeals Tribunal (ATT), and enabling them to work illegally.
Regardless, Abul Rizvi is correct in claiming that the Coalition has been negligent in allowing the number of bridging visas to balloon out of control.
The cost of the AAT reviewing migration and refugee cases is exorbitant at between $2137 and $3036 per review. Moreover, once an application is eventually rejected, they are flown home at Australian taxpayers' expense.
The incentives are such that Australia's visa system is being overrun by tens-of-thousands of bogus claims for asylum. This is undermining the system's integrity, costing Australian taxpayers millions, and undercutting Australian workers.
It also makes a mockery of the Coalition's 'strong on borders' claim. While they have played hard ball on the tiny number of boat people travelling to Australia, they have left the door ajar to those arriving by plane.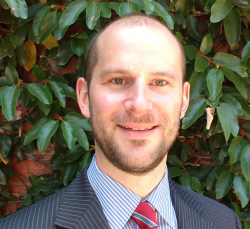 Latest posts by Unconventional Economist
(see all)