Via Michael Wilson, Morgan Stanley chief equity strategist:
Almost two years ago, we published a report titled The Great Cycle Debate. In that report, I argued that US equities were likely to experience a cyclical bear market that would take several years to complete. This bear market would play out as a consolidation rather than a wipeout, affecting different stocks and sectors at different times. I later called it a rolling bear market that would leave both bears and bulls unsatisfied.

I always viewed last year's 4Q rally as more about liquidity than fundamentals and thought it could last into April/May when the Fed was scheduled to curtail its latest balance sheet expansion program.  However, the unexpected COVID-19 outbreak has brought that timing forward, and the recent correction in equity markets makes the entire rally since last October look like a false breakout.

Such technical patterns are troubling because they highlight capital that came in late at bad prices, creating overhead resistance around 3100 on the S&P 500. If that signal is right, it suggests that the original consolidation/rolling bear market has unfinished business.

Most investors, economists and market strategists believe the unfortunate outbreak of COVID-19 is a temporary shock to the economy that won't persist much beyond the first half of this year. There's also an expectation that a 2H20 snapback will be aided by fiscal and monetary stimulus, which is already taking place. I would concur.

However, I also believe it may be a mistake to look at the coronavirus in isolation when thinking about the potential damage to the economy and risks to the equity market. COVID-19 is the fourth economic shock in the last two years:

Fiscal stimulus that led to cost issues and margin pressure for US companies, resulting in an ongoing US earnings recession, especially for small-/mid-caps.
The Fed's aggressive monetary tightening cycle in 2017-18, which worked with a two-year lag.
Tariffs – the Phase 1 deal was a de-escalation but left existing tariffs in place, along with uncertainty.
The coronavirus – a direct hit to the US consumer, the linchpin of the economy.

In other words, growth concerns are about the cumulative effect of all four shocks and whether COVID-19 finally pushes the US economy into a recession, which has always been defined as one thing only – a cycle of layoffs and rising unemployment.

Obviously, that cycle of layoffs and unemployment hasn't happened yet, but the ongoing margin pressures and the uncertainty surrounding trade policy, the US election and now COVID-19 increase the risks significantly, particularly given the fragility of the global economic recovery and weakened corporate cash flows and confidence in the US. It's also concerning that the US$8.8 trillion global travel and leisure industry, hit the hardest by the outbreak, supports close to 10% of all jobs in the global economy.

One of the main reasons I remained more cautious about the recovery in 2020 is that I viewed the economy as later cycle than most, with these other headwinds potentially exacerbating any further disappointment. To me, this explains the markets' strong reaction to COVID-19, which most economists and strategists still view as a temporary shock. Nowhere has the reaction been more dramatic than in the US Treasury market, which has moved in ways rarely seen outside of an actual recession. The same holds true for our US equity cyclical/defensive ratio, commodity prices and other economically sensitive assets.

The Fed is paying attention and took aggressive action last week. However, emergency intra-meeting Fed cuts historically have not been constructive for equity markets over the following 6-12 months after initial 1-3-month rallies (Exhibit 1). Of the eight intra-meeting cuts, seven either preceded a recession by a few months or accompanied one.

The only exception was the successful mid-cycle insurance cut in October 1998, but last week's move essentially confirms that last summer's cuts weren't insurance at all but the start of a full-blown easing cycle. We would argue that the recent cut resembles the January 2001 episode in terms of where we are in the economic cycle and other parallels with today's markets, most notably an extraordinary concentration of market cap in technology stocks.

Bottom line, I always thought the cyclical bear market that began in 2018 had unfinished business once the liquidity surge ended. COVID-19 provided the spark for its completion, which means pricing in a greater likelihood of US recession. We believe equity markets will struggle until policy-makers get back ahead of the curve with more interest rate cuts and an extension of the current balance sheet expansion and/or an official quantitative easing program – something we think is likely coming.

We still see another 10% downside for US equities from current levels, which is slightly worse than our year-end 2750 bear case S&P 500 target. The downside is likely greater for the NASDAQ, which has priced in less recession risk than other indices and is still very crowded. Credit also still looks vulnerable relative to other economically sensitive assets. The good news is that once this  correction is complete, the consolidation/rolling bear market should be over and the next leg of the secular bull market can begin in earnest.
In our view, the shock is great enough to lock up credit markets regardless of QE and another 10% downide for equities will not discount the global recession.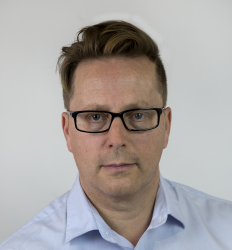 Latest posts by David Llewellyn-Smith
(see all)