The future of Foxtel's pay-TV is terminal according to telecommunications expert, Paul Budde:
For a range of reasons, Foxtel never took off in Australia. It predicted a 75% penetration by 2000, however, at its peak, it has never exceeded the 30-35% mark. Best indications are it currently stands just below 25%. The company has basically stopped investing in the dying pay-TV business and is concentrating its investment on new ways of delivering its content services.

The world is moving away from proprietary pay-TV services as new technologies are making such services obsolete. Internet-based broadband streaming services operate on an open system and there is, therefore, more competition. This means more innovation, more choice and lower prices.

Foxtel is trying to move the service to new technologies such as streaming video on demand (SVOD). It knows that the proprietary pay-TV service is facing a slow death. However, there is stiff competition in this market from other players such as Netflix, Disney, Amazon, Optus and Fetch. Foxtel no longer has a monopoly and is finding it difficult to operate in a more competitive market…

In its 'Video Entertainment Market Outlook' report, research company Venture Insights predicts a 5.1% fall in compound annual growth rate for Australia's pay-TV sector through to 2023. It tips SVOD revenues to rise by more than 12%, led by market leader Netflix.

While Foxtel is moving into SVOD, the research company isn't convinced the strategy will work:

'We note the risk of Foxtel reaching a tipping point if its foray into the SVOD space fails to take off, and therefore expect a steeper drop off in revenues from 2021-22 onwards.'

The report adds:

'Foxtel faces the risk of cannibalisation of its existing high ARPU [average revenue per user] customer base and coupled with high fixed sports programming costs, Foxtel will remain under pressure.'

The SVOD segment of the market is also the only one that is seeing growth in advertising revenue, with pay-TV and traditional broadcasting seeing a slow decline…

The pay-TV service has now also lost the rugby broadcasting rights… A couple of years ago, they also lost the broadcasting rights for the English Premier League to Optus…

Just last week, the company reported a 10% drop in Kayo subscribers; this at a time that other SVOD services are seeing increases in their subscriber numbers…

Foxtel is reaching a threshold where it will have to decide if it wants to continue its proprietary pay-TV service. With declining revenues and fewer sports services, it will be interesting to see when News Corp will finally pull the plug.
Foxtel is going the way of Blockbuster – a dominant incumbent caught out by changing technology and consumer preferences.
After holding a virtual monopoly over cable television, and mugging consumers with expensive subscription packages, Foxtel's profit margins are being crunched as cheaper video-on-demand (VOD) services like Netflix take over and force it to compete:
Advertisement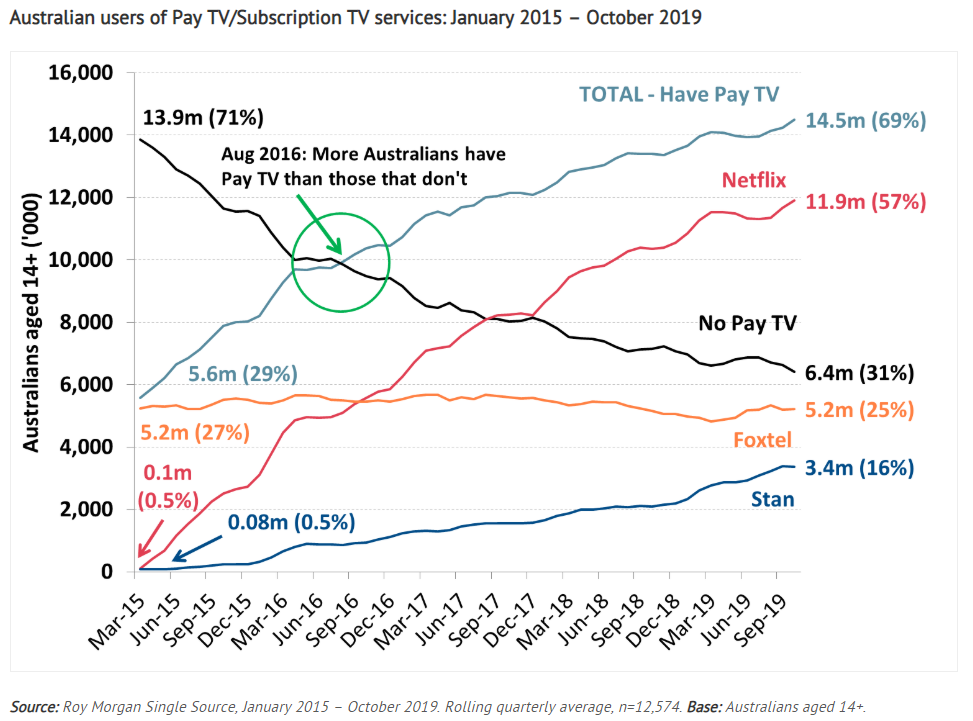 Australia's VOD streaming market is also becoming increasingly crowded and competitive, with incumbents Foxtel, Netflix, Stan, Amazon and Hayu being joined by offerings from Apple, Alphabet, Disney, Facebook, Hulu, HBO, CBS and NBC.
Foxtel is on the losing side as it is forced to pivot from high margin cable services to low margin online streaming.
Advertisement
These VOD providers are unburdened by legacy hardware like set top boxes attached to traditional cable. This keeps their costs lower and enables them to offer Australian subscriptions for as low as $6 per month, which is well below Foxtel's cheapest offering.
With barriers to entry smashed, the best Foxtel can hope for is to stem the loss of subscribers through its VOD sports offering, Kayo. But in the end, it cannot beat the internet.