Iron ore price for February 11, 2020: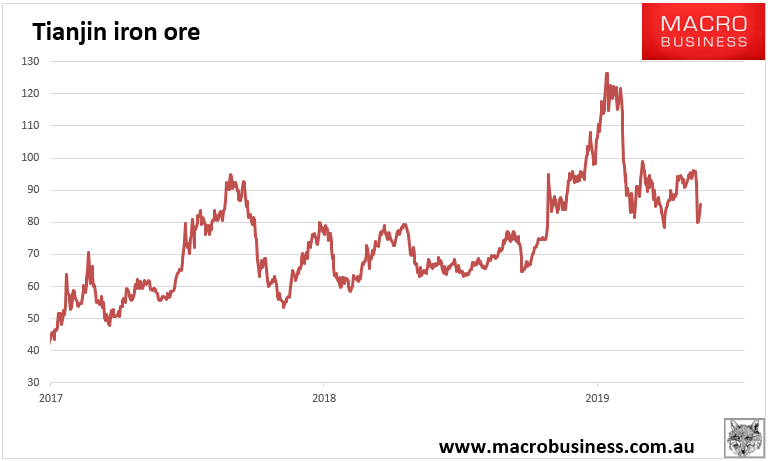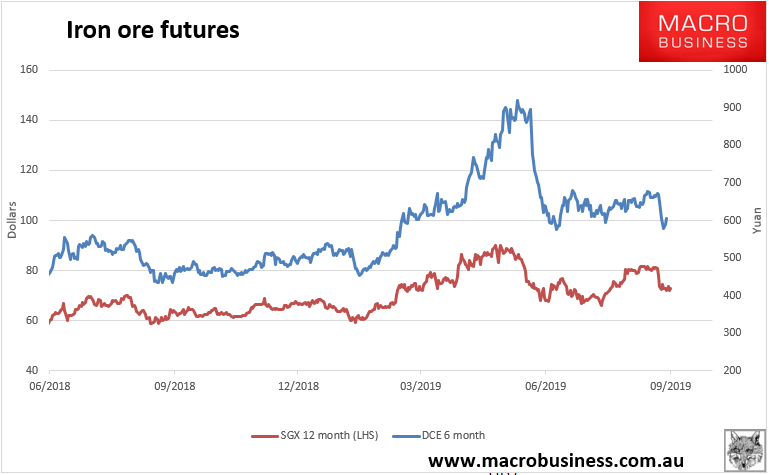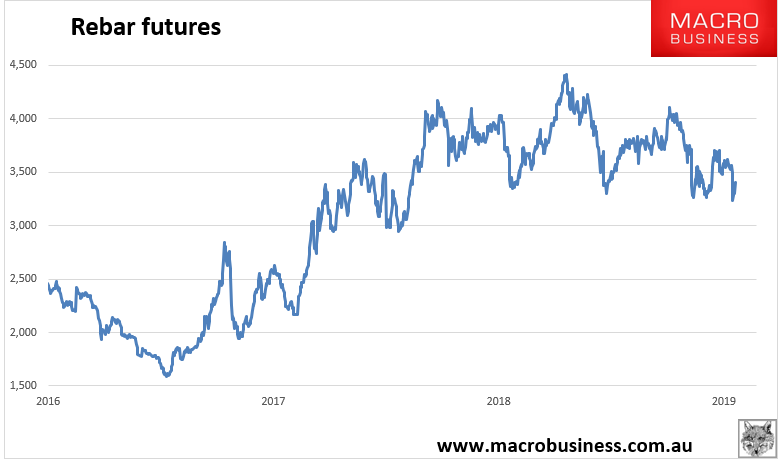 Spot roared. Paper too. And steel. It's hard to believe that this is the bottom but who knows?
The newsflow is not encouraging, via SCMP:
New homes sales declined by 56 per cent year on year in 17 major mainland China cities, including Shanghai and Nanjing, during the Lunar New Year holiday, in a sign that does not bode well for a sector already weighed down by a bearish outlook and concerns about a slowing economy.
According to a research note released on Tuesday by investment bank China International Capital Corporation, Beijing's easing stance on the overall economy boosted market sentiment in the beginning of 2019, but sales data from sample cities and developers shows "the fundamentals of the property sector are actually exacerbated".

A survey of 14 cities by Huatai Securities found that only four cities had posted growth in sales year on year during the February 4-9 period. On the other hand, Yangzhou in Jiangsu province, Fuzhou in Fujian province and Zhaoqing in Guangdong province reported declines of 80 per cent or more. The property trade association in Pizhou, a small city in Jiangsu province, urged members not to engage in a price war, after reports that some projects in the city had cut prices by 2,000 yuan (US$295) per square metre.
It appears to have gotten worse since, via Bloomie:
Home sales in China have been dealt a huge blow by the spreading coronavirus with figures showing transactions plunged in the first week of February.

New apartment sales dropped 90% from the same period of 2019, according to preliminary data on 36 cities compiled by China Merchants Securities Co. Sales of existing homes plummeted 91% in eight cities where data is available.

"The sector is bracing for a worse impact than the 2003 SARS pandemic," said Bai Yanjun, an analyst at property-consulting firm China Index Holdings Ltd. "In 2003, the home market was on a cyclical rise. Now, it's already reeling from an adjustment."

…Shenzhen, now considered a potential new infection hot spot, banned home sales in every possible form for as long as city authorities have the alert level set at the highest response. Zhengzhou, a metropolis on the Yellow River in central Henan province, has restricted all property construction until mid-March.

…Even if such rules weren't in place, there may not be many buyers anyway. Most cities have severely restricted the entrance and exit of people to limit the spread of the virus.
Obviously it will bounce back but I reckon it will be slow as virus outbreaks, shutdowns and health care caution continue.
It's not just realty, via The Australian:
Meanwhile, Citi analysts are tipping iron ore to fall to as low as $US70 a tonne in the near term as China's industrial heartland reels from the coronavirus.

Metals and mining analyst Paul McTaggart said in a client note on Monday that Citi's analysis suggested the seven most ­affected Chinese provinces, measured by number of infections, accounted for about 35-40 per cent of Chinese GDP, automotive output and new property starts.

"Even if production is cut as much as consumption, those metals in which China is a major net importer will see major increases in inventories ex-China over the coming weeks," Mr McTaggart said.

"We urge near term on metals and bulk commodities as there are increasing signs that post-Chinese New Year economic activity restarts will be further delayed after February 10, or early restarts may trigger another round of virus outbreak leading to further large-scale quarantine."
In effect, 30-40% of all iron ore demand in China has vanished for an unknown period. I still think the rebound will be slow but let's say we only lose one month of demand in aggregate once we tally later stimulus.
That's 85mt of steel or 142mt of iron ore demand gone and never recovered. Halve it if you want.
Inventories and EAF can cover some of it but it is still a massive overhang to buy.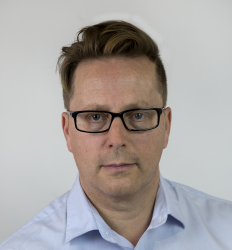 Latest posts by David Llewellyn-Smith
(see all)