At the AFR:
Upgrades to the economic outlook for Australia's two largest trading partners are another two more red crosses in Philip Lowe's "cons" column as the Reserve Bank governor weighs up the wisdom of cutting rates to fresh lows.

…Treasurer Josh Frydenberg would be also pretty pumped up as well, given expectations of a growth rebound in 2020 have pushed the trio of commodities that underpin his budget forecasts – iron ore, metallurgical coal and thermal coal – above the estimates contained in the mid-year economic and fiscal outlook (MYEFO).

…Morgan Stanley has joined the chorus of brokers…and stands by its forecasts for $US93 a tonne in the first quarter and $US85 a tonne in the second quarter.

Contracts for Australian metallurgical – or coking – coal traded in Singapore have risen from $US135 a tonne in December to around $US150 a tonne, above the $US134 a tonne presumed in the MYEFO.

…Newcastle coal contracts traded on the Intercontinental Exchange are trading around $US71 a tonne, above the $US64 a tonne assumed in the MYEFO..

…The renewed strength in China's credit impulse – it's running at a 2 per cent year-on-year pace – is clearly a positive given it leads the global purchasing managers index by around eight months, and global GDP by between 12 months and 18 months, according to NAB.
Here's what's wrong with the analysis:
Thermal coal is going to reverse quickly as LNG crashes to record lows.
Iron ore is enjoying seasonal strength but will fall as the year deepens on supply side normalisation alone. As well, leading indicators suggest the property market is coming off so demand for steel will likely soften.
Coking coal is not likely to run on, either, as Chinese import restrictions remain in place and the current holiday period gives way to reopening mines.
The China credit impulse is exaggerated by base effects and the recent shift of local government bonds into TSF. Broad credit growth is stable around 11% and is not accelerating. This is typical of ongoing slow slowing for growth: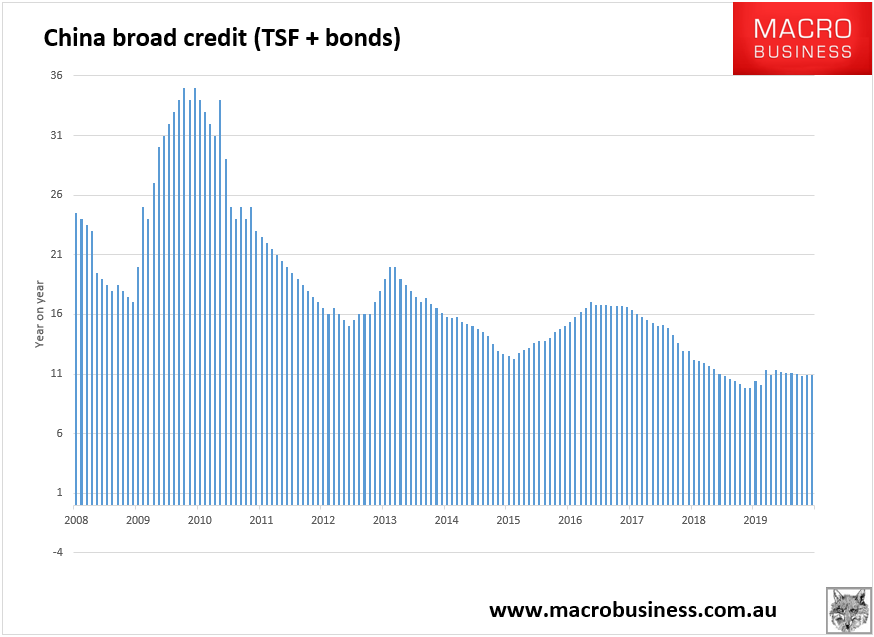 Even if prices hold up, the Morrison Government is not spending the windfall income as it is offset by a weak domestic economy for the budget.
There have been favourable shifts in commodity prices in recent weeks but they are seasonal and do little to lift the great funk smothering domestic demand, just as they failed to do last year.
That said, this is all academic. If tomorrow's labour market report confirms a rising trend for unemployment then they'll cut. If not, they won't.
Simple as that.
Latest posts by David Llewellyn-Smith (see all)