Over 2018 and early 2019, there were regular reports of house and land buyers across Melbourne tumbling into negative equity, resulting in buyers defaulting on thousands of sales contracts.
The below article, published in March 2019, encapsulated the issue that was developing:
Melbourne, which has been by far the hottest new property market, is facing a dramatic downturn, with a spike in speculators and first time home buyers selling off land lots without going ahead and constructing new homes.

Big property players such as the Satterley and Villawood groups are bracing for the full impact of the downturn in new housing…

Industry reports suggest a rising number of buyers are now defaulting on land lot contracts, with estimates ranging from 8 per cent to 25 per cent in some areas.

New research from the property specialist Red23 group released this week says… "credit has slowed to both owner-occupiers and investors and foreign buyers have backed away"…
Obviously, Melbourne's property market has performed a 180-degree turn since then. After suffering an 11.1% peak-to-trough decline to May 2019, Melbourne dwelling values rebounded by 9.9% in the final seven months of 2019, and are currently experiencing explosive growth: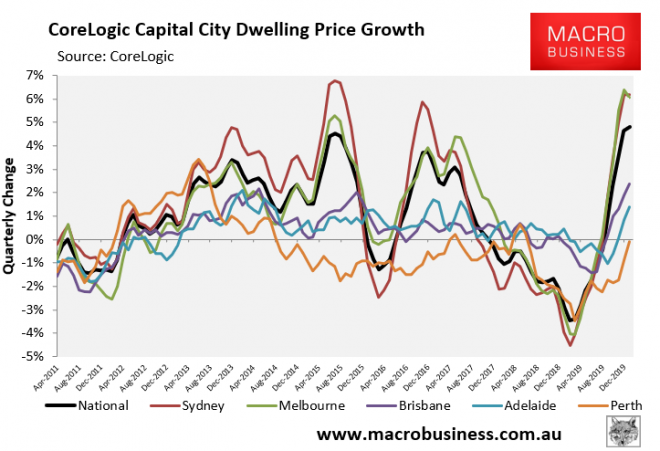 Despite the strong rebound, a lending consultant claims that valuations for Melbourne house-and-land packages are still coming in 5% to 20% below their purchase price, with at least 30% of buyers in some areas experiencing negative equity:
Melbourne-based first home buyer woke up to a 'rude shock' on Monday when he found out that the house and land package that he had purchased two years ago returned a "significantly lower" valuation now…

The 33-year-old bricklayer has now been left with a shortfall of$30,000, on top of the deposit, just three weeks ahead of the property's settlement date.

"I had bought the package for $575,000. But I was informed by my broker that the bank has valued the property at $545,000.

"I had barely managed to pay the 20% deposit, now tell, me where will I get the extra $30,000 and that too in less than three weeks," said Mr Singh…

Simar Singh, a lending consultant based in Melbourne said the scenario was "unfortunately not uncommon" these days…

"We are witnessing anywhere between 5 to 20% undervaluation of properties in Melbourne and at least three out of ten buyers in the area are battling lower valuations because most of them purchased at the peak of the property boom," said Mr Singh.

Off-the-plan buyers who aren't able to settle risk losing their deposit and in worse cases can also open themselves up to a potential lawsuit from the developers.
Obviously, this type of situation should become less common as Melbourne's property market continues to inflate.
That said, similar dyanamics in Perth kept pressure on prices for a long time so we may beging to see Melbourne slow before long.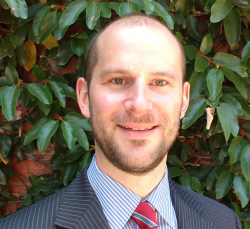 Latest posts by Leith van Onselen
(see all)