Last year it became apparent that Melbourne's house and land market had become an giant bubble after the median price for a housing lot hit $339,000 – up 21% in only 12 months – with steeper rises in the cost per square metre: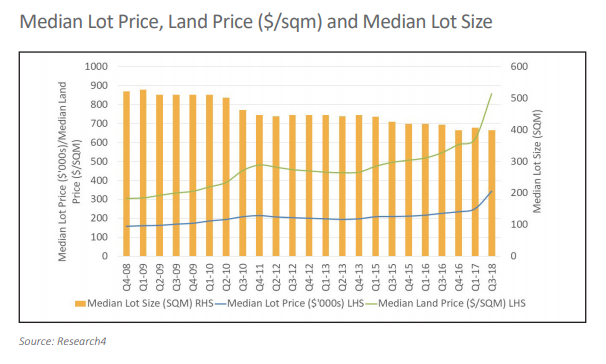 Mid last year we learned that that Chinese developers had taken control of Melbourne's land supply pipeline, driving much of the price increase:
Chinese developers have taken a virtual stranglehold on the future supply of new housing in Melbourne's outer suburbs after acquiring more than two-thirds of all big greenfield land parcels offered for sale in the past 18 months, in deals worth about $2 billion.

This surge of foreign capital has pushed broadacre land values above $1 million a hectare and contributed – along with planning and infrastructure delivery bottlenecks – to the cost of a standard 400 square metre lot rising 30 per cent in a year to a median of $323,000.
In August 2018, the panic began to set in with land speculators rushing for the exits:
Speculators who hoped to get rich on a boom in Melbourne land prices are "panicking" as settlements loom and they can't find developers to on-sell their sites to, according to Resi Ventures's Khurram Saaed, who has been developing for 15 years.

Mr Saaed said he was getting one call a week from panicked speculators, including one buyer who had put down $21 million in deposits on a number of sites and risked losing all their money.

"These are people who have been successful in other business, and who have just bought land with no due diligence in the hope of making a lot of money in three to four years' time by flipping the site prior to settlement," he told The Australian Financial Review.
In October 2018, the contagion had spread to the secondary market, with speculators attempting to flip their lots on Gumtree:
A rising number of land owners in Victoria are selling off-the-plan housing lots on classified advertisement and community website Gumtree ahead of their expected settlements next year.

In the first three weeks of October, nearly 50 advertisements have been uploaded – more than twice the number in September – offering sales of lots in communities like Dahua Group's Orchard project in Tarneit, Satterley Property Group's Botanical in Mickleham, MAB's Merrifield in Mickleham and Stockland's Edgebrook Community in Clyde and Cloverton in Kalkallo.

Other land sites for sale are in places such as Greenvale, Melton, Lyndhurst and new suburb Weir Views, all of which are about 20 to 35 kilometres from the Melbourne CBD.
In November 2018, Financial Review Rich Lister Nigel Satterley initially warned of an impending bust for Melbourne housing estates as speculators default on thousands of sales contracts:
Melbourne housing lot prices will "quickly" tumble up to 10 per cent as Uber-driving speculators and foreign investors default on thousands of sales contracts, Financial Review Rich Lister Nigel Satterley has warned.

…"We believe that over the next 30 months 5000 growth-area lots (about 165 lots a month) will return to the market, either by defaults or speculators having to resell their blocks immediately," Mr Satterley told The Australian Financial Review.

"This will be caused through a number of foreign house and land package sales where the purchasers were unable to obtain Australian bank finance or speculators' inability to settle.
Last month, Satterley returned warning that the situation had worsened:
[Satterley] said the situation was "much worse then I previously thought".

"Our research (prepared for the major banks) shows that between 20 and 25 per cent of purchasers are cancelling and losing their deposit. This is up from 5 per cent in December 2017," Mr Satterley said.

…Mr Satterley said the main reason for the high defaults were speculators not being able to sell-on their contracts via nomination due to falling prices and rising numbers of listings or an inability to get finance. "There's no finance available for overseas buyers and very hard for local investors," he said.
And earlier this month, The Australian's James Kirby reported that the "speculative bubble in [Melbourne] outer suburbs housing has popped":
Melbourne, which has been by far the hottest new property market, is facing a dramatic downturn, with a spike in speculators and first time home buyers selling off land lots without going ahead and constructing new homes.

Big property players such as the Satterley and Villawood groups are bracing for the full impact of the downturn in new housing…

Industry reports suggest a rising number of buyers are now defaulting on land lot contracts, with estimates ranging from 8 per cent to 25 per cent in some areas.

New research from the property specialist Red23 group released this week says… "credit has slowed to both owner-occupiers and investors and foreign buyers have backed away"…
Now, the Urban Development Institute's (UDIA) reports that Melbourne is bearing the brunt of a dramatic spike in the number of planned apartment projects that have been abandoned by developers. From The Herald-Sun:
The number of apartments, units and townhouses that were planned for development across the nation's capital cities last year but were instead shelved surged 400 per cent…

The jump took the number of dwellings in abandoned projects from 22,000 in December 2017 to more than 110,000 at the end of last year…

Melbourne is in the eye of the storm with the number of abandoned projects surging 20-fold, from 1743 in December 2017 to 34,126 at the end of last year… The city accounted for almost one in three projects that were abandoned…

Despite the cooling property market, the median lot price rose 3.9 per cent to $345,000 over the year. But the UDIA report warned "the greenfield market is now facing the prospect of being overpriced" given falls in established house prices.

The cancellation rate among lots also jumped from 5 per cent in the three months to September to 12 per cent in the three months to December, suggesting "a level of panic across builders and/or consumers," the report said.

The Melton growth corridor experienced the highest cancellation rate.
As Martin North noted last month, Melbourne's sprawling western land market is negative equity ground zero:
North also released his latest Melbourne mortgage stress heat map with the outer west and north house and land package crescent (plus the far flung east) under intensifying stress: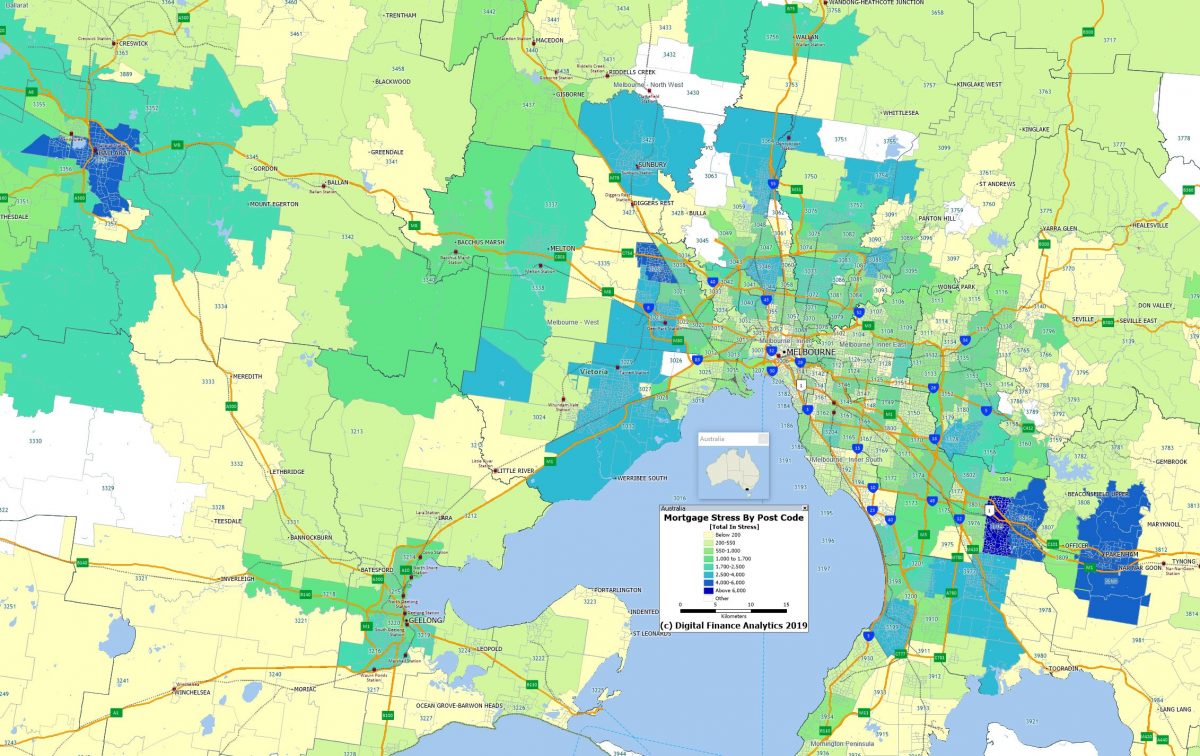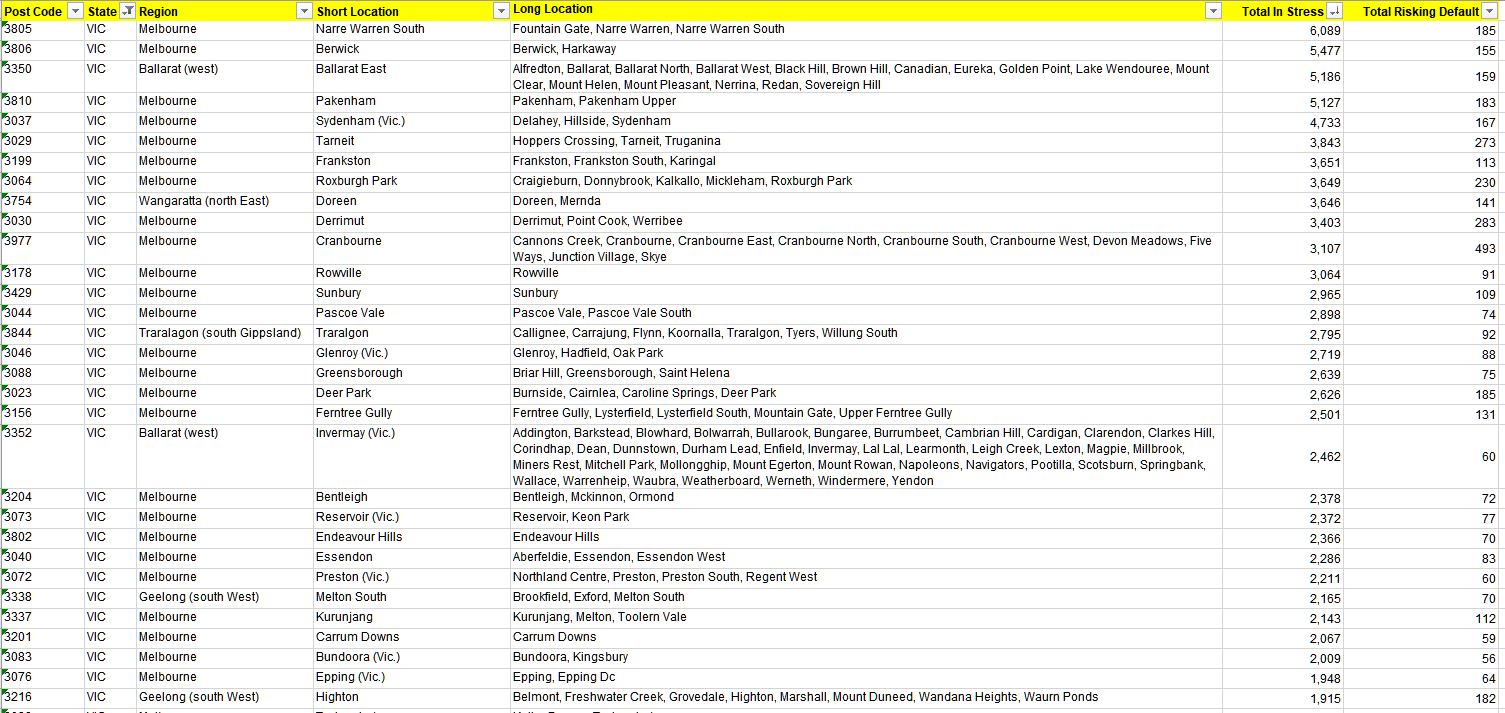 According to the UDIA, sales volumes tanked as prices surged to record highs: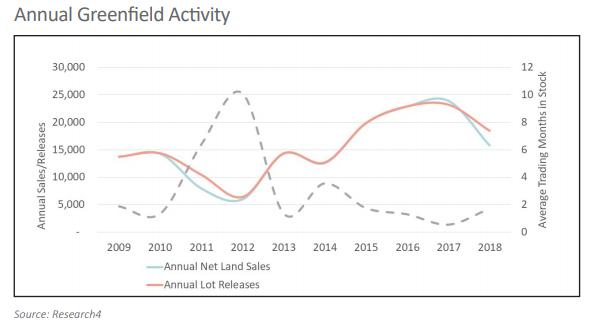 Price follows volume.
The Great Melbourne land bust is on like Donkey Kong.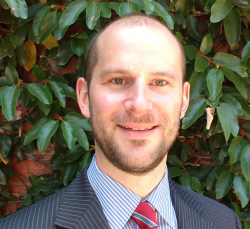 Latest posts by Leith van Onselen
(see all)