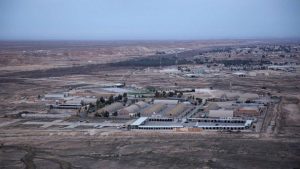 by Chris Becker
And so it begins. Via AP:
Iranian state TV says Tehran has launched "tens" of surface-to-surface missiles at Iraq's Ain Assad air base housing U.S. troops in response to the killing of top Iranian military commander Qassem Soleimani.

It was not immediately clear whether the purported missile strikes struck the base or whether any damage has been caused. There was no confirmation from the United States or anti-ISIS coalition partners on whether an attack has occurred.

Ain Assad air base is located in Iraq's western Anbar province. It was first used by American forces after the 2003 U.S.-led invasion that toppled dictator Saddam Hussein. It later saw American troops stationed there amid the fight against the Islamic State group in Iraq and Syria.

State TV said the operation's name was "Marytr Soleimani." It said the Revolutionary Guard's aerospace division, which controls Iran's missile program, launched the attack.
Markets have immediately reacted with S&P and Dow futures dropping sharply while stocks here in Asia are off nearly 1% or so as WTI spikes above $65 USD per barrel and gold hits $1600USD per ounce.
Another pointless war in the Middle East begins.
Happy New Year.
Latest posts by Chris Becker (see all)