The United Kingdom's Conservative Party is looking to copy Australia's points-based migration system, which has been met with condemnation from employers wanting low and semi-skilled migrant workers:
Boris Johnson's proposed "Australian-style" points system to reduce immigration has been criticised for failing to understand how vital low and medium-skilled jobs are to the UK economy and for giving a false impression to voters of radical change.

The scheme would separate future immigrants into three tiers with entry for exceptional and talented people, skilled workers with a job offer, and unskilled for short-term schemes.

Jonathan Portes, a professor of economics at King's College London and senior fellow at the research group UK in a Changing Europe, said: "It's not radical. Most likely it will not look that different from what we have now…

He said "Australian-style" was a phrase that performed well in focus groups, which is why Labour's then immigration minister, Liam Byrne, chose to use it as far back as 2007, because it implies regulation and control"…
The common perception that Australia is running a 'skilled' migration system is wrong on multiple levels.
Let's first consider the permanent migrant system, which is currently set at 160,000 non-humanitarian places and around 16,000 humanitarian places: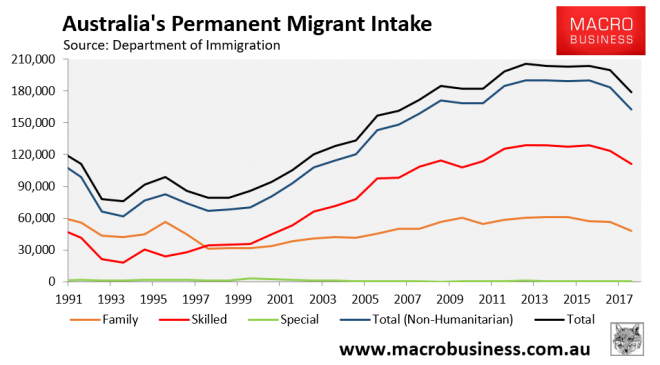 Within this 176,000 strong permanent program are 111,000 places under the 'skilled stream', which is where the superficial claim that Australia's immigration program is skills-based comes from.
However, digging deeper into these figures reveals a permanent migrant program that is, in fact, mostly unskilled.
First, as noted in the Productivity Commission's 2016 Migrant Intake into Australia report, half of the skilled stream comprises the family members of the primary skilled migrants:
…within the skill stream, about half of the visas granted were for 'secondary applicants' — partners (who may or may not be skilled) and dependent children… Therefore, while the skill stream has increased relative to the family stream, family immigrants from the skill and family stream still make up about 70 per cent of the Migration Programme (figure 2.8)…

Primary applicants tend to have a better fiscal outcome than secondary applicants — the current system does not consider the age or skills of secondary applicants as part of the criteria for granting permanent skill visas…
Second, the lion's share of 'skilled' migrants have gone into industries where labour surpluses exist and there is little need for migrant labour.
Consider the below Department of Jobs & Small Business' data, which shows that skills shortages across Professionals and Managers – where 75% of 'skilled' permanent and temporary visas were issued in 2018-19 – are running below the historical average: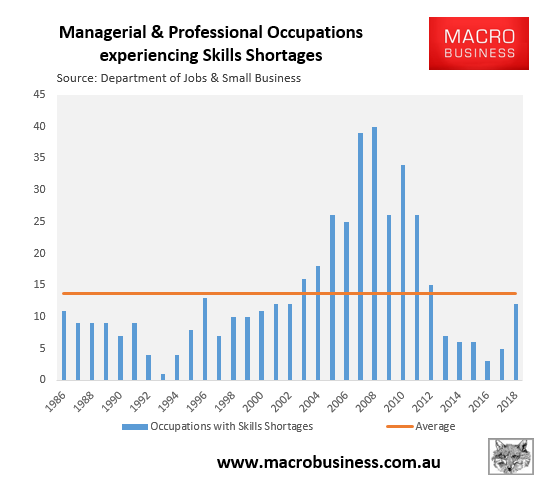 Third, if Australia was running a 'skilled' migration program, then you would expect to see these migrant workers paid high wages. However, this is again contradicted by the data, which reveals a low-paid migrant underclass.
For example, the ABS' most recent Personal Income of Migrants survey showed that the median employee income of migrants under the skilled stream was a pitiful $59,304 in 2015-16.
The Migrant Outcomes Survey from the Department of Home Affairs revealed that the median full-time salary of skilled visa holders 18 months after being granted the visa was $72,000 in 2016, which was below the population average of $72,900 (which comprises both skilled and unskilled workers).
Whereas the salary floor for Temporary Skill Shortage (TSS) visas has been frozen at the ludicrously low level of $53,900 since 2013-14. As such, TSS visa holders earned a median income of just $59,436 in 2016, which was $13,464 below the median full-time Australian salary of $72,900 in 2016.
Fourth, the latest ABS Characteristics of Recent Migrants survey showed that skilled migrants (let alone all other categories of migrants) experienced higher rates of unemployment in 2016 than the Australian born population: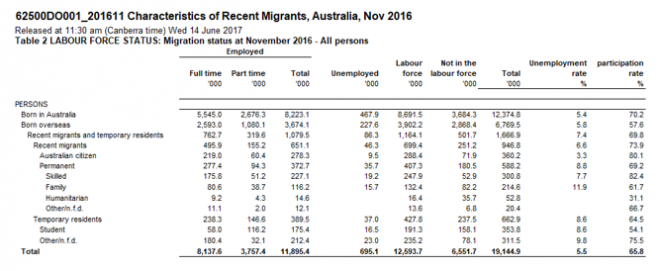 Finally, surveys have shown that 'skilled' migrants generally work at jobs well below their reported skill level once arriving in Australia.
For example, a 2017 survey from the Bankwest Curtin Economics Centre revealed that 53% of skilled migrants in Western Australia stated they were working in lower skilled jobs than before they arrived in Australia.
Similarly, an analysis of 2016 Census data by the Australian Population Research Institute showed that most skilled migrants that arrived between 2011 and 2016 could not find professional jobs. Specifically, only 24% of skilled migrants from Non-English-Speaking-Countries (who comprised 84% of the total skilled migrant intake) were employed as professionals in 2016, compared with 50% of skilled migrants from Main English-Speaking-Countries and 58% of same aged Australian-born graduates.
What should be abundantly clear from the above is that Australia is not running a skilled migration program, but rather a defacto low-skilled system that is depressing wages, crush-loading cities, and eroding overall amenity for existing residents.
Australia's immigration system needs fundamental reform, not lauding and emulation from uninformed overseas observers.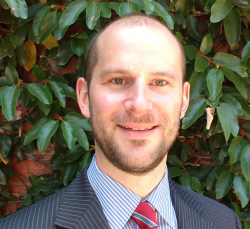 Latest posts by Leith van Onselen
(see all)