As 2019 comes to a close, the Australian economy is giving mixed messages.
On the one hand, the domestic economy is slowing fast, with the private sector in recession and the economy held up largely by government spending.
Household incomes continue to stagnate. In response consumers are closing their wallets with retail sales volumes and car sales collapsing, and overall consumption growth slowing to levels not seen since the Global Financial crisis (GFC). Households have also begun to lift their savings.
After an epic boom, dwelling construction has also entered a long bust that will likely persist well into 2021. At the same time, infrastructure investment is peaking, and business investment is stuck on a slow path.
On the other hand, dwelling values are rising at extraordinary rates led by Sydney and Melbourne. Credit constraints that built up during the Hayne banking royal commission have been loosened, interest rates are falling, tax cuts have been delivered, and federal budget revenues have rebounded.
These 'green shoots' have led the government, RBA and some commentators to forecast a rebound in the economy over 2020.
This report unpicks these issues and concludes that 2020 will be a rough year for the Australian economy. Despite further anticipated dwelling price growth, the economy's growth drivers will fade, unemployment will rise, and national income is set to slide on the back of falling terms-of-trade.
The house price rebound gathers steam:
The November quarter witnessed a strengthening of the house price rebound that begun in July following the Morrison Government's unexpected election victory: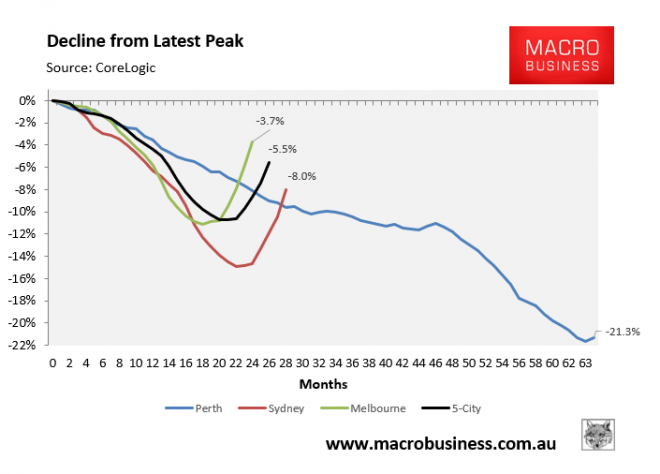 At the 5-City level, dwelling values bottomed in June 2019 after suffering a peak-to-trough decline of 10.7%. In the five months since, dwelling values have rebounded by 5.8%.
Sydney's dwelling values bottomed in May 2019 after suffering a 14.9% peak-to-trough decline. However, in the six months since, Sydney dwelling values have rebounded by 8.2%.
Melbourne's dwelling values also bottomed in May 2019 after suffering a 11.1% peak-to-trough decline. But in the six months since, Melbourne dwelling values have rebounded by 8.3%.
By contrast, Perth dwelling values continue to decline, down 21.3% over 64 months.
To describe the rebounds that have taken place across Sydney and Melbourne as extraordinary would be an understatement. Quarterly price growth was running at more than 6% across both markets at end-November, which matches or exceeds the growth rates experienced at the heights of the 2015 and 2017 boom periods: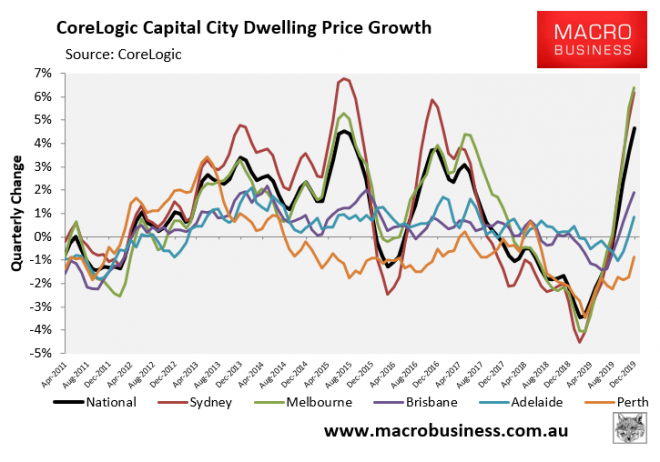 The rebounds across Sydney and Melbourne are reflected in auction clearance rates, which are the best short-term leading indicator of house price growth.
As shown in the below charts, Sydney's and Melbourne's auction clearance rates have rebounded strongly and are now both tracking near 'boom time' levels in the mid-70% range: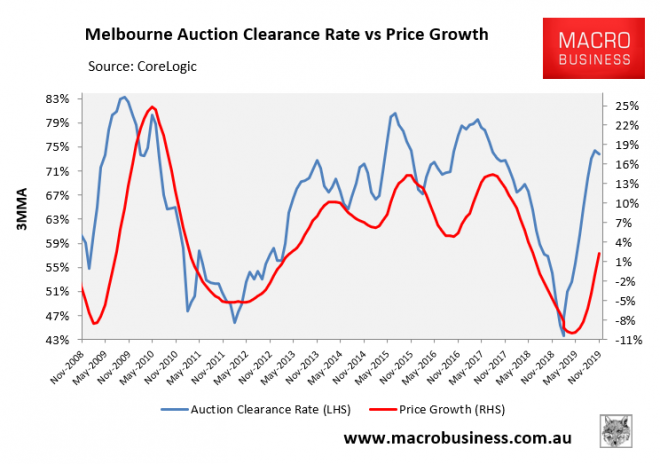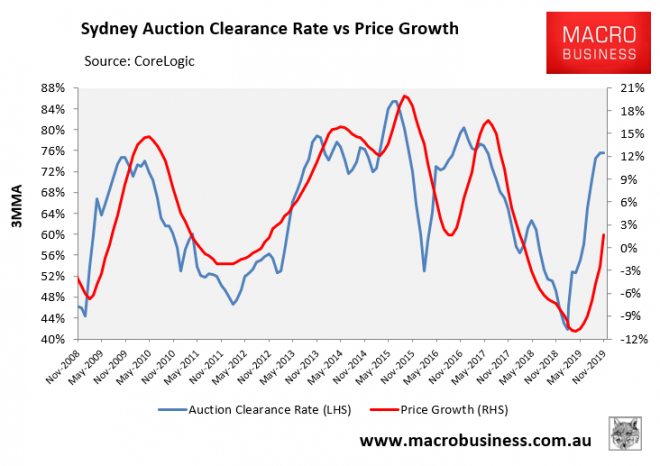 However, the strength of the auction market, as measured by the clearance rate, is somewhat overstated. As shown in the next chart, overall auction volumes are tracking well below the 'boom' levels experienced between 2013 and 2017: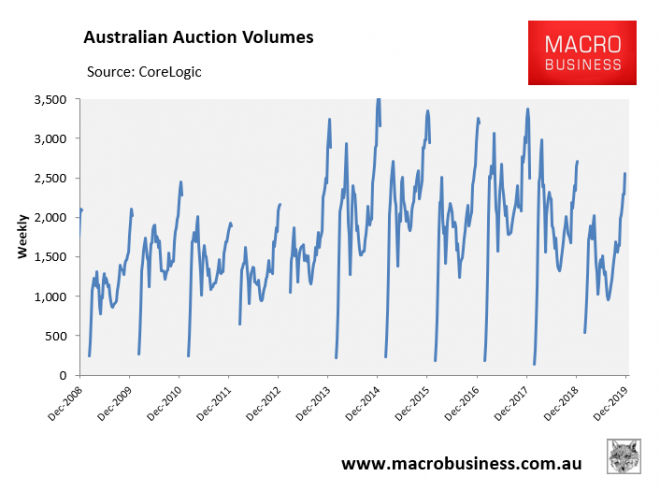 Overall sales volumes are also running well below the decade average, according to CoreLogic; although they have improved marginally over recent months:

The number of listings has similarly fallen heavily over the past year, according to CoreLogic:

Therefore, the improvement in auction clearances and prices has occurred off a 'thin' market, reflecting a lack of homes available for sale.
This suggests the price rebound is not as strong as it appears on the surface.
Housing finance commitments have also historically been a leading indicator for dwelling value growth; albeit not as timely as auction clearance rates.
As shown below, growth in the value of housing finance commitments (excluding refinancings) bottomed in March 2019 and have since rebounded: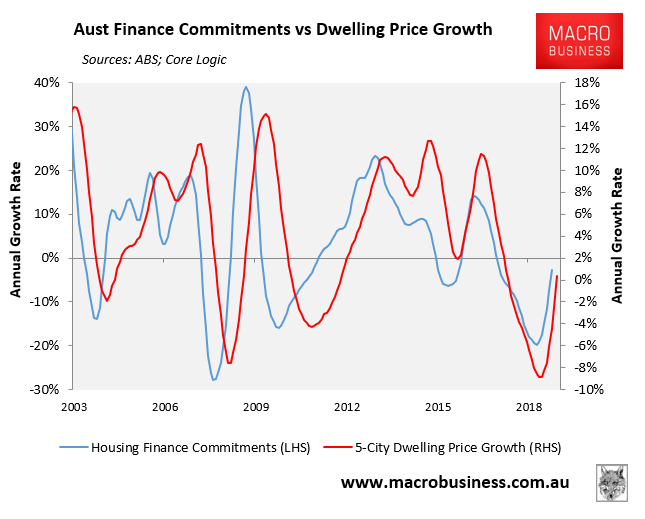 Again, this rebound in finance commitments has been driven by Sydney and Melbourne: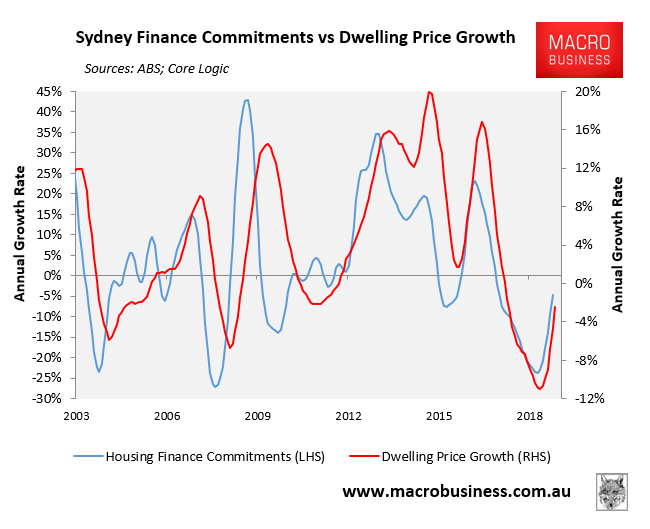 While housing booms, domestic economy busts:
2019 has ended with the Australian economy slowing to a crawl and the private sector in recession.
The September quarter national accounts, released in early December, reported that Australia's real gross domestic product (GDP) grew by only 1.8% in the year to September and by only 0.3% in per capita terms: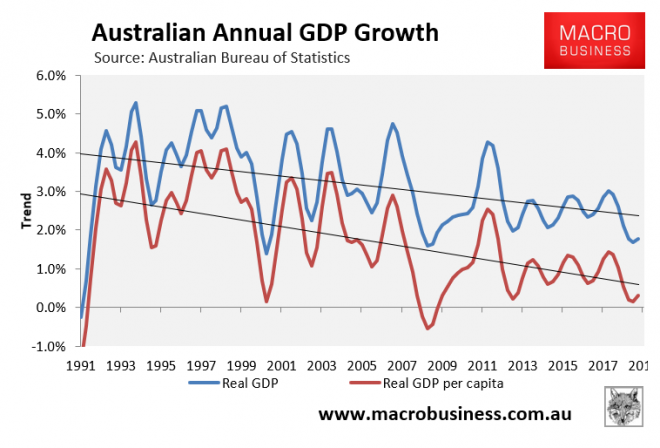 However, this growth rate was flattered by booming export volumes: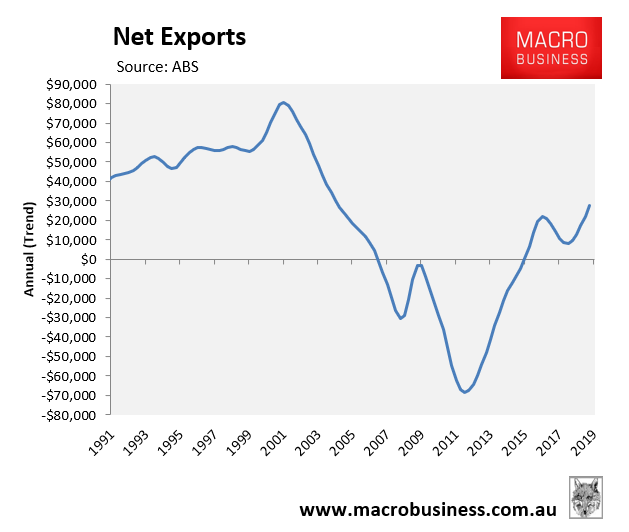 A better gauge of how the domestic economy is performing is provided by real domestic final demand, which according to the ABS is the sum of "government final consumption expenditure, household final consumption expenditure, private gross fixed capital formation and the gross fixed capital formation of public corporations and general government".
Australia's real final demand growth is shown below in seasonally-adjusted terms, split-out by the four key components: Household Consumption; Dwelling Investment; Business Investment, and Public Demand: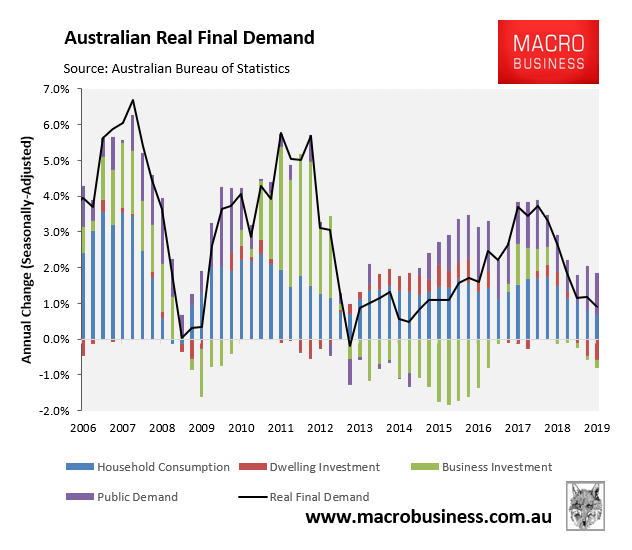 Real final demand slowed to just 0.9% in the year to September in seasonally-adjusted terms, dragged down by falling dwelling and business investment, as well as slower household consumption growth.
Importantly, Australia's growth is being driven entirely by government spending. As shown in the next chart, annual private sector demand actually fell for the first time since the global financial crisis in the September quarter, down 0.3% over the year. However, this was offset by 4.7% growth in public demand: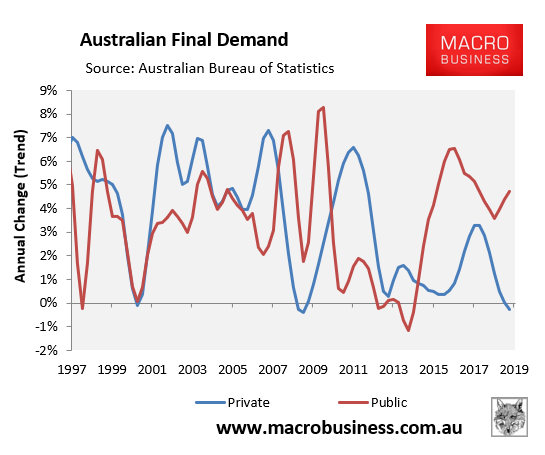 This divergence is being driven by consumption, with household final consumption spending slowing to just 1.2% – the lowest since the GFC – whereas government final consumption spending surged to 6.0% – the highest since 1985: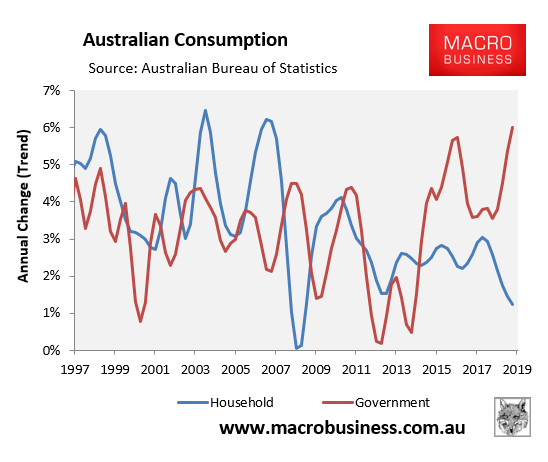 Thus, Australia's private sector was in recession as at September, with the economy held up entirely by government spending.
The situation was even worse when population growth is stripped out, with domestic final demand falling by 0.7% in the year to September and rising by only 0.5% since June 2012: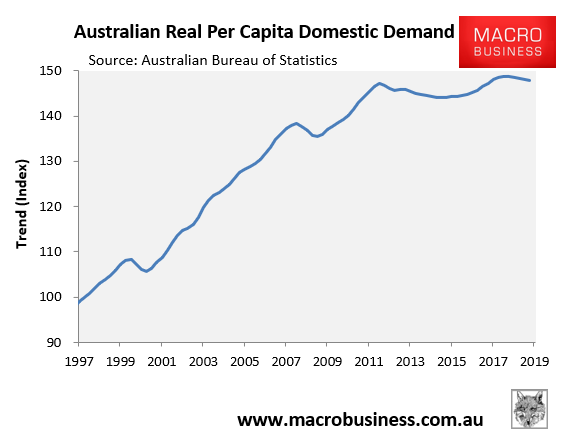 Australia's labour market also ended 2019 with a whimper. Annual jobs growth has slowed materially, driven by full-time employment: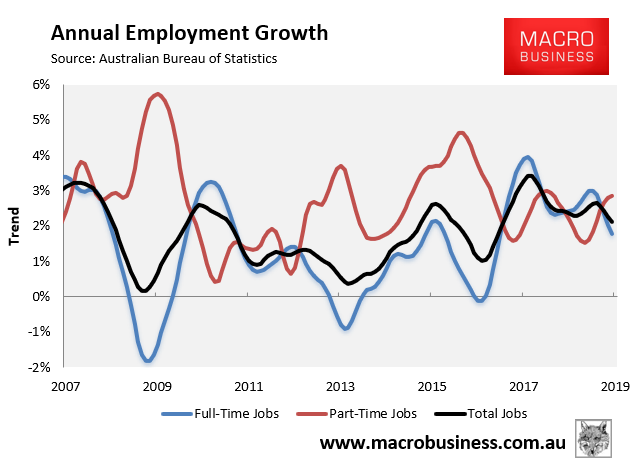 Unemployment is rising: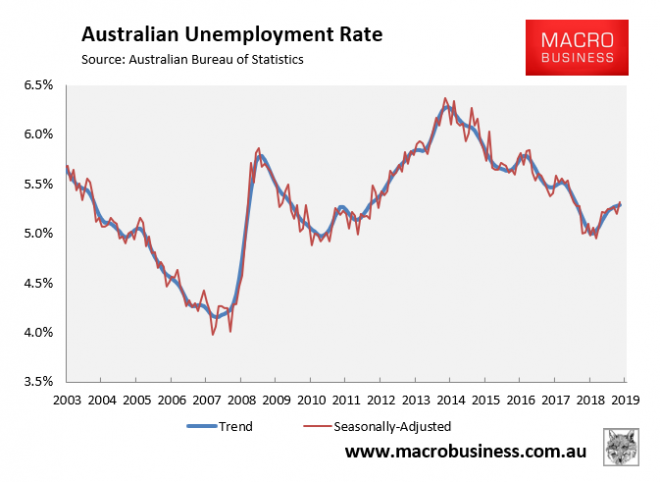 As is underemployment: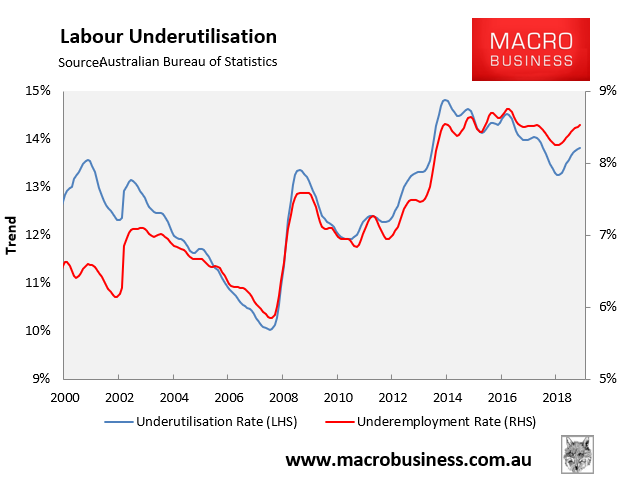 The ANZ job ads series, which is a reliable leading indicator for unemployment, has also fallen nearly 15% from its cyclical peak in May 2018, pointing to riding unemployment in 2020: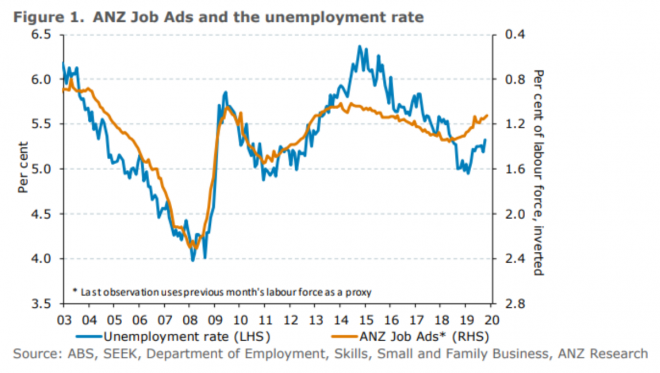 Reflecting the softening labour demand, wage growth continues to disappoint, recording falling growth in the September quarter at only 2.2%: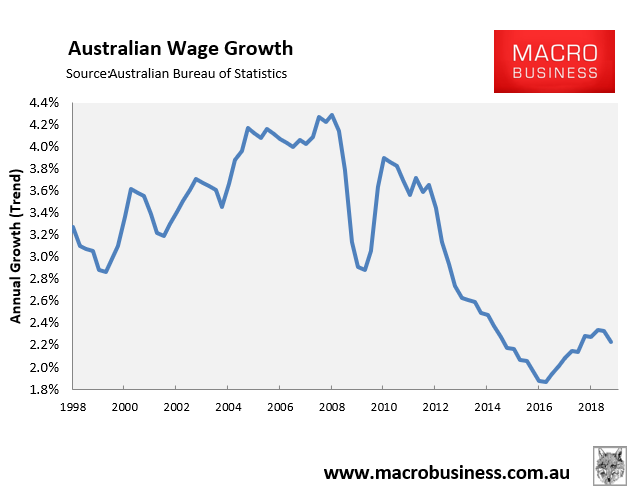 Australia runs out of growth drivers:
Construction:
The biggest single downside risk to the Australian economy is the downturn in construction activity.
Gross fixed capital formation (GFCF), basically net investment, was already falling in the year to September 2019, down 3.6% in total driven by a 4.7% decline across the private sector: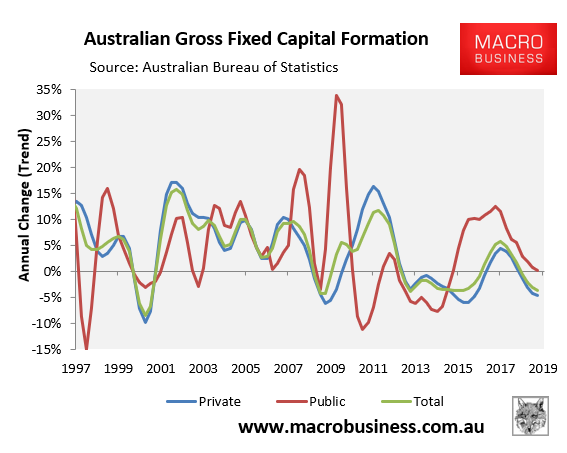 The main driver of the fall in private GFCF was dwelling construction, which fell by 10.6% year-over-year in the September quarter: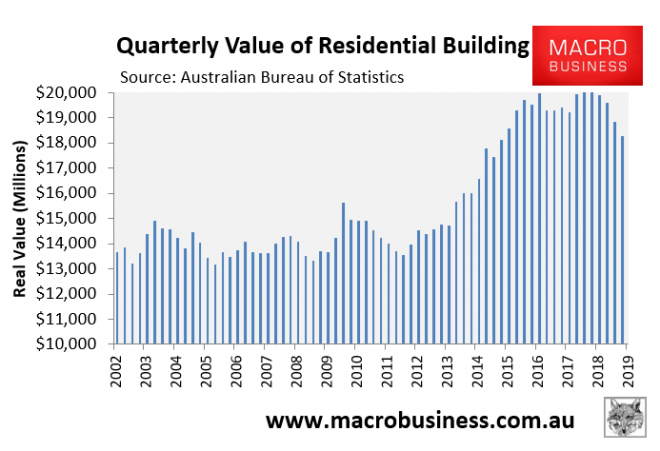 The outlook for residential construction remains dire in 2020, given both dwelling approvals and commencements have collapsed and completions have only just peaked: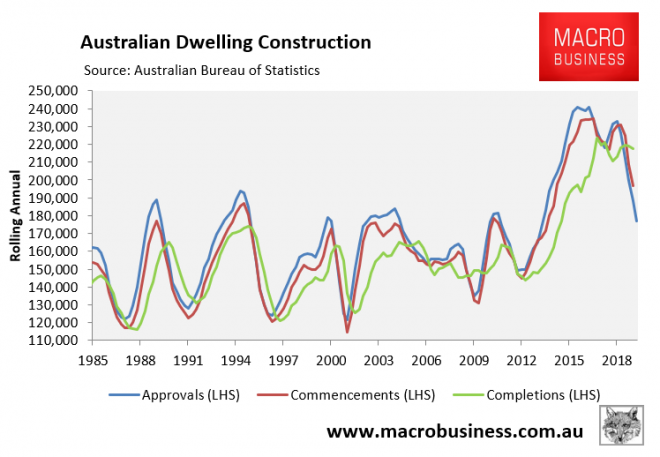 Annual dwelling commencements are running 15% below their 2018 peak, whereas approvals are down 24%.  Both guarantee that dwelling construction will fall heavily into 2021.
Adding to the pain, infrastructure investment is also projected to decline in 2020 as the National Broadband Network (NBN) rolls-off: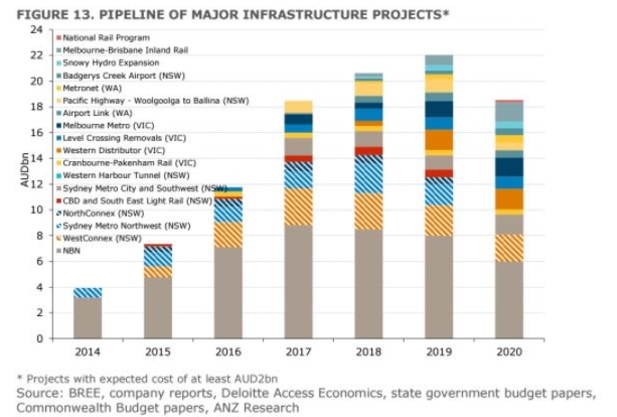 Indeed, the latest Performance of Construction Index from the Australian Industry Group was a wipe-out, with all areas in deep contraction (i.e. below 50 points):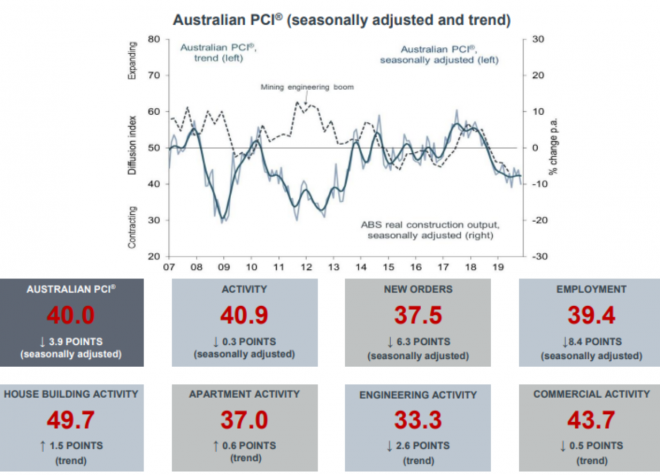 Yet to date, the construction bust (residential, in particular) has not translated into job losses. In the year to August 2018, the number of Australians employed directly in construction increased to a near record high 1.2 million, accounting for 9.1% of total Australian jobs: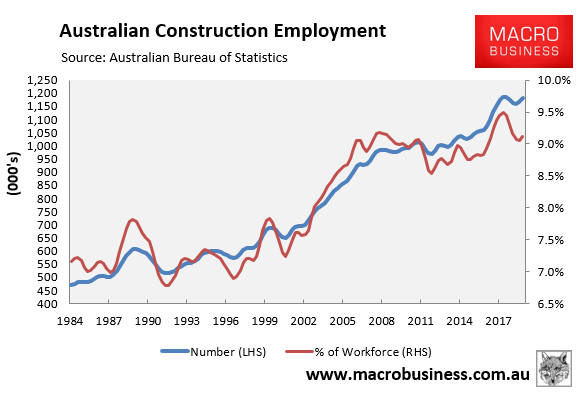 However, as shown in the next chart from UBS, construction job ads have declined by around 30% – commensurate with the decline in dwelling approvals – resulting in a "material drop in construction employment ahead":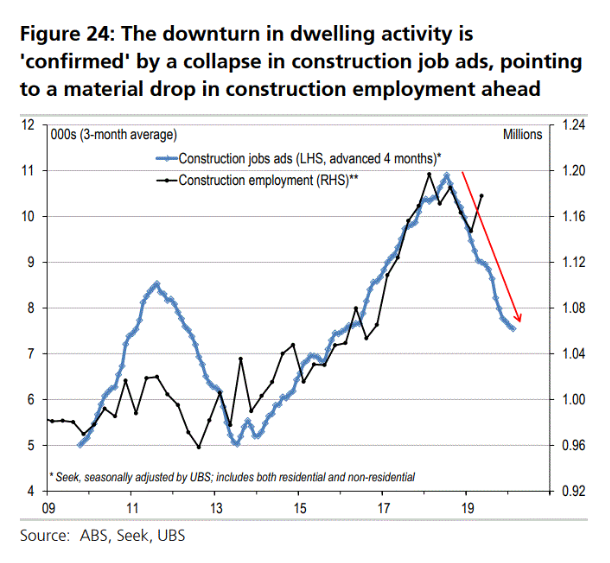 Australia's authorities are hoping that the strong bounce in dwelling values will lift dwelling construction in due course. However we are skeptical that it can do so quickly or with any great substance. The reason is the extraordinary "defect crisis" that has swept east coast apartment markets. The use of flammable cladding, the rise of dodgy Chinese builders and "phoenixing" construction firms, and the shear unbridled pace of the last boom, has left a legacy of cracked foundations, towering infernos and shoddy workmanship across the sector.
Estimates of the remediation bill for these defects run as high as $1 trillion.
This will leave a legacy of stalled buyer interest and suppressed lending into the apartment sector, and it was this segment that boomed so powerfully during the last cycle.
The irony is that this supply-side paralysis may, in fact, drive buyers even more into existing property, creating a bizarrely low economic calorific rise in house prices.
In any event, even if the authorities hopes come true, and buyers do return to off-the-plan properties, it will take at least 18 months to engineer a construction rebound given the long lead times between approvals and completions.
Public demand:
As noted above, Australia's economy was held-up in 2019 by public demand, specifically Government final consumption expenditure (GFCE) rather than public gross fixed capital formation (GFCF):
In the year to September, GFCE surged by 6.0% – the highest since 1985 – whereas public GFCF only increased by 0.1%.
Over recent years, government spending has risen through several channels, including the ramp-up of the $22 billion a year National Disability Insurance Scheme (NDIS), as well as the boom in infrastructure projects, including the NBN.
However, the NBN's rollout is already past its peak, which is why Public GFCF has softened and the Major Public Projects Pipeline chart above falls all the way into 2020-21.
The story is similar for the NDIS, whose roll-out finished this year, with spending also peaking.
To date, Prime Minister Scott Morrison has ruled-out stimulus or other "panicked reactions", claiming the government has already injected $9.5 billion of near-term stimulus into the economy since the May election. Thus, the Coalition continues to push for Budget surplus, despite the economy's deteriorating fundamentals.
The upshot is that public demand is likely to soften considerably in 2020, removing Australia's primary growth driver.
Business investment to tread water:
The September quarter national accounts revealed that growth in business investment has turned negative, thus detracting from growth: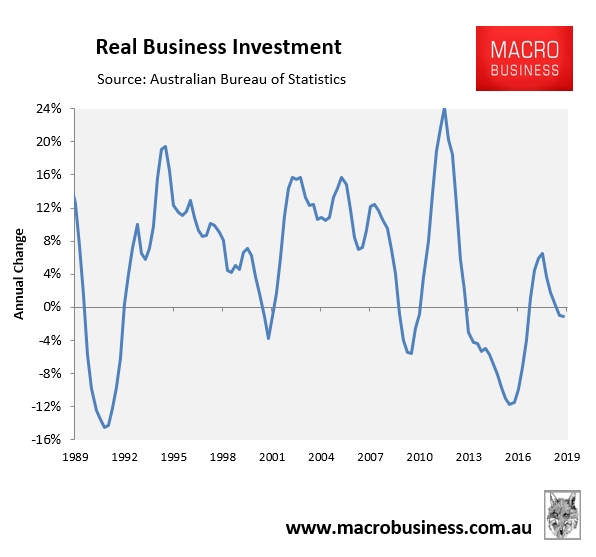 Based on the latest ABS Capex Expectations and NAB Business Surveys, we expect business investment – which accounts for around 11% of overall final demand – to basically tread water in 2020, adding nothing to overall final demand growth.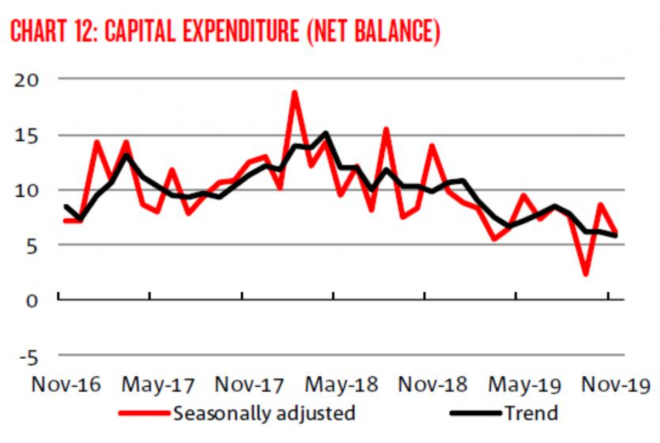 Household Consumption to remain soft:
Three months ago, in a speech to the AFR Property Summit, Treasurer Josh Frydenberg boasted that the rebound in property prices would help boost Australia's GDP via lifting household consumption:
Treasury estimates that a 10 per cent increase in house prices could result in a corresponding lift to GDP of about half a per cent.

Similarly, the RBA has said that a 10 per cent increase in household wealth is expected to increase the level of consumer spending by up to 1½ per cent.

This matters because household consumption represents about 60 per cent of GDP.

Given the key relationship between the health of the housing market and the wider economy, it is important that we continue to support the recovery that is underway.
Around the same time, Prime Minister Scott Morrison ordered "banks to keep lending", whereas Treasurer Josh Frydenberg warned that responsible lending rules could penalise "hard-working families" trying to get a mortgage and hurt the economy.
Clearly, the Morrison Government's economic plan is centred around engineering a house price rebound, which it hopes will then stimulate household consumption via the 'wealth effect'.
Household consumption currently makes up around 55% of domestic demand: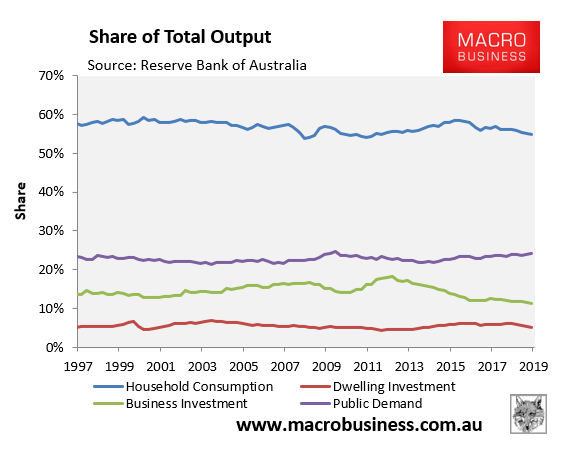 And household consumption spending growth slowed to just 1.2% in the year to September – the lowest level since the GFC: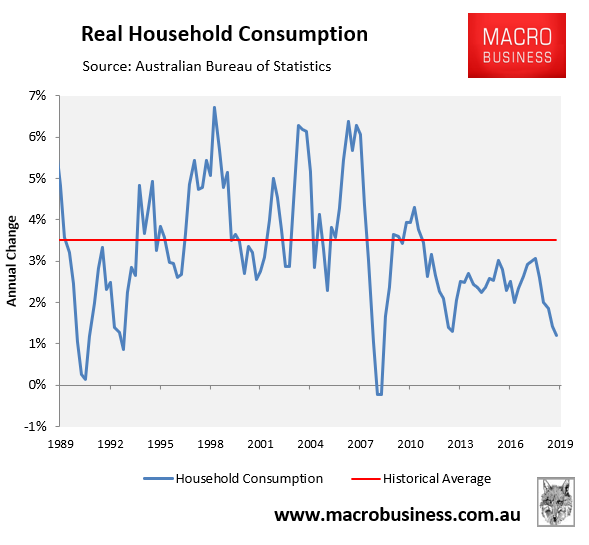 Consumer weakness is present everywhere. For example, retail sales volumes registered their first annual decline since the early-1990s recession in the September quarter: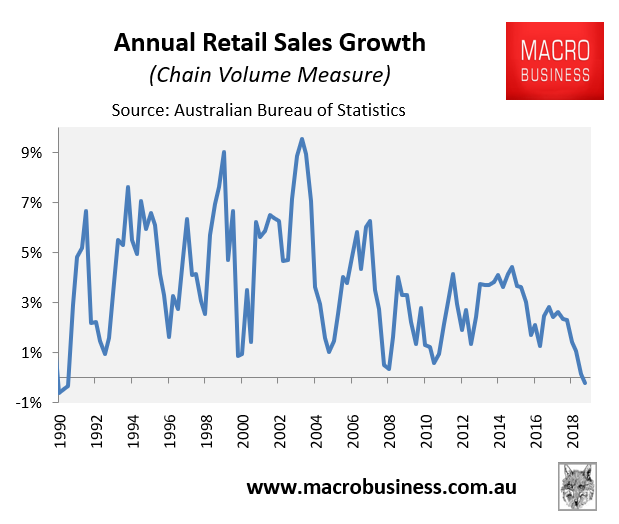 New car sales also plunged by 9.8% in the year to November, have fallen for 20 consecutive months (in rolling annual terms), and are down 11.3% since their March 2018 peak: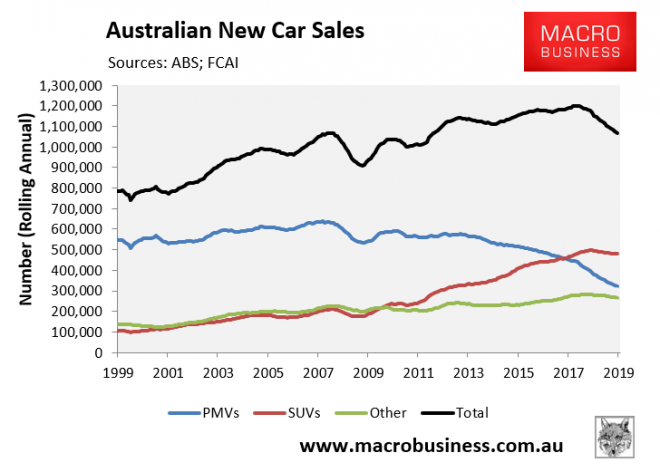 The underlying driver of the consumer weakness is stagnant income growth. Australian households have received no real income gains for seven years: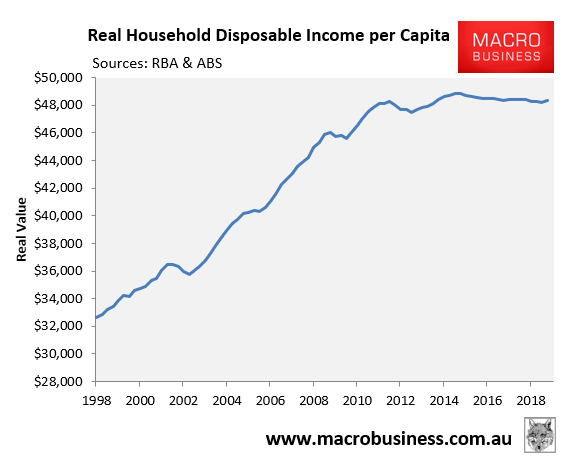 They are also carrying one of the highest debt loads in the world: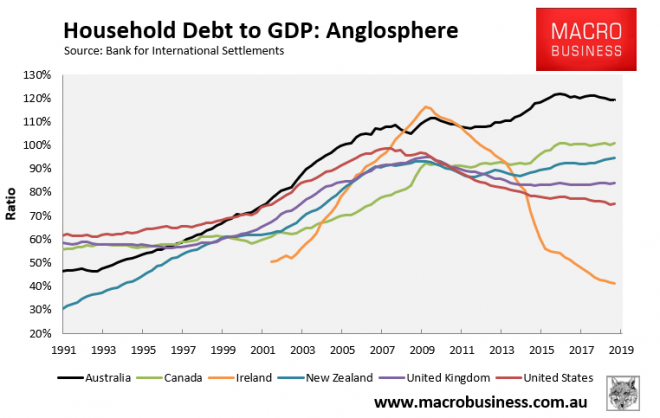 In the absence of income growth, alongside gargantuan household debt, there is little capacity for Australian households to continue increasing their spending, despite interest rate cuts and rising house prices.
RBA governor, Phil Lowe, made this exact observation recently:
"Monetary policy has become less effective at the margin. Once upon a time, when we lowered interest rates, people would run off to the bank to borrow to kind of go on a holiday or buy furniture or kind of do some spending. They don't do that anymore" – Phil Lowe, 24 September 2019.
Indeed, the collapse in the growth of mortgage and personal loans, despite cratering interest rates, is proof that Australian households are dis-leveraging and paying-down debt: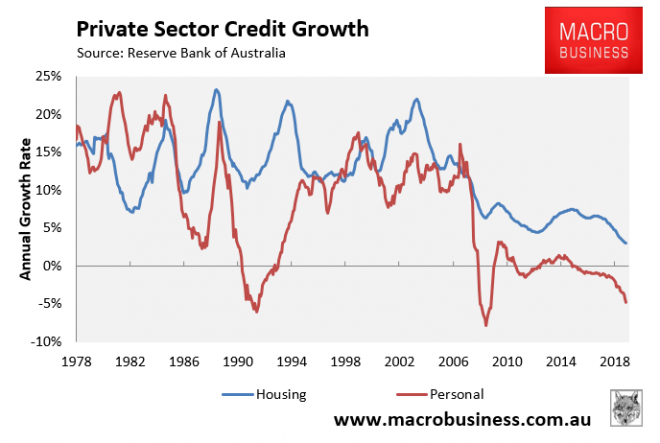 Mortgage equity injection is the highest in living memory: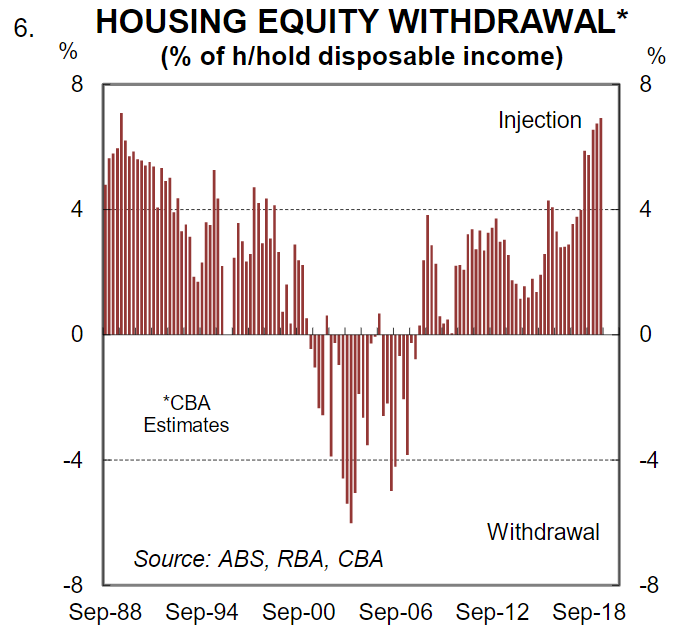 Further evidence of this dis-leveraging is evident in the household savings rate, which spiked in the September quarter as households pocketed, rather than spent, the $7 billion of income tax cuts:
Without a transmission into construction, the house price rebound is a 'profitless' boom for Australian households. Instead, they are facing both rising unemployment and falling real incomes in 2020, thus preventing the resurgence in consumption anticipated by the Morrison Government.
Clearly, the Coalition's tax cuts are misguided given the private sector is retrenching. The money would have been better spent on traditional Keynesian stimulus.
Domestic economy stall to deepen in 2020:
As already noted, Australia's real final demand is already slowing fast, growing by just 0.9% in the year to September in seasonally-adjusted terms: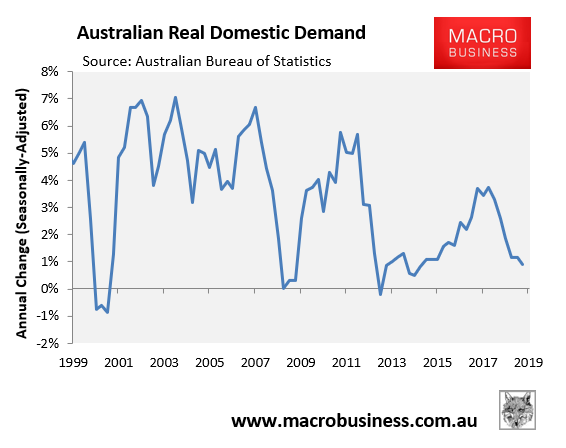 Dwelling investment will fall into 2010, subtracting from overall growth, and this is unlikely be offset by business investment, which should record near zero growth.
Public demand – currently the major growth driver – is likely to slow sharply as the NDIS and NBN move past peak spending, whereas household consumption is likely to remain soft in 2020, despite interest rate cuts and the booming housing market.
The upshot is that real domestic demand is likely to remain very weak in 2020.
While the Australian economy will probably avoid a "technical recession" – defined as two consecutive quarters of negative GDP growth – the domestic economy is set to remain in recession in per capita terms.
External risks rising:
As we assembled this report, there was much fanfare about a trade deal between the US and China setting the scene for a strong 2020 global recovery. Markets are very highly valued on this basis, the Australian dollar has jumped and bond yields have sold off.
We disagree. Global growth has been slowing on multiple fronts in 2019. There will be a bounce but not with any great vigour:
trade volumes have fallen materially;
business investment has slumped amid geopolitcal tensions;
a global car sales shock has transpired, led by China;
a universal oil and commodities glut has prevented new projects;
a post tax cut US economy has slowed;
China is dis-leveraging and being rocked by a vehement Hong Kong rebellion;
Europe has been held back by Brexit uncertainty and its externally led economy.
The trade deal and UK Brexit vote lifts a little of the geopolitcal fog but not enough to really matter.
The key problem is that the US/China trade deal does nothing to dispel Cold War 2.0 fears. The deal is thin, confused and opaque. The US and China remain very much at each other's throats on trade and technology and, most pointedly, in Hong Kong.
Chinese supply chains will remain under pressure so long as Hong Kong freedoms are in jeopardy and the threat of more tarrifs remains. Any risk assessment for new investment will either repatriate capital or send it into alternative emerging markets to China, which will contonue to de-globalise.
We therefore see little respite for China's external sector in 2020, a US economy that will continue to lead global growth at a moderate pace, and only a modest rebound for Europe as Brexit negotiations resume.
Chinese weakness to persist:
Of these factors, Chinese weakness is obviously most significant for Australia. The most important factor in the ongoing Chinese slowdown is its dis-leveraging program.
Despite the trade war shock this year, China did not go "all-in" on stimulus. On the contrary, it persisted with reforms to constrain shadow credit. As such, its lending rebound was muted at best: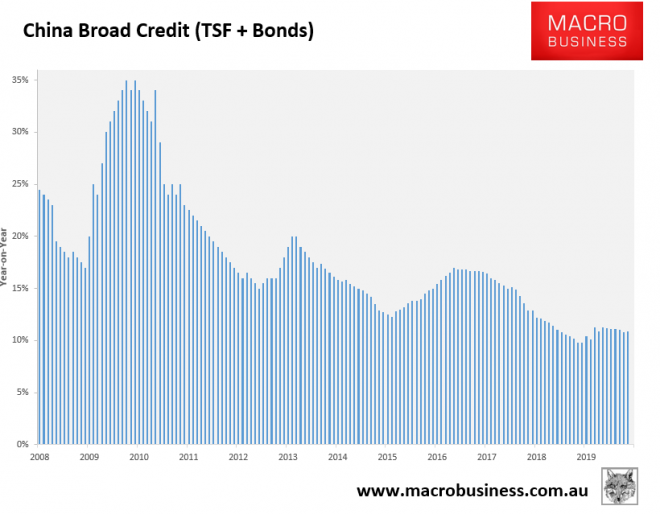 This is not enough credit to accelerate Chinese growth in 2020. Indeed, it signals further slowing.
Authorities are planning more incremental stimulus. Beijing intends to run a budget deficit of 6.5% and to accelerate infrastructure bonds. Growth will not fall off a cliff.
But the recent Central Economic Work Conference which plans growth for the year ahead was still disciplined about reforms:
First, we will unswervingly implement the new vision for development;
二是坚决打好三大攻坚战 Second, we will resolutely fight the "three tough battles";
三是确保民生特别是困难群众基本生活得到有效保障和改善 Third, we will ensure that people's well being, especially the basic living standards of those in need, are effectively guaranteed and improved;
四是继续实施积极的财政政策和稳健的货币政策。Fourth, we will continue to implement a proactive fiscal policy and a prudent monetary policy;
五是着力推动高质量发展 Fifth, we will work hard to promote high-quality development;
六是深化经济体制改革 Sixth, we will deepen economic restructuring

It also reiterated that houses are for living in, not for speculating on "要坚持房子是用来住的、不是用来炒的定位"
So long as credit remains constrained, the Chinese economy will slow further.
Chinese property and steel:
With this second derivative softening of credit, the sector of most interest to Australian commodities is Chinese property.
2019 saw the largest single year of expanded floor space under construction on record: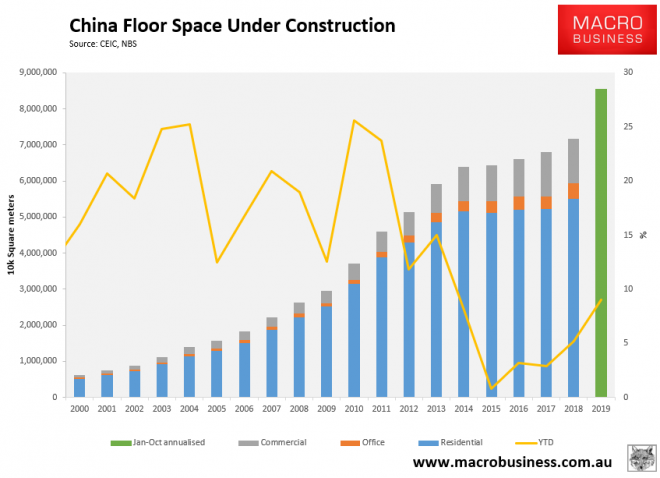 In turn, this delivered a deluge of new steel production growth: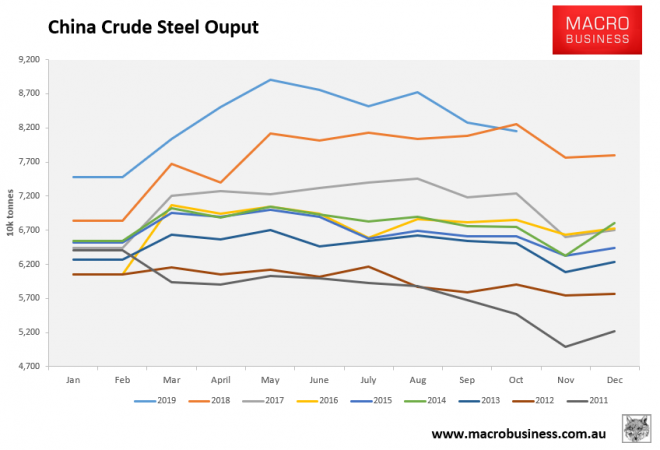 There are good reasons to think that this boom is coming to an end. Sales by floor area have been falling most of the year, a leading indicator for starts. So have developer land purchases, another leading indicator, though some of that was owing to tax reforms. As well, much of the boom transpired in lower tier cities where property price gains have been slowing.
Aside from anything else, maintaining such extreme levels of misallocated construction of empty apartments is not only very difficult but very dangerous longer term.
We expect construction growth to slow sharply and steel production to fall marginally as the Chinese managed dis-leveraging persists in 2020. A continuation of the trend in place since 2011.
Bulk commodity prices and the terms of trade:
The boom in Australian bulk commodity prices of 2019 has been widely attributed to the above jump in Chinese steel demand. Less understood is that Chinese iron ore imports actually fell in 2019 because much of the steel boom was serviced by rising steel scrap volumes and domestic ore inputs: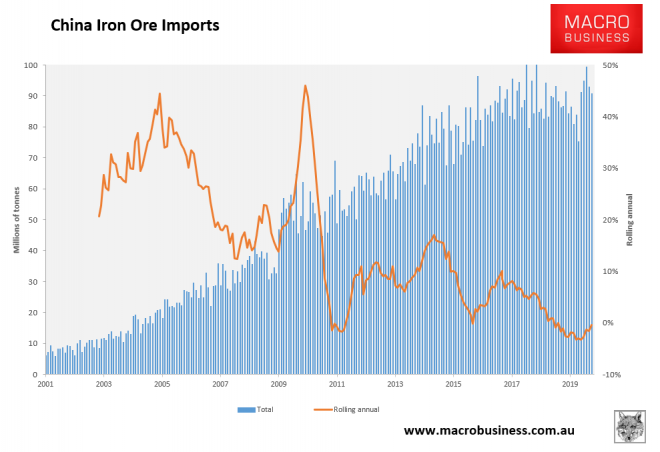 On a rolling annual basis, Chinese iron ore imports turned negative in mid-2018 and have been falling ever since.
The real reason for Australia's external sector luck in 2019 was even more narrow than the usual Chinese stimulus. A series of mining accidents took 70mt of iron ore out of the seaborne market and crimped coking coal supply as well. As a result, both commodities averaged far above their fundamental cost curves in 2019.
The last few months presented the leading edge of the 2020 normalisation of these shocks. All three major Australian bulks – coking and thermal coal plus iron ore – have seen price corrections of around one third. There is more of this to come next year.
Iron ore will average around $80 in H1 but more like $60 in H2. Coking coal will fall to $120 and thermal below $60.
Peak to trough this is around a 20% shock to Australia's terms of trade: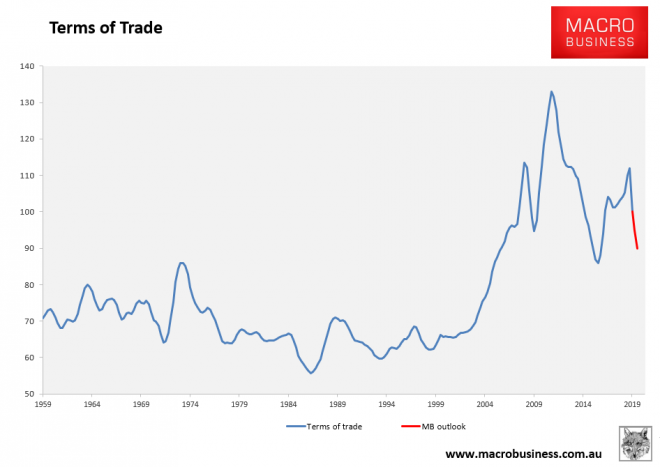 That is easily large enough to damage nominal Australian growth, hammer national income, weigh even more heavily on wages and profits, and send the budget spiraling into deficit.
Moreover, it will get worse again in 2021 and 2022 as more than 100mt of new and returning iron ore hits the market, even as Chinese growth keeps edging lower. At some point in the foreseeable future the 2015 bottom will be taken out.
This is hardly what is needed for an economy with no domestic demand thanks to already strained income growth.
Stimulus options:
More stimulus will be required. The RBA will cut the cash rate to 25bps in H1 and it will have to launch quantitative easing (QE) in H2.
Yet this is not likely to achieve much beyond helping the currency lower. The banks will only pass on half of the cuts owing to pressured margins, so mortgage relief will be minor.
Moreover, one major reason that households have begun to save, especially via mortgage equity injection, is that they see life with massive debts without an RBA insurance policy at the zero bound as untenable.
Paradoxically, more rate cuts will accelerate household saving as this fear rises.
That leaves fiscal spending. There is some hope that the Morrison Government will eventually give in to the political realities of rising unemployment. But its ideological bent means that any fiscal loosening will only come as more tax cuts. This might include bringing forward 2022 scheduled cuts into mid-2019.
Alas, those cuts are poorly targeted for stimulus purposes, aimed largely at higher income households with a low marginal propensity to consume, so the impact on activity will be much like round one. Little or none.
From there it gets even more difficult. As the terms of trade shock develops and trashes budget revenue, the Government will be forced to cut spending by year end if it wishes to sustain a surplus.
This was underlined last week when Standard and Poors warned that the government must aim for surplus to keep the sovereign rating. In a world of QE such warnings are empty, but they still have political currency for a Coalition obsessed with tight budget management. It also has more tax cuts scheduled for 2024 that it will want to protect.
Thus in 2020 we may be treated to the spectacle of the Morrison Government slashing Public Consumption Expenditure, the only domestic demand lifeline left, as it seeks to protect more failed stimulus in the form of tax cuts.
Conclusion:
The IMF noted in its most recent report on Australia two pressing challenges. The first was a re-inflated property bubble:
The macroprudential policy stance remains appropriate but should stand ready to tighten in case of increasing financial risks. Australian banks remain adequately capitalized and profitable, but vulnerable to high exposure to residential mortgage lending and dependent on wholesale funding. While the risk structure of mortgage loans has been significantly improved, renewed overheating of housing markets and a fast pick-up in mortgage lending remain risks in a low-interest-rate environment.
The second was risks to the outlook remain tilted to the downside.
On the external side, Australia is especially exposed to a deeper-than-expected downturn in China through exports of commodities and services. A renewed escalation of U.S.-China trade tensions could further impair global business sentiment, discouraging investment in Australia. A sharp tightening of global financial conditions could squeeze Australian banks' wholesale funding and raise borrowing costs in the economy.
On the domestic side, private consumption could be weaker should a cooling in labor markets squeeze household income. Adverse weather conditions, including a more-severe-than-expected drought, could further disrupt agriculture, dampening growth. On the upside, looser financial conditions could re-accelerate asset price inflation, boosting private consumption but also adding to medium-term vulnerabilities given high household debt levels.
Needless to say, this represents a nasty pickle for Australia. It has a house price boom without any economic spillovers and nothing else to pick up the slack as an external shock builds offshore.
It is out of monetary stimulus and has a government trying to re-invent the wheel with trickle down economics instead of using proven Keynesian demand management.
The base case is that Australia muddles through with growth at 2% or under for 2020 as unemployment grinds higher and wages growth grinds lower.
2021 might have presented a little improvement as population growth re-ignites a supply side response, were it not for the terms of trade correction continuing to worsen as China slows again.
In short, at a certain point in the foreseeable future, this chronic economic stall is going to turn acute for house prices, the currency and all Australian assets.
---
Leith van Onselen is Chief Economist and David Llewellyn-Smith is Chief Strategist at the MB fund and MB Super.
Latest posts by MacroBusiness
(see all)