See the latest Australian dollar analysis here:
DXY was soft last night as EUR rose and CNY fell:

The Australian dollar was strong:

So was gold:

Oil was muted:

If metals are the bellwhether then bunker:

Miners fell:

EM stocks fell:

Junk was OK:

Treasuries jumped:

And bunds:

Aussie bonds reversed the RBA damage:

Stocks fell sharply:

It was an evening of escalating trade non-deal risk. Trump kicked it off:
TRUMP SAYS WE ARE DOING VERY WELL WITH CHINA RIGHT NOW
TRUMP SAYS CHINA TRADE DEAL IS DEPENDENT ON WHETHER I WANT TO MAKE IT
TRUMP SAYS I HAVE NO DEADLINE ON TRADE
TRUMP SAYS PROBABLY BETTER TO WAIT UNTIL AFTER THE ELECTION FOR THE CHINA DEAL
TRUMP SAYS WE WILL SEE WHETHER THE CHINA DEAL IS GOING TO BE RIGHT
TRUMP SAYS I HAVE NO DEADLINE ON CHINA DEAL AND IT MIGHT BE BETTER TO WAIT UNTIL AFTER NOVEMBER 2020 ELECTION
China retaliated:
The US appears to be backpedaling in #tradetalks as officials threaten tariff hikes, but that will have zero effect on China's stance because Chinese officials have long prepared for even the worst scenario: Mei Xinyu, an expert close the Chinese Commerce Ministry pic.twitter.com/P7Ai3NYXdO

— Global Times (@globaltimesnews) December 3, 2019
The US is going ahead with more tarrif hikes in 11 days, according to Fox. Then Mike Pence stuck the boot in:
U.S. President Donald Trump is willing to wield tariffs and access to the U.S. market as he continues to push for trade deals with China as well as France and other European allies, U.S. Vice President Mike Pence said on Tuesday.

"What President Trump envisions with tariffs is a means to an end, and the end … is free trade," Pence said in an interview with Fox Business Network.
Trade non-deal odds collapsed: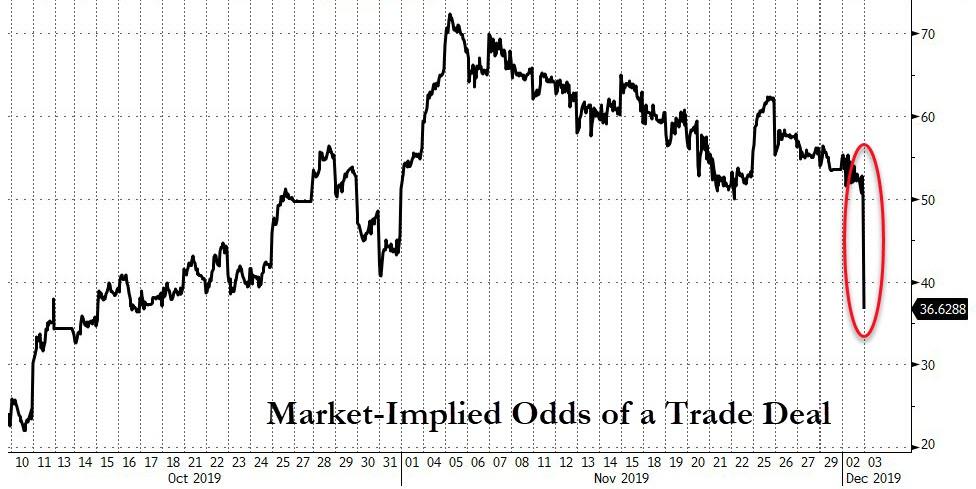 Taking just about everything down with it.
This may be just negotiating out loud as the deadline approaches or be the end of the road. More likely the latter given Trump doesn't appear ready to buckle and China is intransigent.
If it all falls apart then obviously there'll be market fireworks and I do not expect the Australian dollar to hold up despite the Lunatic RBA.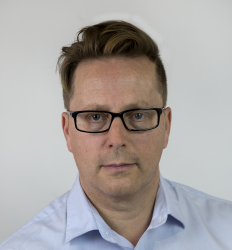 Latest posts by David Llewellyn-Smith
(see all)