The latest data from the Department of Education revealed a massive boom in Chinese international student enrolments, whose numbers have roughly doubled over the past six years to 240,000: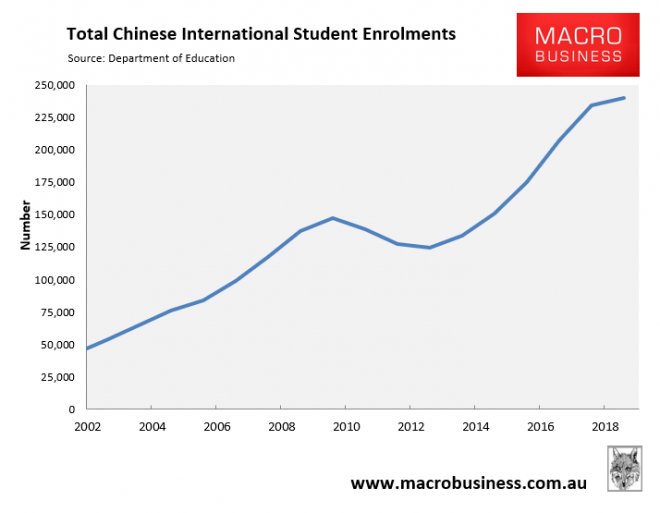 One nasty side-effect of this boom has been the surge in contract cheating services, as revealed in several reports over many years.
For instance, "functionally illiterate" Chinese students were implicated in an elaborate ghost-writing scandal in 2014.
And this year, reports of Chinese students cheating via ghost writing services emerged again, first in July and most recently over the weekend at The ABC:
Search 'Australian universities ghostwriting' in Chinese and up come websites for large service providers. At least 34 of them are accessible on Google. And they all promise to take the drudgery out of study by completing assessments for the student — for a fee…

With no brands, nor websites, they reach the Chinese students mostly through WeChat. Some are shared among students by word of mouth…

As a solo ghostwriter, David [a Chinese contract cheating provider] does not belong to an agency but rather deals directly with clients who are mainly Chinese students from business-related majors at Monash University and RMIT University…

David introduced me to Kelvin…[who] led a collective of four to five Chinese students who served students from information technology, architecture, finance, and business majors at RMIT University, Holmes Institute, Victoria University and Charles Sturt University…

He said during the exam period, his team usually had 20 to 30 orders, and he once earned $2,800 in a single month by writing 10 assignments.

Kelvin told me many contract cheating services promoted on WeChat were disguised as assignment help or tutoring services.

"Needless to say," he said, "they are all ghostwriters"…

Wang — not her real name — is doing a bachelor's degree in Melbourne. She's from China and attributes her decision to cheat partly to an inadequacy with written English, but mostly to "laziness".

She told me that so far, she's used the service four times at a cost of $700 and she's never been suspected of fraud.

"The university students that I am acquainted with … almost all of them have used contract cheating services once or more and haven't been caught," she said.

"This becomes a culture of international students."

Chen, a Chinese master's student who has graduated from the same university and also used a pseudonym, estimated about half of the students in her major had used the service. As for the university students she was acquainted with, it was 80 to 90 per cent…

David told me he knew contract cheating was wrong, but said he also "felt at ease and justified because everyone else is dishonest."
Cheating by Chinese students appears to be a global phenomenon given similar scandals were exposed in New Zealand (e.g. here, here and here) as well as the United States (here).
The reason for such widespread cheating by Chinese students is cultural, according to the NY Times:
In China, academic journals are riddled with plagiarism. A professor in China tells National Public Radio that about 30 percent of submissions to the Journal of Zhejiang University-Science was drawn from heavily plagiarized research.

In China, rip-offs of all sorts are common… Yet copying, whether a painting or a literary work, has a long tradition in China. It was a way of learning, of showing admiration and respect…
Whatever the reasons, the proliferation of cheating at our universities is a disgrace and is severely undermining the integrity of Australia's higher education system.
How our universities and policy makers respond to this evidence will be a litmus test. Will they crack down and severely punish the perpetrators (both the contract cheating providers and users), or will they turn a blind eye in order to keep the student fees rolling in? I wager on the latter.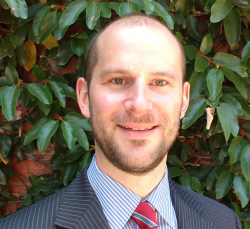 Latest posts by Unconventional Economist
(see all)