With NSW's stamp duty receipts sinking like a lead balloon: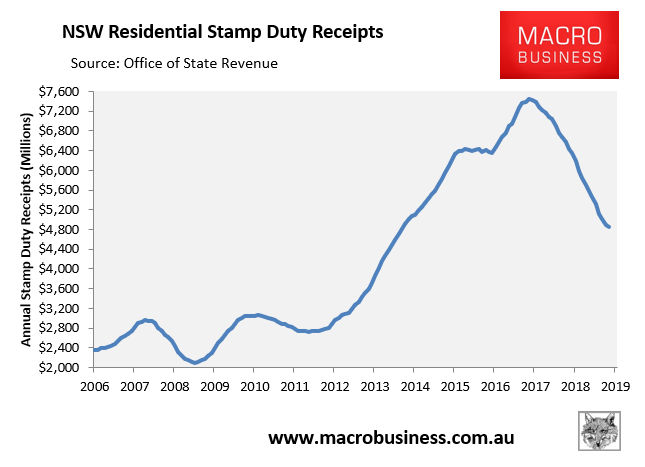 NSW Treasurer, Dominic Perrottet, has called for tax reform, including the elimination of inefficient state taxes like stamp duties, to spur growth:
Given that the NSW government is already building almost as much infrastructure as the market can handle, slashing taxes for business and homebuyers, and providing billions in cost-of-living support, it seems sensible to query whether simply doing more of the same (that is, more stimulus) will shift the dial…

In NSW we are starting the reform journey. We have two reviews under way – an independent federal financial relations review, headed by David Thodey, and a productivity review by Peter Achterstraat. Both have recently released discussion papers underscoring the need for reform.

What shape that takes is open for debate, but already commentators have taken this to mean everything from broadening the GST to removing stamp duty.

What is clear is the status quo isn't working effectively and we are faced with challenges that will demand structural reform, which would be a form of long-term stimulus in itself.

With growth stubbornly stuck at low levels, the limbo stick trick of "just how low can interest rates go" is not enough and neither is pouring more oil in a spluttering engine.

It's time to break the glass.
Perrottet made further comment in an interview with The SMH:
Mr Perrottet said improvements to the system of state-federal financial relations and inefficient state taxes should be a key focus for reform.

"Let's have a discussion about what is the best tax mix for the states to drive productivity growth and economic growth," he told the Herald…
When it comes to inefficiency, you would be hard pressed to find a worst tax than stamp duty on property.
Victoria University recently ranked it as the most inefficient tax: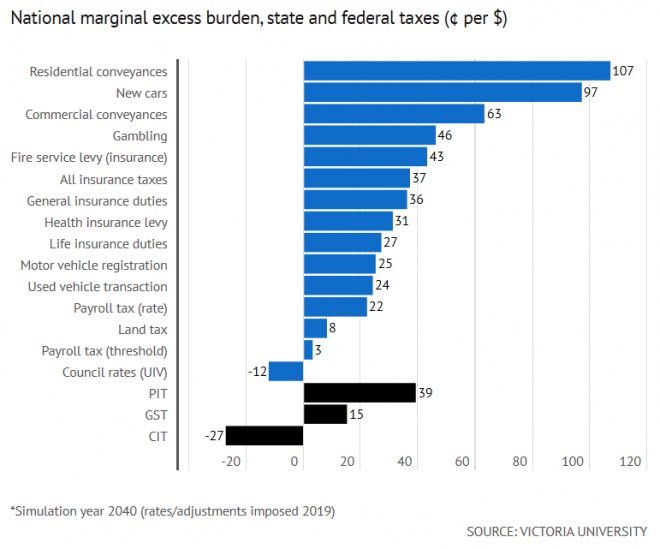 As did discussion paper on tax: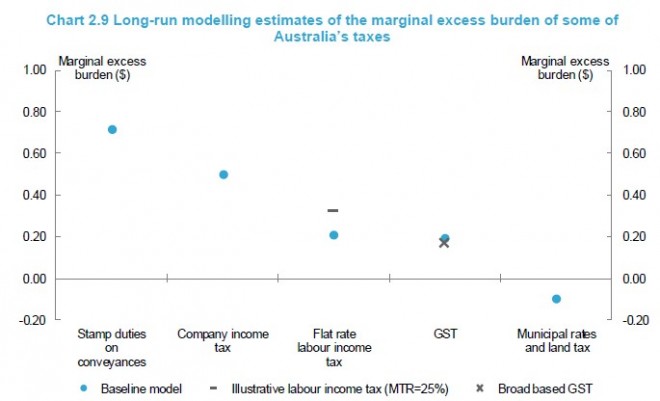 At the other end of the efficiency spectrum is land taxes, which are highly efficient.
Stamp duties are also linked to the number of property transaction and, therefore, are inherently volatile: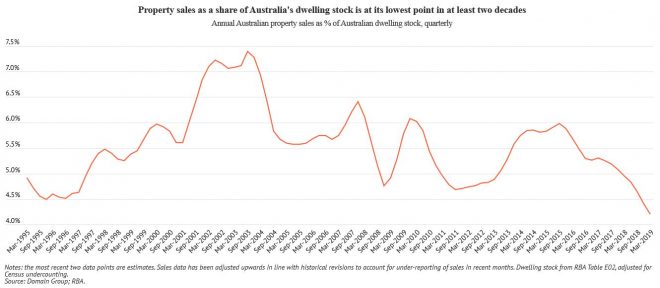 Moreover, because only between 4% and 8% of the housing stock is transacted annually, we have a bizarre situation where a small minority of the population are paying taxes that support services for the whole community – all for the privilege of moving to a home that better suits their needs!
Clearly, there are strong efficiency arguments in shifting from stamp duties to land taxes.
Dominic Perrottet doesn't need to wait for the Commonwealth's support to make the shift, given state taxation is in his wheelhouse.
That said, given the Commonwealth would reap most of the productivity gains via the income and corporate tax systems, it's only fair they make incentive payments to the states to help them shift. This would help drive reform at the national level.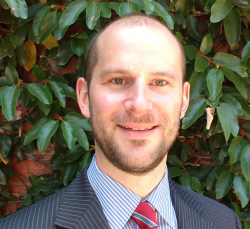 Latest posts by Unconventional Economist
(see all)