Two month ago, the chief lobbyist for the International Education Association of Australia (IEAA), Phil Honeywood, demanded Australia's public high schools boost enrolments of international students:
Australia should be recruiting more international students to attend its high schools and marketing its school curriculum to overseas international schools more aggressively, according to the International Education Association of Australia.

The organisation's chief executive Phil Honeywood said studying here in high school would help international students form bonds with local students and reduce the risk of them becoming socially isolated at university.

"If we are genuine about better integrating international students with Australian domestic students, then a lot more needs to be done with high school enrolments from overseas"…

"By having even a small number of international students, not only does it provide individual government schools with additional revenue but it also encourages inter-cultural understanding of Australian kids with students from other cultures"…
Only about 3 per cent of full-fee paying international students in Australia are studying at a secondary level…
At the time, I labelled this a stupid proposal, since it would worsen already chronic over-crowding across the nation's schools, as well as add additional strains to economic and social infrastructure across Australia's major cities.
To highlight the first point, projections from the Grattan Institute showed that Australia would need to build an additional 400 to 750 new schools (up from 9,400) in order to accommodate an extra 650,000 (17%) students by 2026: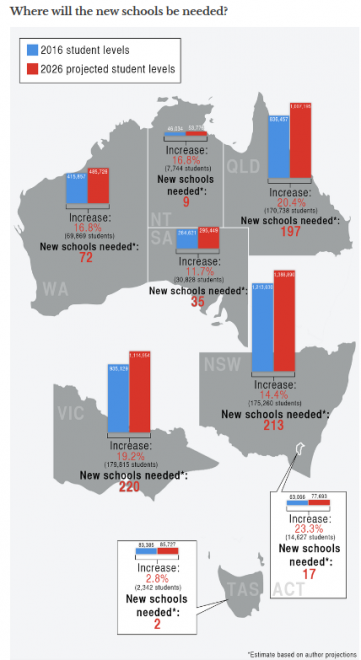 Obviously, adding thousands of international student enrolments would make the schools requirement and overcrowding situation worse.
This proposal also risks undermining school teaching standards, as we have already witnessed across Australia's university sector, in a bid to maximise enrolments and revenue from international students with poor English-language proficiency.
You can easily imagine situations where teachers in our classrooms are required to pause repeatedly to explain concepts to non-English speaking students. Or, in the case of Chinese international students, be prohibited from teaching blacklisted western values or other topics sensitive to the Communist Party of China (e.g. Hong Kong, Tibet, or Taiwan).
With this background in mind, education unions have lambasted a plan by the Western Australian Government to increase the number of international students at public schools, labelling it "privatisation by stealth":
Education unions have "grave concerns" a program specifically encouraging Chinese students to enrol at Western Australia's most prestigious public secondary schools will contribute to an over-reliance on fee-paying international students at the expense of locals…

State School Teachers' Union WA president Pat Byrne said while international students were already paying for places in public schools, the program "exacerbates what is already an undermining of public education" in the state…

"Given the costs which these students will be expected to pay there is a strong possibility that schools will be tempted to choose students according to the income they bring with them.

"This would result in local students being denied opportunities which might otherwise have been available"…

"This is another form of privatisation by stealth," she said.
Again, many public schools are already under-funded and over-enrolled. Therefore, the possibility of displacing local students with international students should be outright rejected.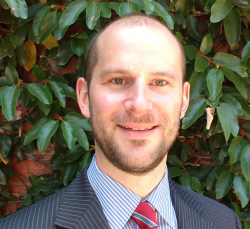 Latest posts by Leith van Onselen
(see all)