If this is his reassurance tour then he should go back to Canberra, from L-plated Treasurer Josh Recessionberg today:
"In today's global environment characterised by changing demographics, elevated debt levels, environmental pressures, and great power tensions, it's critical that we pursue reforms at home that retain our competitiveness, openness, and fiscal discipline, and that globally we remain a strong advocate for a transparent and rules-based global economic system that has strong multilateral institutions," he will say.

Mr Frydenberg will argue the World Trade Organisation needs to be "reinvigorated" with a better dispute settlement system plus a broader remit to deal with e-commerce and opportunities in the digital economy.

He will also call for the International Monetary Fund to change its governance structure to reflect the larger role of emerging economies, particularly those in Asia.

"Given Australia's strong strategic, political and economic ties with key partners both near and abroad, we are well placed as a nation to play an active and constructive role," he will say.

"We need to reclaim that spirit as we pursue multilateral and plurilateral arrangements that embed the concept of openness in their rules and norms and support a broader rules based order."
He goes on in an op-ed:
As this ageing demographic shift takes hold, economies will come under pressure as the proportion of the working-age population falls and the demand on health, ageing and pension systems increases. As more people save for retirement, global savings increase. This produces surplus savings that drive down the price of funds and ultimately interest rates, a contributing factor in a low-interest-rate environment that is evident in the world today.The secret plan for a baby-led recovery? Budget population projections based on surge in new borns.

With interest rates low, global debt levels are being managed. However, with global debt levels up 15 per cent in the past three years, to now be at a record high of $US188 trillion ($273 trillion), or 230 per cent of global output, concerns are rising. At these levels, the ability to respond to future shocks is more constrained; the impact of any future shock is more amplified and future generations will be left to deal with the consequences.
True, so one might ask why it is that Recessionberg is determined to lift Australian private debt. After all, by running fiscal surpluses, the private sector has no choice but borrow or it will shrink. He's not managed to pay down a single dime of public debt, either, nor will he as his Budget disintegrsates with commodity prices.
The answer is, of course, reform. The kind of reform that lifts productivity and income. The kind of reform that Recessionberg just got elected explicitly to avoid:
cut negative gearing and tax concessions to redeploy capital into more productive uses and support the budget;
halve immigration (temporary and permanent) to restore labour pricing power;
invest in smart infrastructure that is debt self-liquidating to debottleneck crush-loaded cities;
reform horizontal fiscal imbalances and GST;
restore universities to more public funding and slashed international student numbers to lift pedagogical standards;
crush the energy cartel that is ravaging every P&L on the east coast;
radically boost R&D plus competitiveness reforms;
begin massive quantitative easing with macroprudential controls to crash the AUD to 0.40 cents.
So now it's all about pretending with reference to Bretton Woods and other irrelevent intellectual bilge.
According to Newspoll, a majority of Australians still see the LNP as better economic managers than the ALP despite Recessionberg's bumbling, but we have no context so don't know how it is trending: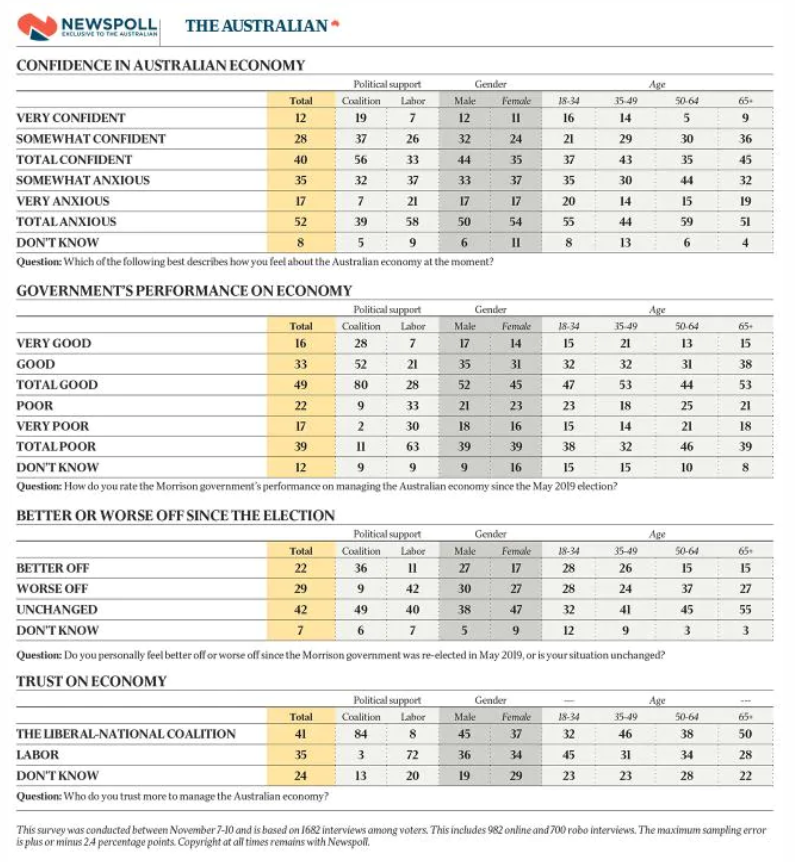 29% worse off versus 22% better off sounds about right.
How reasuring is that?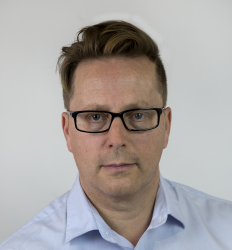 Latest posts by David Llewellyn-Smith
(see all)