There are major warning sirens blaring around the ferrous complex. Texture from Reuters:
"Expectations for steel consumption was pretty bad, but fell too much," said Zhao Yu, an analyst with Huatai Futures. "Now it turns out (consumption is) not that bad, so prices recouped."

She added that the consumption was mainly in real estate and infrastructure construction sectors.
In a word, bull. Check out yesterday's steel PMI: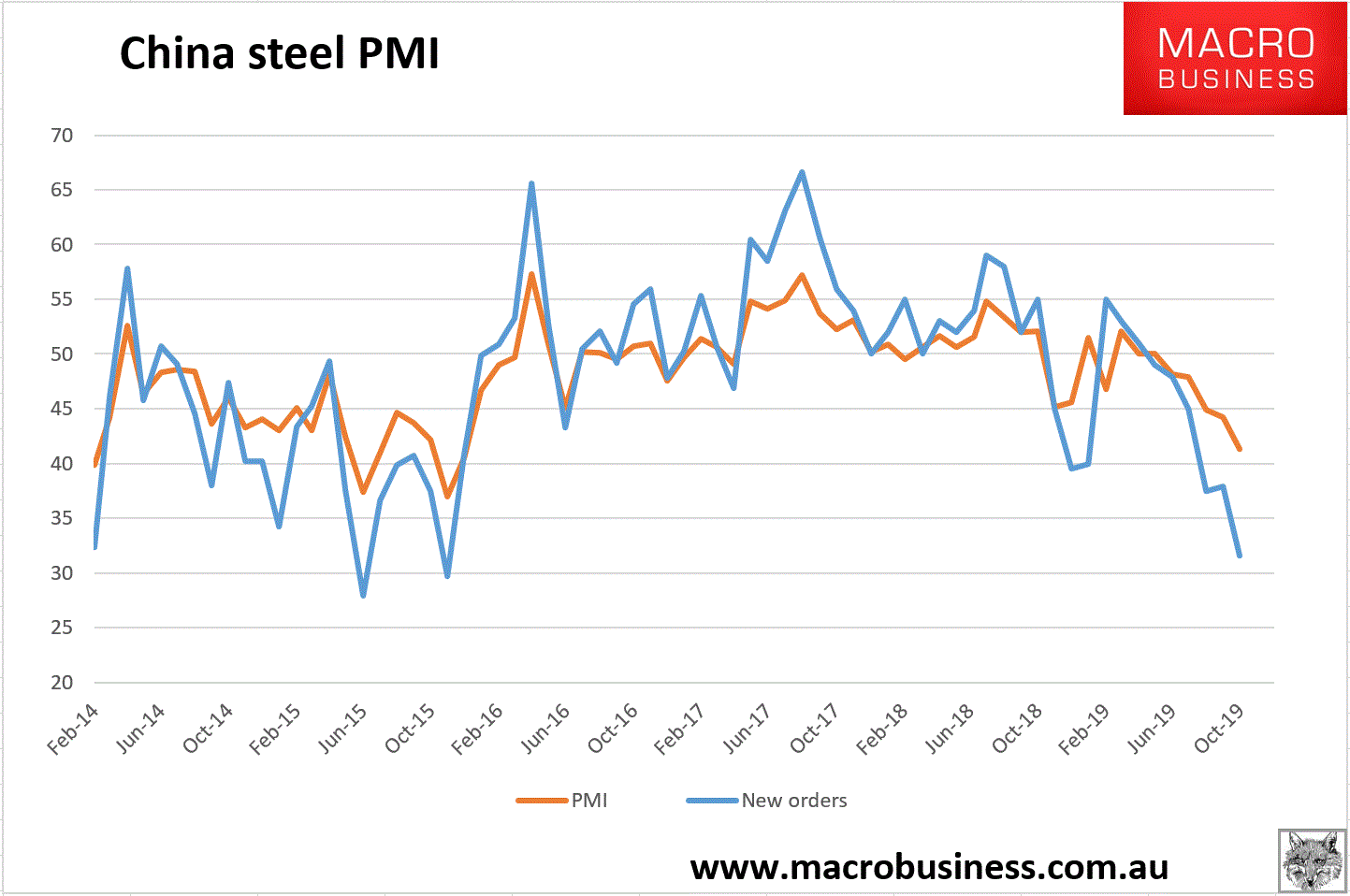 That look like better than expected demand to you?
This is major warning signal that conditions may be weak enough to see year end price weakness. It is my view that were it not for Vale disruptions we would already be at $50 iron ore and falling. But if demand hiccups enough, steel mills will not aggressively restock over the next few months and ferrous prices could take another leg down, just as they did in late 2015.
I still see Q2 next year falls as the safe bet but the risk of earlier is written all over that chart. There is also a risk of renewed stimulus!
To the charts:

Spot has broken to fresh lows. Paper is hanging on for no apparent reason. Steel too. This could go at any moment now, if nothing comes from the Fourth Plenum.
David Llewellyn-Smith is Chief Strategist at the MB Fund and MB Super. David is the founding publisher and editor of MacroBusiness and was the founding publisher and global economy editor of The Diplomat, the Asia Pacific's leading geo-politics and economics portal.

He is also a former gold trader and economic commentator at The Sydney Morning Herald, The Age, the ABC and Business Spectator. He is the co-author of The Great Crash of 2008 with Ross Garnaut and was the editor of the second Garnaut Climate Change Review.
Latest posts by Houses and Holes (see all)