Texture from Reuters:
"Steel demand is slowing down due to the weather issue. In the northern part of China, the temperature is dropping, and very soon construction activities will be halted in many areas," a Shanghai-based trader said.

Rising iron ore inventory at China's ports, hovering around a six-month high, is also weighing on both futures and spot prices, while a downbeat outlook for global steel demand is another concern, the trader said.
Yeh. Check this out from Westpac:
For many commodities, 2019 has been a year of two halves and what a roller coaster it has been. For iron ore, the first half was dominated by a series of supply side shocks (including but not limited to Vale's Brumadinho dam disaster) and at the same time China set a new record high for steel production. As a result Chinese port inventories of ore fell 23% as the market rebalanced while ore prices jumped 70% to end July around US$120/t. The second half was a reversal as the major producers recovered from their outages and supply lifted resulting in a price correction. As we went to press, iron ore was steady around $87/t and we held our forecast at US$90/t for end 2019 and US$65/t for end 2020.

The story for met coal was a similar one but for different reasons. Up to mid-2019 met coal was holding around US$180/t but then a recovery in supply, particularly from Australia, and rising Chinese port restrictions on coal imports saw prices collapse 35% to around US$120/t.

For end 2019 our forecast is broadly stable (US$125/t) and holding this level through to end 2020. Thermal coal is forecast to be broadly stable around US$63/t to end 2020.

There has been little substantive change with most other commodities other than noting gold continues to outperform the broader commodities matrix drifting sideways after its 23% rally from May to September. As such our end 2019 forecast for gold remains US$1,500oz which we expect to drift higher to US$1,520oz by mid 2020. Crude oil continues to be buffered by rising US supply and weakening demand outlook. We hold our end 2020 Brent forecast at US$55bbl.

As noted above, iron ore supply improved through the second half of 2019. Chinese production lifted 13% in the year to September and is 35% higher than the February low with gains continuing through the second half of the year. Imports recovered in the second half with Brazilian imports up 210% from the June low and Australian imports gaining 5.4%yr in September. Chinese ore is of a much lower grade (averaging 10% to 15%fe) but nevertheless total supply is up 11% from the June low and has grown 10% in the year to September.

The process of recovering from a disaster is rarely a straight line and Vale's recent announcement of a temporary shut down of its Itabirucu dam, resulting in a lower forward guidance on 2019 production, has supported iron ore prices. But production is still expected to expand as we move into 2020. This lift in supply is an important reason we expect ore prices to weaken through 2020.

The other important factor is that through the first half of the year, robust construction activity supported growth in Chinese steel production. It was the increase in Chinese dwelling construction demand for steel that supported steel prices through the first half of the year. So as activity slowed, steel inventories started to rise and prices eased. Through 2019 investment in real estate surprised to the upside and we are expecting it to moderate from here as property sales remain lacklustre. Some are looking for an infrastructure stimulus to support steel demand in 2020 but our moderation in property investment provides a meaningful offset.

This year there is a greater degree of uncertainty on how the usual winter production cuts will impact on steel production. The administration's draft policy for industry environmental emissions does appear to be stricter than last year but they are unlikely to have a material impact this year as an increasing number of mills already comply with the ultra-low emissions standards and the new regulations appear to focus on high pollution days only and not the whole October to March winter period.

Chinese demand for higher grades of ore also appears to have eased with the industry finding it easier to meet environmental restrictions as older, less efficient, more polluting furnaces are closed. Environmental outcomes are also being met by Chinese furnaces increasingly using scrap steel – the growth in pig iron production continues to run behind growth in crude steel production – supporting Chinese scrap steel prices even as the spread between high and low grade ores narrows. The increasing use of scrap in blast furnaces also reduces the demand for met coal and is part of the reason why China can restrict the importation for met coal even with steel output hitting a new record high. Softer Chinese demand for met coal is also revealed by the recent drop in domestic met coal prices.

Thermal coal prices are struggling to find a new direction as fundamentals remain bearish.

In Europe supplies are ample while demand for thermal power is generally soft as fears of reduced nuclear power in France and Belgium faded. In the Asian market a further tightening of import restrictions at some South China ports saw demand pull back overall even if India remained active in the market.
Very good. The only issue I have with it is that it is too gentile. When iron ore and the two coals end up in oversupply they don't correct like a gentle stroll down the slope on a golf course. They plunge into a stinking sink hole that opens up underneath your feet and doesn't stop until it has massively overshot.
It is my view that we are close to that tipping point for all three, espeically iron ore. China has had no problem restocking for the past quarter while price fell. That tells you that apparent demand is far ahead of underlying and if the restock falters then prices will tank.
For the past few weeks I've mused that that will be Q2, 2020, once past the seasonal new year restock. But  if demand is weak enough then that restock may never come, just as it failed to show in 2015.
The signs are not great. Chinese steel exports out Friday were weak and falling at 4.78mt: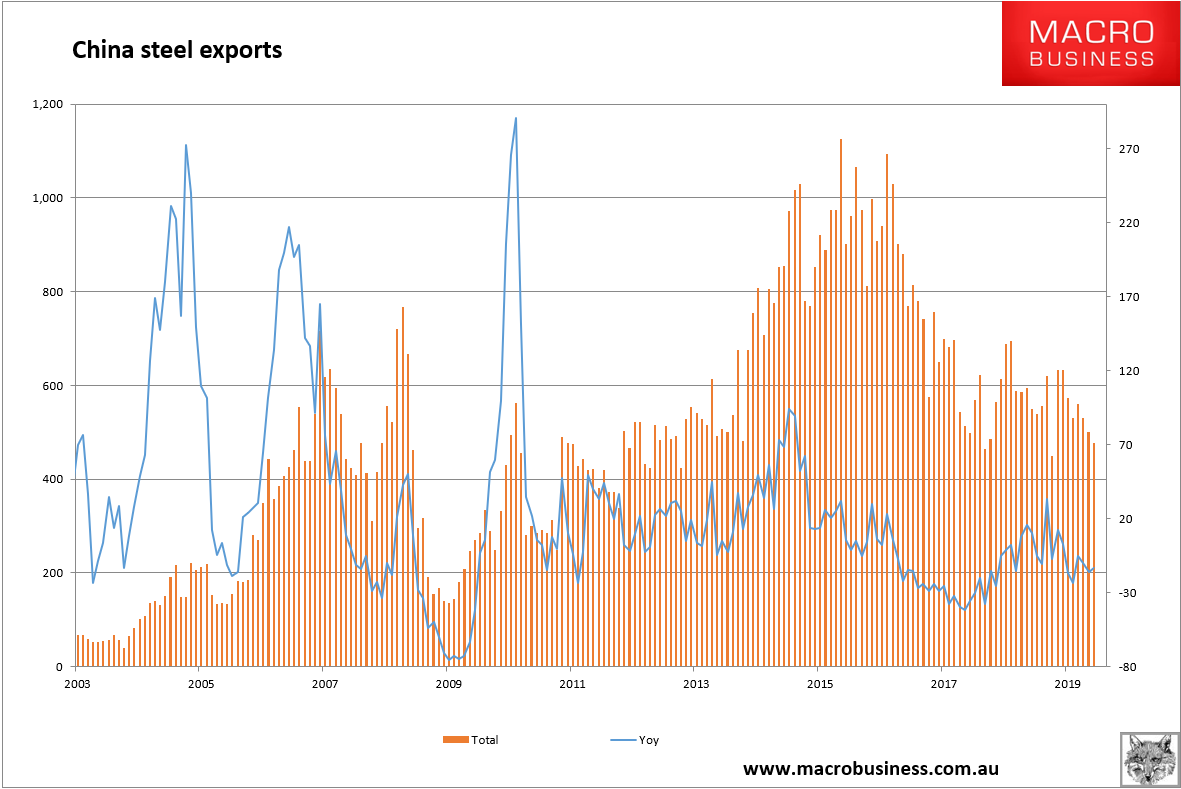 Iron ore imports were OK at 92.9mt but are still down 1.6% rolling annual and getting worse again not better: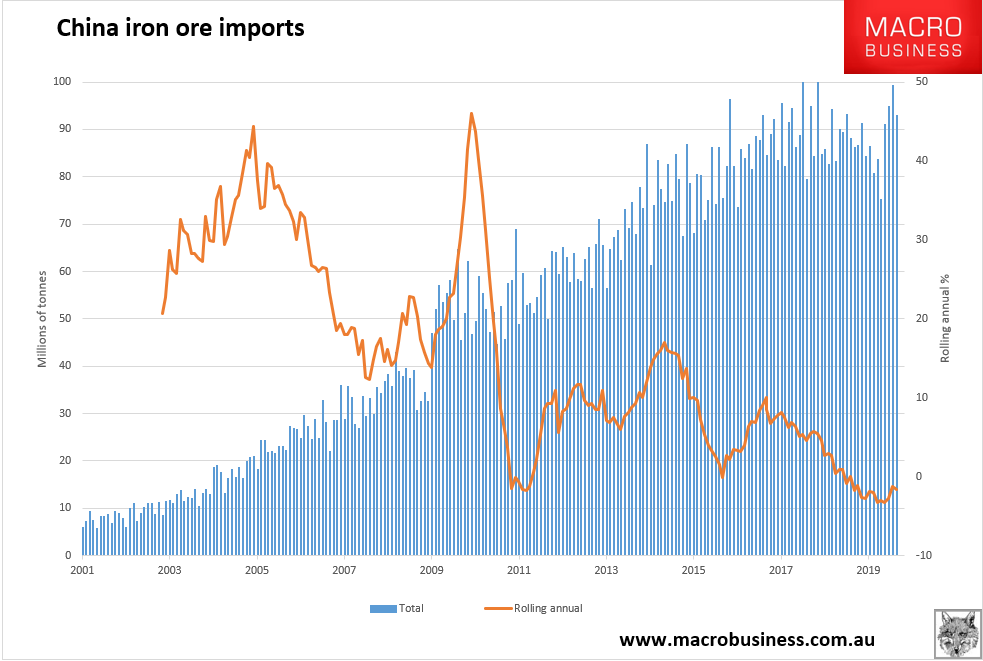 Port inventories turned down last week to 131mt: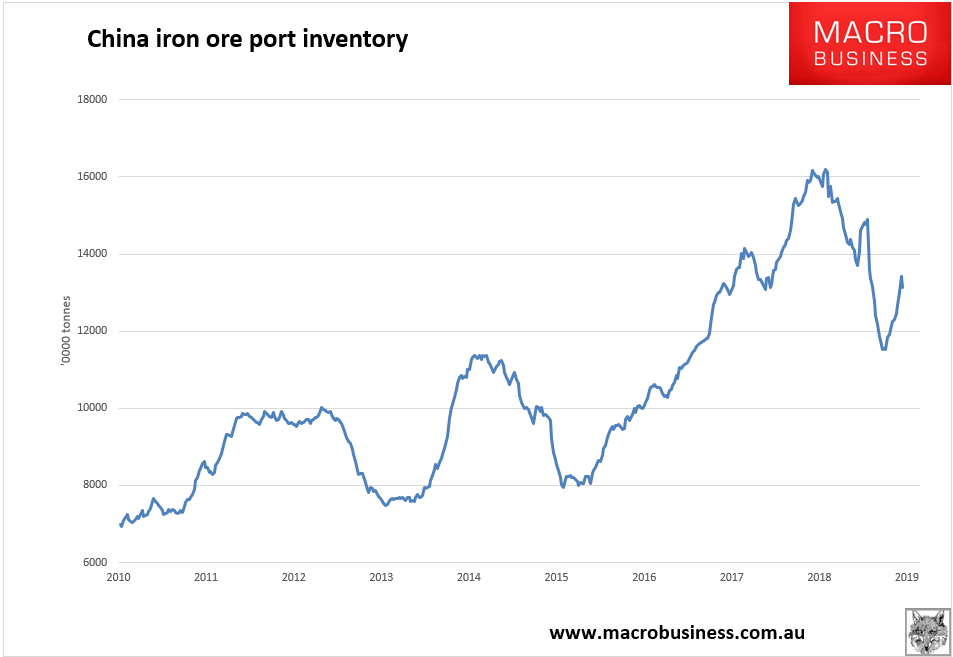 That restock only has to flatten out and that's the end of 70mt of iron ore import demand.
It's no wionder that in these conditions prices fell to post-Vale accident lows. The charts: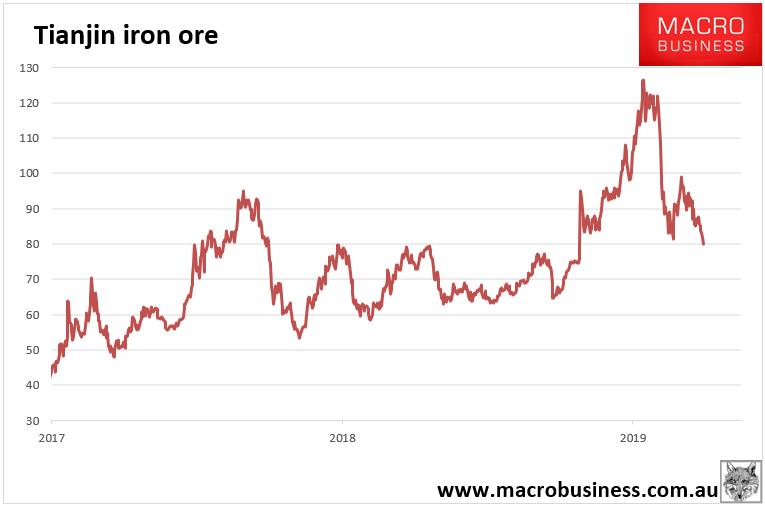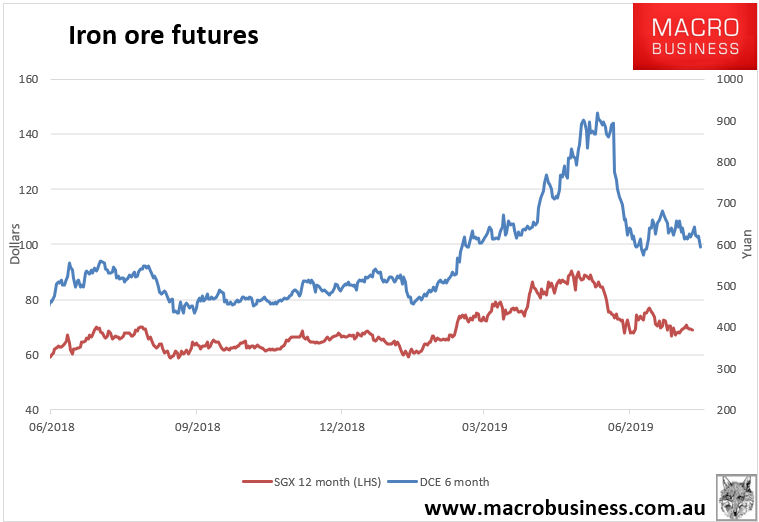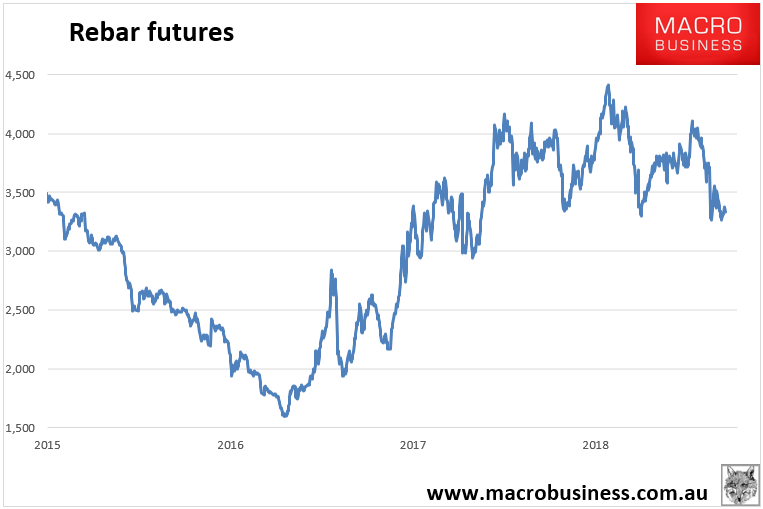 The risk now is that we go lower much faster than Q2, 2020.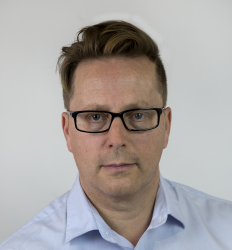 Latest posts by David Llewellyn-Smith
(see all)