Via Damien Boey at Credit Suisse:
We have just published an article on the drivers of the Sydney housing market recovery. Key points are as follows:

Sydney house prices are rising at a 22% quarter-annualized pace – but the speed of the recovery cannot be explained by local demand and supply factors. Our model of house prices based on home sales, net new buyer (investor and first home-buyer) participation, and supply from new construction and foreclosures, registers an improvement in the housing demand-to-supply balance – but not to levels consistent with an outright shortage in the market, and rising prices. Our model error as it were, is currently at all-time highs.

What local factors cannot explain, global factors can. Juwai Chinese buyer enquiries into Australian property predict and explain house price inflation "surprises" relative to our model. In the year-to-September, buyer enquiries rose by 37.3% nation-wide, and by almost 90% in Sydney alone. Also, we note that Hong Kong buying interest has risen by around 50% since civil unrest broke out, with our proprietary capital flows measure registering large outflows from the city.

What goes on in Hong Kong does not stay in Hong Kong. Surprisingly, large inflows into Hong Kong have correlated with outsized gains in Sydney house prices in the past. The correlation is completely the opposite of what we would expect. Essentially, history is telling us that when global credit creation has been strong, more money has flowed into emerging market gateways like Hong Kong, with "crowding in" effects. Central bankers have chosen to accommodate capital inflow through deposit and reserve expansion, rather than exchange rate appreciation. And the resulting excess liquidity has helped to fuel local credit and economic growth, as well as asset price inflation. As residents have grown in wealth and income, they have been able to export more capital abroad, supporting foreign property markets, like Sydney.

But now, we are seeing a very large structural break in the relationship. Investors are behaving as if something has permanently changed in Hong Kong, and for the worst. China and Hong Kong uncertainty has spiked to historically high levels. Expatriates, and wealthy locals are choosing to head for the exits. Outsized capital outflows are having a large inflationary effect on property markets abroad, even though the global credit and liquidity signals they send would ordinarily be quite deflationary. Sydney house prices are benefiting from one-time Hong Kong flows – but as the valuation starting point rises, and the flow cycle matures, we would expect returns on Sydney housing to fall in the longer-term. The key issue is whether world credit and liquidity conditions tighten significantly from here to make the outflow signal from Hong Kong genuinely worrisome from a global, rather than just local perspective. Arguably, the signal is already worrisome, because of the backdrop of US-China trade and technology disputes. The "elephant in the room" is that the manner in which authorities choose to deal with Hong Kong protests could shape the way the broader US-China negotiations go. Should the situation in Hong Kong really deteriorate, and should Chinese and Hong Kong authorities deal with matters in a manner perceived as being "excessive" by Western norms, it is possible that the US will become less willing to deal with Chinese officials, escalating the trade war. And should the trade war escalate, we would expect USD liquidity conditions in offshore markets to deteriorate materially.

Australia has once again been the lucky country, with potentially another leg in the housing recovery. So far, global uncertainty emanating out of China and Hong Kong has spurred on capital flight into property markets like Sydney. But the irony is that this very same uncertainty in highly-leveraged times is causing Australian households to hold off on spending and borrowing. In response to 3 rate cuts, credit easing and prospective first home-buying incentives, investor interest in the housing market has gone backwards, first home-buying interest has lifted moderately, and credit growth has remained sluggish despite a lift in mortgage approvals as households haven chosen to pay off debt. Fortunately, foreigners are saving the day now. The risk is that with more policy easing to come, and progress on US-China trade talks, that uncertainty among locals dissipates, and they start to participate more in the housing market recovery.

Construction activity and credit growth could bottom out early. We have long held the view that supply cuts are critical to restoring the housing market back to equilibrium. This has meant a negative, multi-year outlook for construction activity. But if there has been a genuine recovery in foreign buying interest, driving house prices higher, there is also a legitimate price signals for developers to respond to. Historically, house price inflation has corresponded with building approval levels above completion levels (ie a positive development pipeline). This cycle has been a little different – and we suspect that we are seeing more of a delay than a decoupling. We think that building approvals could bottom out well ahead of time, supporting earnings upgrades for the building sector over the next year from a very low base. We also think that as locals regain the courage to participate in the housing market recovery, that credit growth will pick up, supporting the earnings of banks and domestic cyclicals more broadly. Improvement in earnings momentum for many "cheap" domestic exposures could help to sustain the recent value style recovery for a bit longer.

Where could we be wrong? If global liquidity conditions dry up before local housing investors take up the baton of growth. If this start looking more likely, we will see it in our macro style rotation signals first.
This all circumstantial evidence. There is no direct evidence for accelerated Chinese flows into realty. Indeed eyewitness accounts see HK dough flowing more into bonds. As well, the NAB index of foreign investors has shown no bounce, and it has proved its worth before:

There have been a few very localised reports of rebounidng Chinese activity in Chinese areas but that is all.
Aside from that, the local credit bounce, lack of supply and pent up demand and is enough to explain price moves. There is no dijuction liek there was in 2014/15: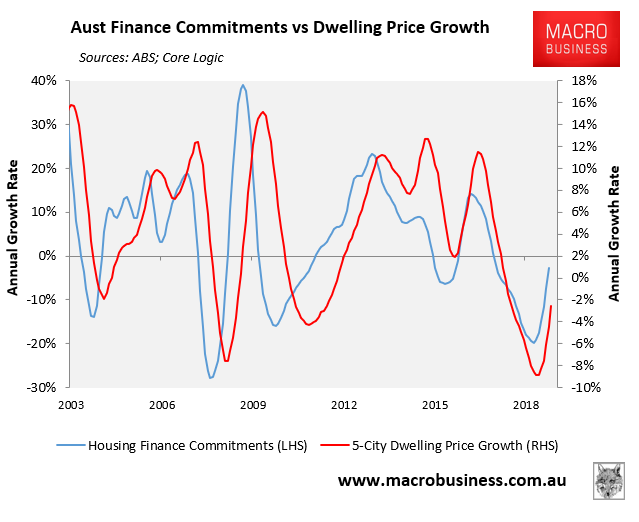 No doubt some Chinese money is helping but it does not look like the primary driver to me and I do not expect any early turn in construction, especially since Chinese student numbers are now falling.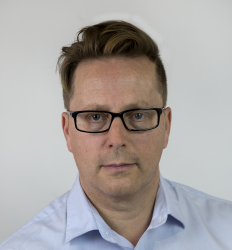 Latest posts by David Llewellyn-Smith
(see all)