Here's the chart that will get somebody's organs harvested imminently in Beijing. The Hong Kong local elections: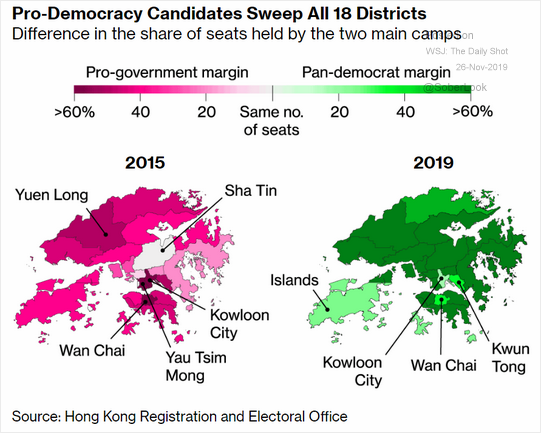 What a smashing. Sinocism wraps it up nicely:
All indications are that Beijing is still trying hard to keep trade and Hong Kong tensions separate in the relationship with the US. There are more official denunciations of the US over Hong Kong, as well as a dressing down of the US Ambassador to the PRC on the topic, while at the same time there was yet another call between the two trade negotiating teams and official messaging around the possibility of that elusive phase one trade deal remains fairly positive.

Quite the scoop by Reuters, does make one wonder how Beijing was still surprised by the election results if they had set up a new channel to go around the Liaison Office.

Exclusive: China sets up Hong Kong crisis center in mainland, considers replacing chief liaison – Reuters

As violent protests roil Hong Kong, top Chinese leaders in recent months have been managing their response from a villa on the outskirts of Shenzhen, bypassing the formal bureaucracy through which Beijing has supervised the financial hub for two decades.

Ordinarily, communications between Beijing and Hong Kong are conducted through a Chinese government body: the Liaison Office of the Central People's Government in Hong Kong…

In a sign of dissatisfaction with the Liaison Office's handling of the crisis, Beijing is considering potential replacements for the body's director, Wang Zhimin, two people familiar with the situation said. Wang is the most senior mainland political official stationed in Hong Kong.

The office has come in for criticism in Hong Kong and China for misjudging the situation in the city. "The Liaison Office has been mingling with the rich people and mainland elites in the city and isolated itself from the people," a Chinese official said. "This needs to be changed."..

In an indication of the operation's importance, Chinese President Xi Jinping is receiving daily written briefings from Bauhinia Villa, said two officials and another person familiar with the operation.

China lodges 'solemn representation' with Reuters – CGTN

"We urge Reuters to adhere to attitudes of truth, professionalism, and responsibility and immediately stop spreading false information," the spokesperson said in a statement published Tuesday on its website, which did not refer to the specific Reuters report.

Beijing's Hong Kong Delusions Come Crashing Down – Foreign Policy – James Palmer

What caused such an enormous misjudgment? The biggest single problem is this: The people in charge of manipulating Hong Kong public opinion for the CCP are also the people charged with reporting on their own success. The chief channel is the Hong Kong Liaison Office, a government organ that, officially, is in charge of pushing mainland-Hong Kong integration and that in reality acts as the coordinator for United Front policies, coordinating pro-Beijing politicians, CCP-backed newsletters, and the co-option of patronage and business networks. At the same time, it also provides intelligence to the central government.

Lam Offers Nothing New After Hong Kong Loss, Risking More Chaos – Bloomberg

While Lam acknowledged the vote reflected "unhappiness" and vowed to "seriously reflect on these views," she continued to advocate a plan she outlined more than two months ago calling for peaceful dialogue with "people from all walks of life." Protesters have already rejected those suggestions, which also included several reviews of the police and greater societal issues that demonstrators don't consider fully independent

Beijing Was Confident Its Hong Kong Allies Would Win. After the Election, It Went Silent. – The New York Times

"Beijing knows very well that they lost the game in the election," said Willy Lam, a political analyst who teaches at the Chinese University of Hong Kong. "Beijing had to blame somebody, so in this case it is blaming outside foreign forces, particularly in the United States, for interfering in the elections."

Hong Kong Polytechnic vice president says he thinks all protesters have left campus after weeklong police siege – AP

US ambassador Terry Branstad expressed 'grave concerns' about Hong Kong after Chinese protest over human rights act | South China Morning Post

US ambassador to China Terry Branstad told Chinese foreign ministry officials that Washington is seriously concerned about Hong Kong's status and rejects all forms of intimidation against the city, according to a US Embassy spokesman in Beijing.

Brandstad was summoned to the ministry on Monday by foreign vice-minister Zheng Zeguang who lodged a protest over what he called US "meddling" in Beijing's internal affairs. This was in reference to the Hong Kong Human Rights and Democracy Act, which has just passed the US Congress.

Commentary: Lion Rock Spirit needed for Hong Kong to stop violence, secure revival – Xinhua

The voice of the majority for stability and development should be heard, and various sectors of Hong Kong should work together for a better future. As long as Hong Kong residents straighten out their thoughts and find the right direction, the dust on the Pearl of the Orient will eventually be wiped away.

International law does not allow U.S. to point fingers at Hong Kong affairs – People's Daily Zhong Sheng

The passage of the so-called Hong Kong Human Rights and Democracy Act of 2019 by the U.S. Congress showed a total disregard of the ravages committed by the violent criminals in China's Hong Kong Special Administrative Region (HKSAR)…

Now it's clear to all that some U.S. politicians, as members of the U.S. Congress, glorify violent crimes, openly act in bad faith, ignore principles of international conventions, and trifle with commitments. They have challenged the international order and brought to the world enormous risks.

American democracy group takes aim at Beijing's 'black hand' claims | South China Morning Post

National Democratic Institute head says suggestions that it is promoting Hong Kong independence are false and amount to misinformation

Hong Kong crisis: Beat Edinburgh University student to death, Chinese citizens told | The Times

Chinese citizens were urged to beat an Edinburgh University student to death for demonstrating in support of Hong Kong democracy.

Hong Kong students in UK call for action over pro-China threats and harassment | Hong Kong Free Press HKFP

Chow is one of a number of Hong Kong students studying in the UK who have been targeted by pro-China individuals or groups in recent weeks for their political views. They are calling on their universities to act against those responsible, with some students saying they no longer feel safe on their campuses.

Chinese students in South Korea investigated for vandalism of pro-Hong Kong posters | South China Morning Post

South Korean students from five universities allege Chinese students damaged Lennon Walls supporting Hong Kong's protests

President Xi Jinping to arrive on December 18, government sources say | Macau News

President Xi Jinping will visit Macau between December 18 and 20, sources familiar with the matter have revealed to Macau Daily Times, notwithstanding the unrest in the neighbouring special administration region which cast doubt on whether the pre-planned and widely-anticipated visit would go ahead…

President Xi will join the celebrations for the 20th anniversary of the handover of Macau to Chinese sovereignty

Alibaba Shares Enjoy a Strong Start in Hong Kong – WSJ $$

The company raised about $11.2 billion from the secondary listing, though that sum could rise to about $13 billion if banks underwriting the deal exercise an option by mid-December to buy more shares

Hong Kong elections: why victorious opposition camp has to keep wary eye on swing voters – and has no room for complacency despite massive haul of seats | South China Morning Post

Poll watchers pointed out that while the pro-democracy bloc won 86 per cent of the 452 seats up for grabs across the city, their share of the votes was not as stunningly huge as the proportion of seats they swept suggested. The bloc garnered a total of 1.6 million votes, or 55 per cent of the valid votes cast; while the pro-establishment camp got 1.2 million votes, or 41 per cent. The remaining 4 per cent went to the non-affiliated independents.

In the 2015 district council polls, the average share of votes garnered by pan-democrats in the constituencies they contested was 47 per cent. They won 116 seats, compared with 292 grabbed by the pro-establishment camp that year…

Former transport and housing minister Anthony Cheung Bing-leung noted the magnifying effect of the first-past-the-post system.

"Public sentiment is actually not that one-sided as the election results indicated. From Beijing's perspective, it need not spell the end of the world although there is cause for concern," said Cheung, who is also a political scientist.
If you can't politics in Hong Kong how can you judge it anywhere else?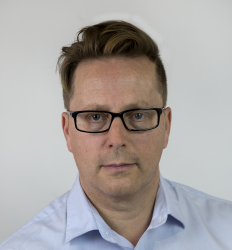 Latest posts by David Llewellyn-Smith
(see all)