Via Argus:
Higher pollutant emission standards for China's steel industry continued to drive the country's steel scrap usage for steel production higher in the first six months of this year.

Chinese steel scrap consumption rose significantly, by 20.7pc on the year to 103.28mn t in January-June from 85.57mn t in the same period in 2018, statistics from global recycling association BIR show.

China remained the largest steel scrap consumer in the world — using more than double the volume consumed by the EU and almost five times higher than the US in the same period.

Stricter emission standards drove Chinese basic oxygen furnace (BOF)-based mills to increase their average scrap charge rate to 20.2pc.

A further increase in steel production and Beijing's encouragement to boost electric arc furnace (EAF)-based steel production capacity also helped China to increase scrap usage. China's crude steel production totalled 492.169mn t in January-June, up by 9.9pc on the year.

But China's scrap:crude steel output ratio is still significantly lower than other key steelmaking geographies. China's scrap:crude steel output ratio was 20.98pc in January-June while ratios in other key regions were all above 30pc.

"China's scrap consumption is big but they are probably still another 10-20 years away from achieving a scrap:steel output ratio of a minimum of 50pc like the US and Europe," one European scrap supplier told Argus at the BIR World Recycling Convention in Budapest on 14-15 October.

"The problem with China is that it still needs massive development on various sections in its scrap supply chain," one US scrap supplier said.

For example, the number of automotive shredders in China soared to 317 at the end of 2018, up by 247 from 70 a year earlier, BIR said in its world shredder list released in May. But many of the shredders are said to be operating at a rate that is far from nameplate capacity.

"It is deemed normal and viable for a shredder to operate at 20-30pc of its capacity in China, which is a mystery to many US and European suppliers that have a much higher processing efficiency and capacity," the US scrap supplier said.

China also lacks a workable end-of-life vehicle recycling system and infrastructure that allows recyclers to establish an effective collection network that generates sufficient inflow, other market participants said.

A lack of stable supply of scrap suitable for steelmaking, high inland transportation costs that curb efficient interprovincial movements of scrap and an import quota that means purchases from overseas are virtually zero has made the Chinese domestic scrap price one of the highest in the world. This may dent Chinese mills' appetite to consume more scrap, particularly while iron ore is still a more cost-effective raw material for BOF-based mills.
In due course I expect China to relax the scrap import ban and get those idled mincers working at higher capacity. And this will continue: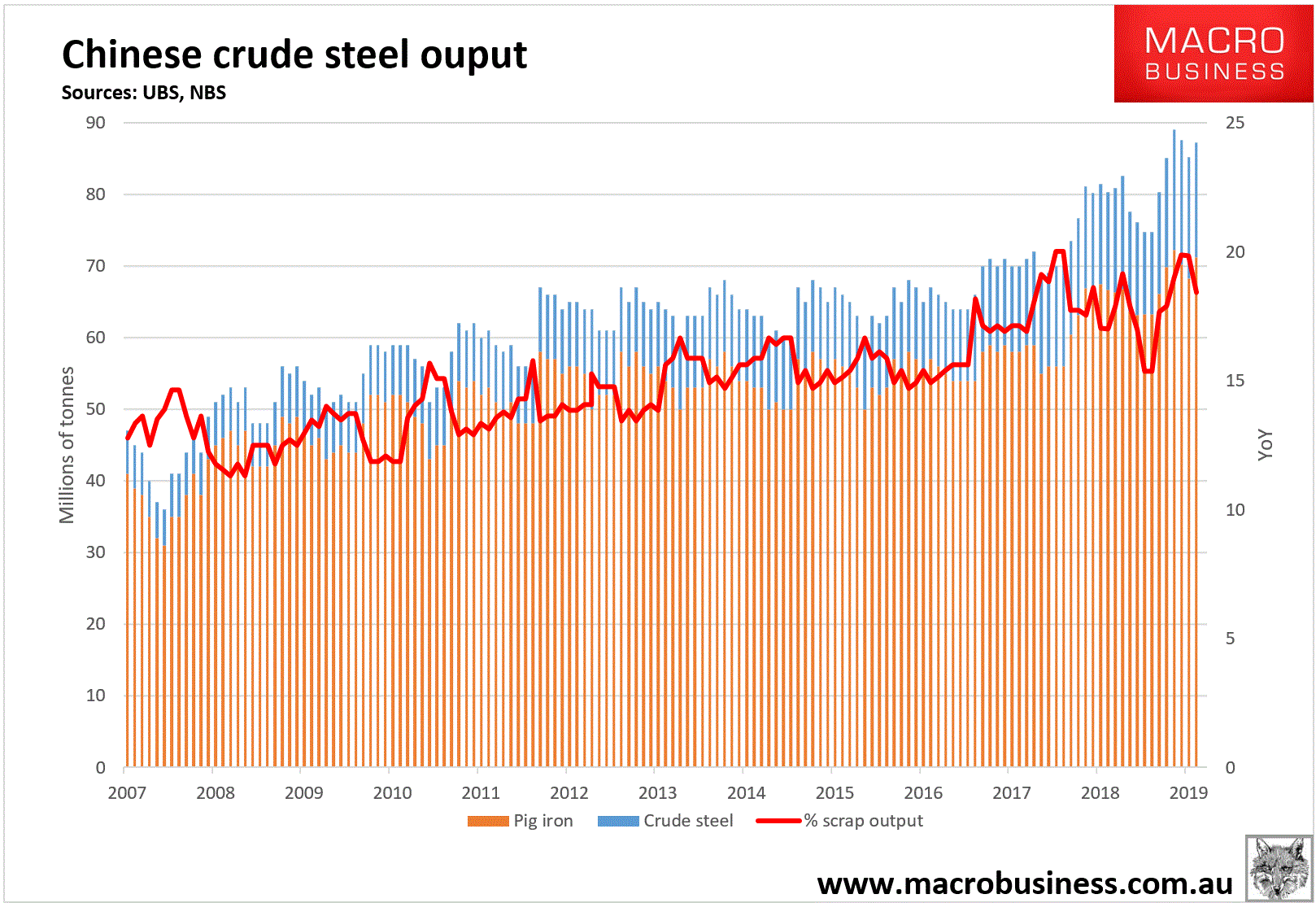 I expect this trend to collide with peak Chinese steel more or less non-stop for the next decade. This yields an interesting picture for iron ore.
If China's steel output falls away at a slow rate from this year and scrap inputs keep growing at 5%, well below the current rate of growth, the draw on iron ore in China falls away at a spectacular pace: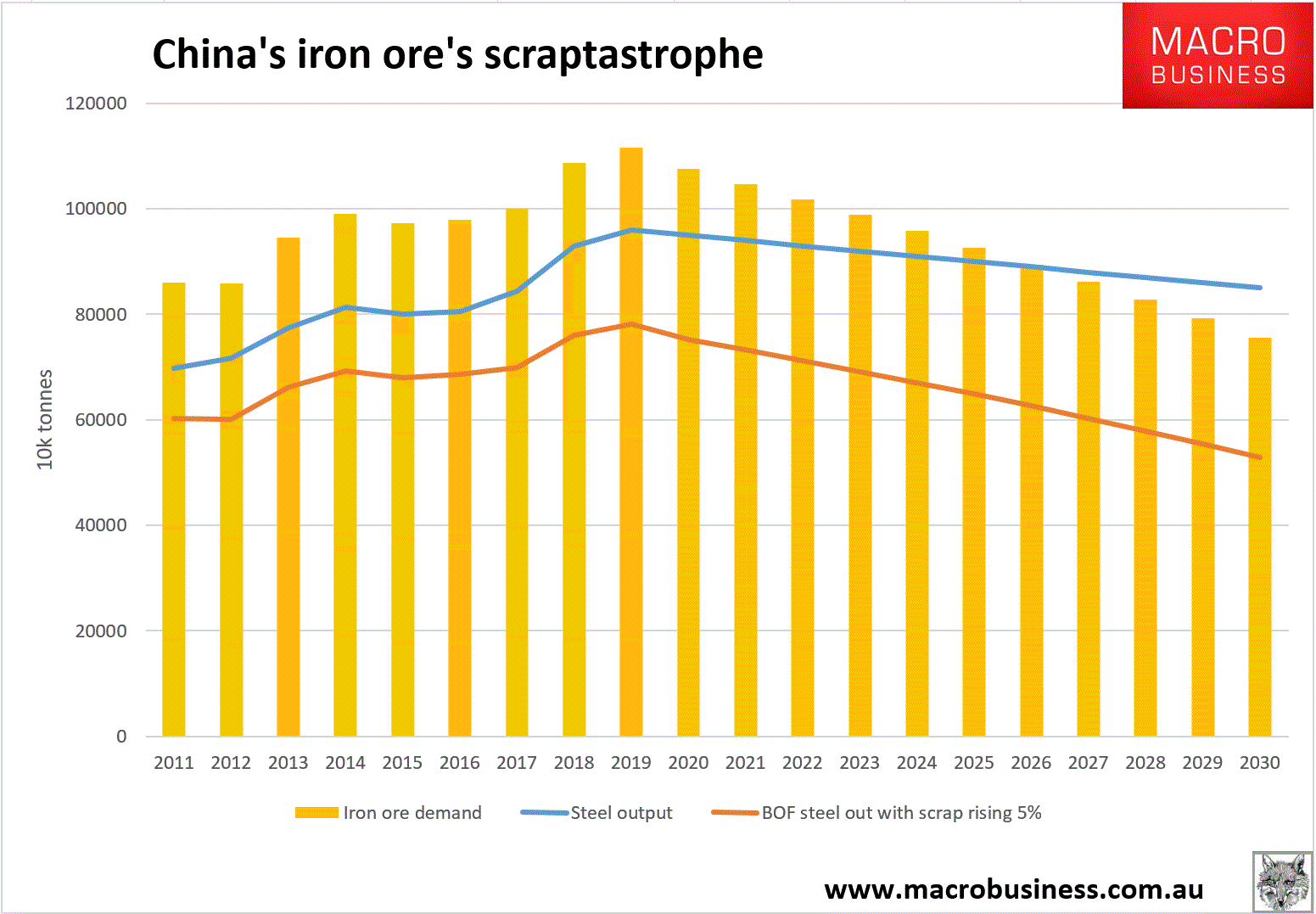 Roughly 350mt of iron ore gets displaced from current consumption by 2030. That's around one third of the seaborne market. There'll be demand growth elsewhere but nowhere near enough.
This scenario, which is clearly rough and is indicative only, not a forecast, assumes that the scrap percentage of Chinese steel output rises to around 37%, near the low end of BHP's recent forecasts.
Don't forget as well that in most developed markets, such as the US, scrap comprises 90% of its steel output.
This is why I sometimes wonder if my long range forecast of iron ore back at $20, certainly within the next five years, is actually too bullish!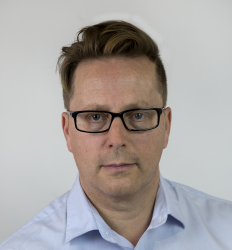 Latest posts by David Llewellyn-Smith
(see all)