As documented recently by Salvatore Babones for the Centre for Independent Studies, Australia has the highest concentration of international students in the developed world, with a per capita intake that is roughly 2.5 times second-placed United Kingdom and three times third-placed Canada: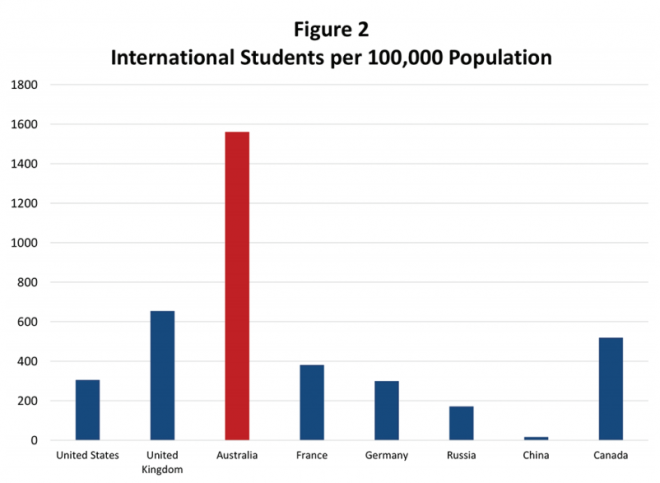 Last week, Quartz published an interesting chart illustrating why Australia's international student intake is so high: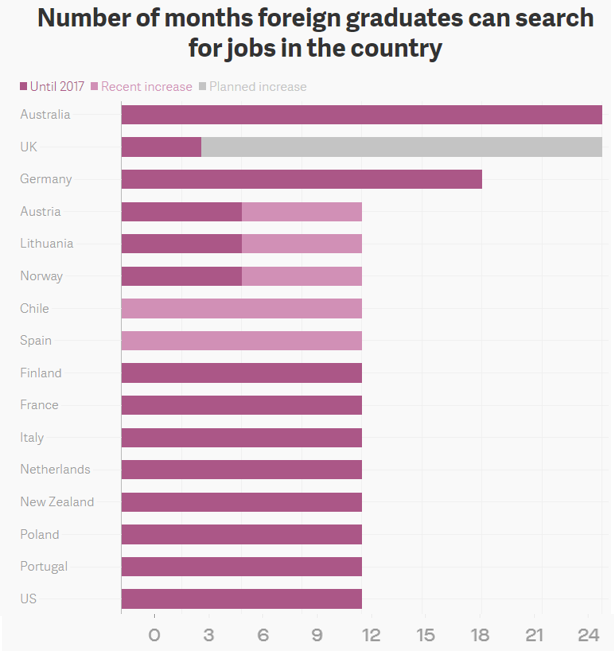 As you can see, Australia currently offers the most attractive post-study work rights in the world, at 24 months for bachelor degree students (and up to four years for post-graduates). This is around double the post-study working rights offered by most other competitor nations.
These post-study work rights are offered through Australia's Graduate (485) Visa. This visa was liberalised in 2013 to give international graduates full work rights without needing to have a job offer or being required to work in an area deemed to be experiencing perceived 'skills shortages'. The Graduate (485) Visa is also commonly perceived by international students as being a key pathway to achieving Australian permanent residency.
Not surprisingly, the attractiveness of the Graduate (485) Visa has seen numbers skyrocket to record highs: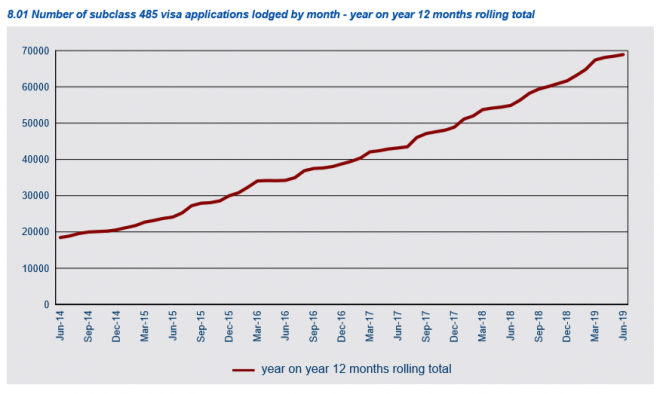 With especially strong growth experienced among Indians, whose numbers surged by 37% alone in the 2018-19 financial year: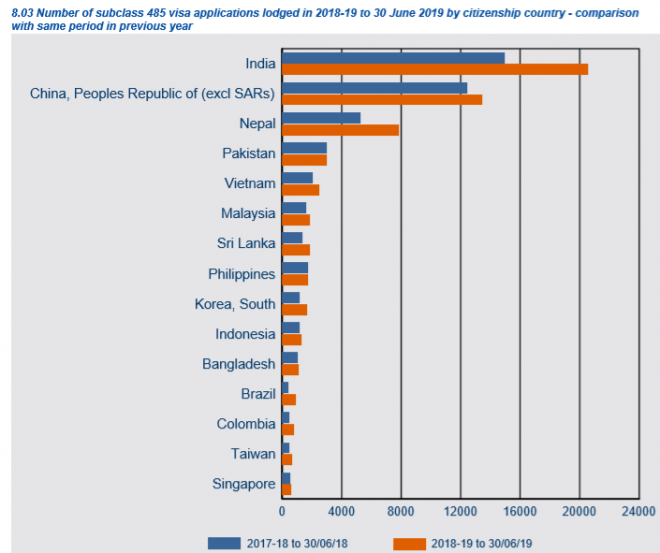 Indeed, Australia has attracted a dominant share of Indian international students on the back of its generous Graduate (485) Visa: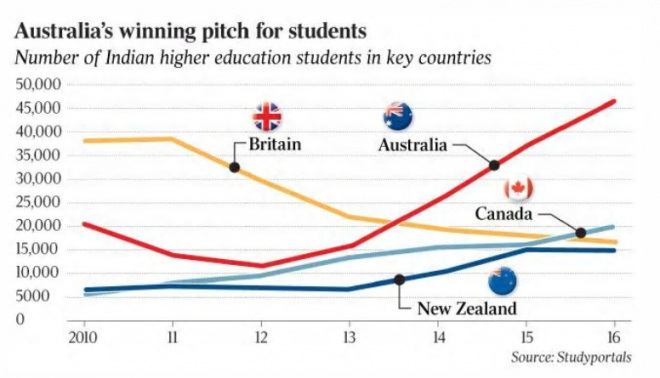 Australia's dominance is coming to an end, however, with the United Kingdom last month announcing that it would match Australia by extending post-study visas from four months to two years (as illustrated in the first chart above).
This announcement has already scared Australia's university lobby, which is concerned that the flow of international students, especially from India, could slow to a crawl:
Phil Honeywood, chief executive of the International Education Association of Australia, said Britain's reintroduction of a two-year post-study work visa "could be a game changer for a number of markets we have taken for ­granted"…

International education expert Rahul Choudaha said… "Students will be very likely to switch over to the UK"… He said the British visa would be particularly attractive to students because it offered a pathway to permanent residency.
By contrast, universities across the United Kingdom are jumping for joy, predicting a new boom in enrolments of international students:
The government's latest announcement was widely welcomed by university chiefs and representatives, who highlight that Indian students were particularly prone to make their higher education choices based on being able to gain some work experience at the end of their degree…

"The UK ranks first for international student satisfaction overall, compared to other major study destinations, but having a more attractive post-study work offer will open the UK up to even more international students"… said Vivienne Stern, Director, Universities UK International, which has been lobbying for such a visa for many years.
When viewed alongside the Morrison Government's recent 30,000 cut to Australia's permanent migrant intake, and students from India and Nepal being classified "high-risk" by the Department of Home Affairs (thus requiring greater scrutiny in visa applications), the boom in Indian international students looks like it is about to turn bust.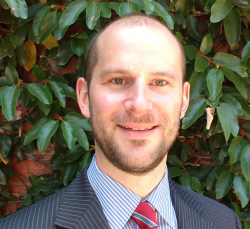 Latest posts by Unconventional Economist
(see all)