Via the EIA last night:

Brent crude oil spot prices averaged $63 per barrel (b) in September, up $4/b from August and down $16/b from the September 2018 average. Brent spot prices began September at $61/b and increased to $68/b after attacks on major Saudi Arabian oil infrastructure disrupted the country's crude oil production. However, Brent spot prices have subsequently fallen, reaching $58/b on October 4, as Saudi Arabia restored the shut-in production and concerns about oil demand based on the condition of the global economy rose.
EIA forecasts Brent spot prices will average $59/b in the fourth quarter of 2019 and then fall to $57/b by the second quarter of 2020, which is $5/b lower than forecast in the September STEO. Despite the recent increase in supply disruptions, EIA expects downward oil price pressure to emerge in the coming months as global oil inventories rise during the first half of 2020. EIA forecasts balances to tighten later in 2020 and expects Brent prices to rise to an average of $62/b in the second half of next year. The resulting forecast average price in 2020 is $60/b, $2/b lower than forecast in the September STEO. EIA's October forecast recognizes a higher level of oil supply disruption risk than previously assumed, more-than-offset by increasing uncertainty about economic and oil demand growth in the coming quarters, resulting in a lowered oil price forecast.

EIA estimates that crude oil production from the Organization of the Petroleum Exporting Countries (OPEC) averaged 28.2 million barrels per day (b/d) in September. Production was down 1.6 million b/d from August, the lowest level of OPEC production since November 2003—as a result of the disruptions in Saudi Arabia—and down 4.0 million b/d from September 2018. The decrease in OPEC crude oil production during the past year was primarily the result of falling production in Iran and Venezuela as well as the recent disruption in Saudi Arabia. However, EIA estimates that Saudi Arabia's crude oil production returned to pre-outage levels as of October 3. EIA forecasts that annual average OPEC crude oil production will average 29.8 million b/d in 2019, down by 2.1 million from 2018, and 29.6 million b/d in 2020.

EIA reported that U.S. crude oil production averaged 11.8 million b/d in July (the most recent month for which data are available), down 0.3 million b/d from June. Declining production was a result of Hurricane Barry, which disrupted crude oil production in the Gulf of Mexico. U.S. crude oil production remained relatively flat during the first seven months of 2019 because of disruptions to Gulf of Mexico platforms and slowing growth in tight oil production. The slowing rate of growth in tight oil production reflects relatively flat crude oil price levels and slowing growth in well-level productivity in the Lower 48 states. However, EIA expects growth to pick up in the fourth quarter as production returns in the Gulf of Mexico and pipelines in the Permian Basin come online to link production areas in West Texas and New Mexico to refining and export centers on the Gulf Coast. However, EIA forecasts growth to level off in 2020 because of falling crude oil prices in the first half of the year and continuing declines in well-level productivity. EIA forecasts U.S. crude oil production will average 12.3 million b/d in 2019, up 1.3 million from the 2018 level, and will rise by 0.9 million b/d in 2020 to an annual average of 13.2 million b/d.
The EIA still expects 1.3mb/d demand growth next year after just 0.8mb/d this year. It ain't going to happen. Via John Kemp: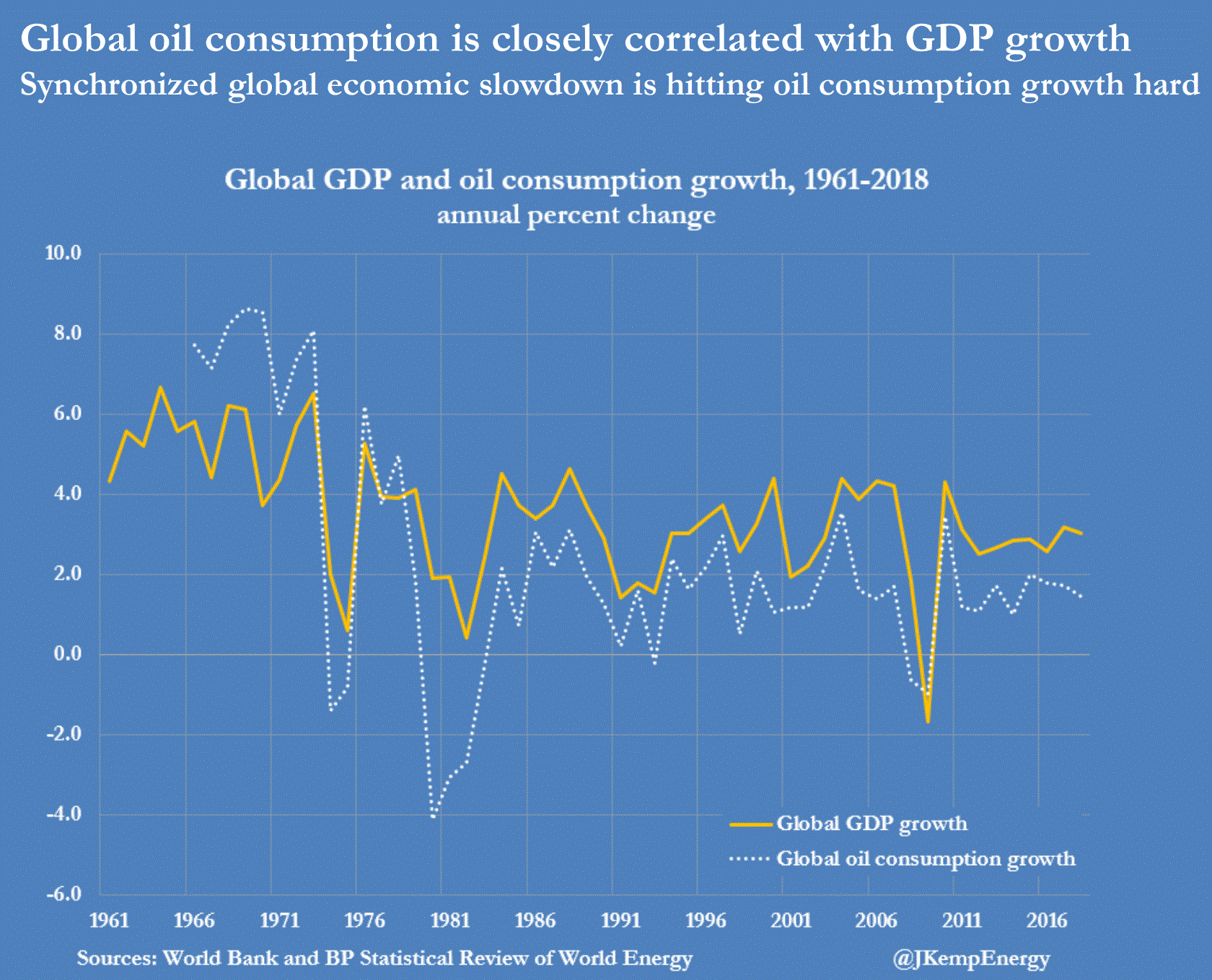 And if not then the oil market balance chart is not good: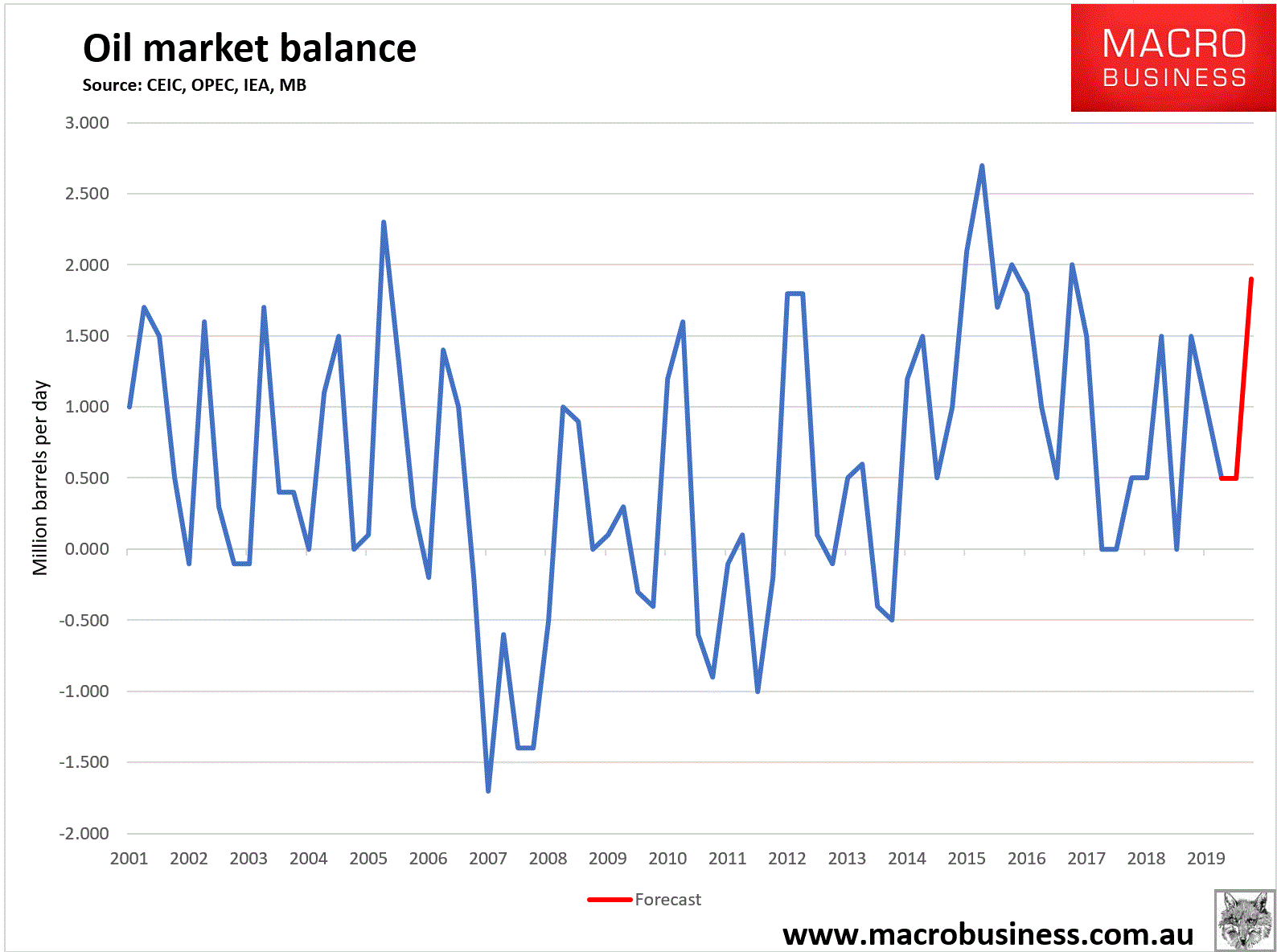 That will mean shale oil must be turned off via lower prices. It usually happens in Q4 as the world shifts into the seasonal demand weak season.
When prices crack they will take down the US junk bond market and stocks will follow, putting a safe haven bid into the USD making it all worse.
Until the Fed comes in.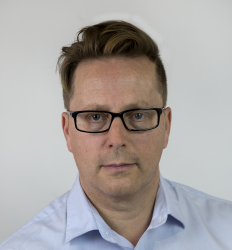 Latest posts by David Llewellyn-Smith
(see all)