SQM Research has released its stock on market report for September, which posted an abnormally large 4.0% decline in listings over the month and a 6.9% decrease in listings over the year:
Listings fell across all markets over September, whereas over the year listings fell everywhere except Canberra and Hobart.
According to Louis Christopher, the property boom is back in Sydney and Melbourne:
September's decline in listings was an abnormal result. Listings normally rise for the first month of the spring selling season. New listings did rise. It just that older listings recorded a large decline. It suggests stock is being absorbed at a quicker rate.

Turning to Sydney, the evidence, by way of the fall in listings, the rise in auction clearance rates and the accelerated rise in asking prices, all suggest that the city has indeed entered into a new housing boom. Melbourne is not that far behind the mark as well. I think we can expect to record rapid rises in dwelling prices for our two largest cities at least in the December quarter and likely beyond.
The strong rise in auction clearance rates backs up this view, albeit on thin volumes: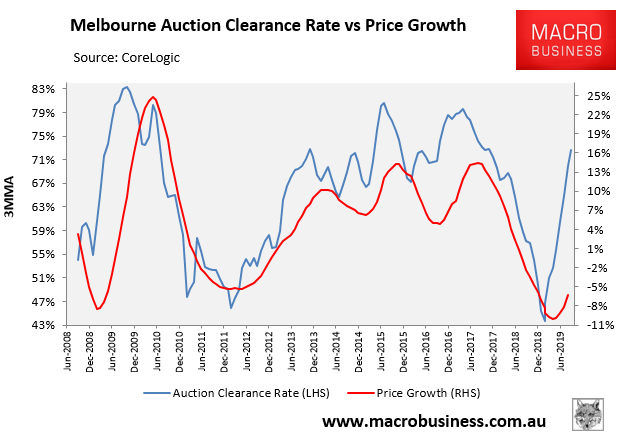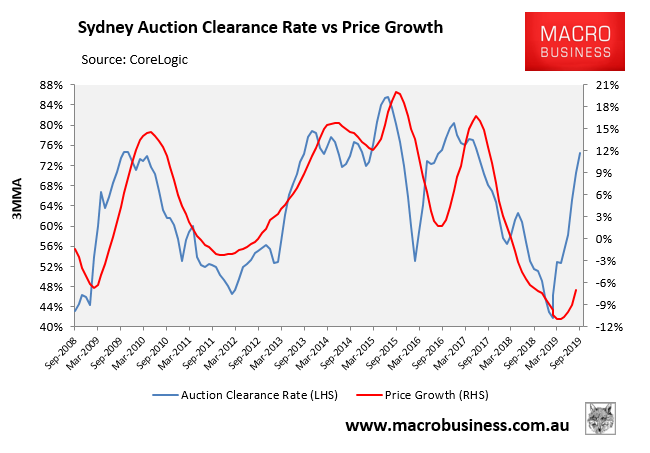 Leith van Onselen is Chief Economist at the MB Fund and MB Super. Leith has previously worked at the Australian Treasury, Victorian Treasury and Goldman Sachs.
Latest posts by Leith van Onselen (see all)