Reserve Bank of Australia (RBA) governor, Philip Lowe, has told an International Monetary Fund meeting in Washington that the Australian economy appears to be on track to return to its trend growth rate in 2020, which should put downward pressure on the unemployment rate and gradually boost wages. From The Australian:
"I don't think it's the right assumption to make that we're going to have a lot more work to do to get inflation back to target and growth back to trend," Dr Lowe said.

"I think it's quite probable that we'll see a return to trend growth over the next year, which will be good.

"Which will help get the unemployment rate down and gradually wages will pick up," Dr Lowe said…

The governor, who is visiting the IMF for its annual meeting and a Group of 20 finance minister's gathering, went on to list a range of positive recent developments, including a rebound in the resources sector, tax cuts and a turnaround in the housing market.

"Actually, the economy has been through a soft patch over the last year but it's actually gradually improving," he said.
Of course, this forecast should be considered very low reliability, given the RBA's atrocious record on wages: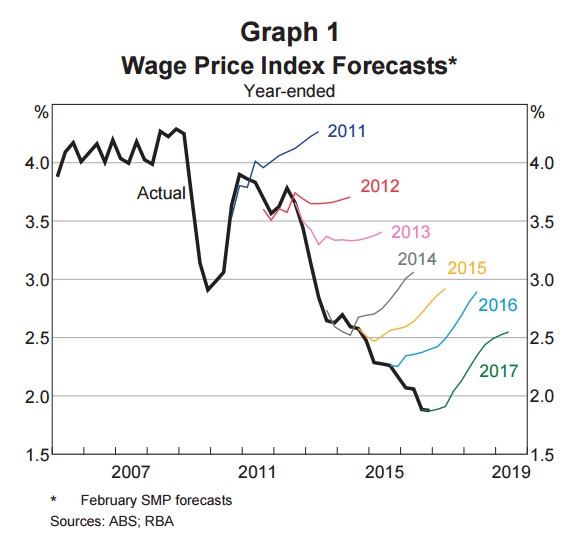 Australia's real final demand is already slowing fast, growing by just 1.7% in the year to June in seasonally adjusted terms: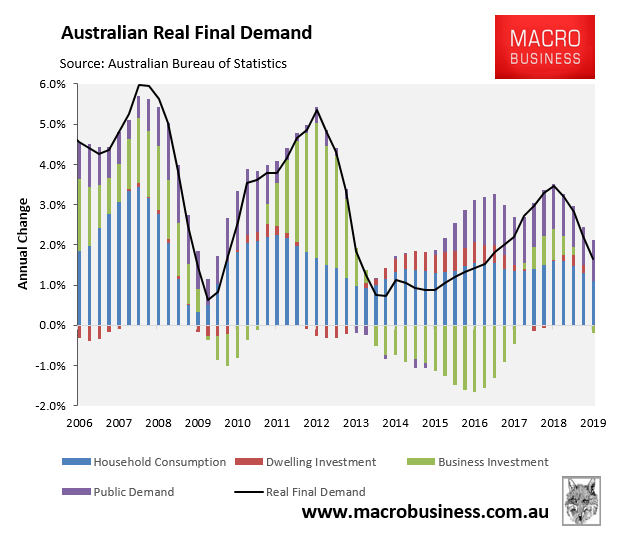 Dwelling investment will fall heavily over the next two years, subtracting from overall growth, and this will likely be only partly offset by business investment.
Public demand – currently Australia's major growth driver – will slow sharply as the NDIS and NBN move past peak spending.
Meanwhile, household consumption spending will remain soft, weighed down by record household debt: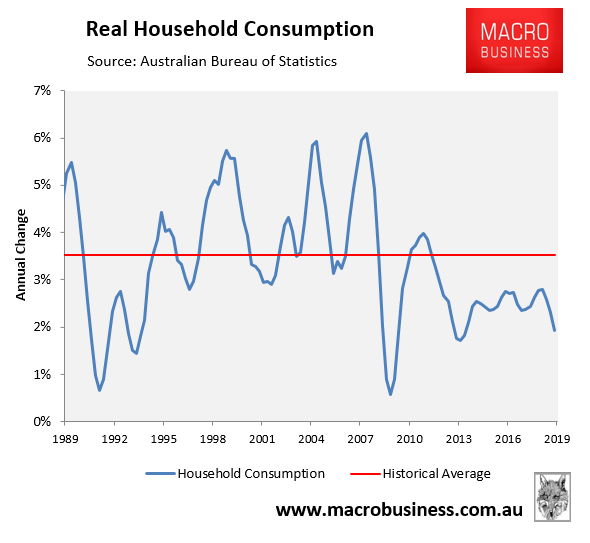 The upshot is that real final domestic demand is likely to keep falling towards 1% over the next year, levels consistent with 2014/15. And this will comes at the same time as the recent commodity price (terms-of-trade) boom unwinds: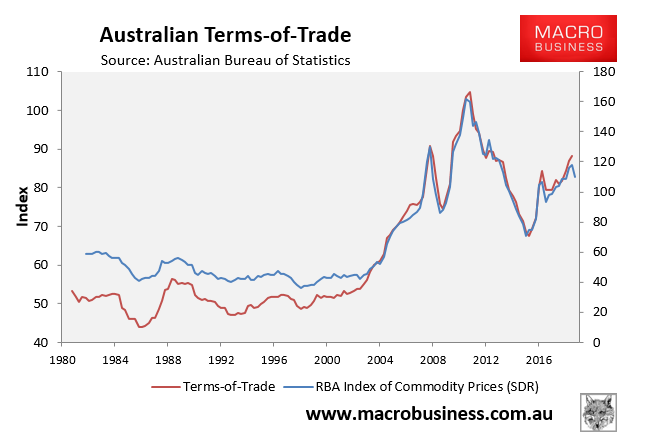 The outlook, therefore, is for increased unemployment and lower wage growth.
We discussed these in detail in our Q3 Members' Report, which was released at the beginning of this month.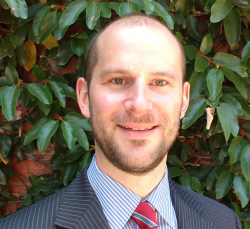 Latest posts by Leith van Onselen
(see all)