Last month, the ACT Legislative Assembly passed laws legalising the recreational use of marijuana, which will allow residents aged over 18 to possess up to 50 grams and grow two plants from next year.
This has garnered a strong backlash from the federal government, which labelled the legislation "dangerous" and has threatened to block the laws.
Yesterday, the ACT Government has fired a direct shot across the bow of the federal government, telling it to butt out of its affairs. From The ABC:
Federal Attorney-General Christian Porter is still weighing up a response to the legislation, which his office only saw in full this week.

The ACT Government sent two letters about the laws to the Commonwealth yesterday. The first, from ACT Attorney-General Gordon Ramsay, warned Mr Porter against any challenge to the legislation.

"The Act has been passed by the ACT Legislative Assembly as a self-governing body with the authority to make laws for people of the ACT," Mr Ramsay wrote.

"I reiterate my previous advice that this legislation expresses the will of the ACT people and convey my deep concern should the Commonwealth seek in any way to overrule and intervene in the democratic processes of the ACT"…

He also said federal authorities should spent their time addressing matters more serious than simple cannabis possession.

"I trust that the time and resources of our federal police and courts will not be wasted pursuing individual cannabis users who are acting in accordance with ACT law," Mr Ramsay wrote…
The ACT is simply following in the footsteps of several other Anglosphere nations, which have already legalised the recreational use of marijuana. These include eleven state across the United States and Canada.
The Australian Drug Law Reform Foundation has also thrown its support behind legalising marijuana:
Cannabis arrests have accounted for the largest proportion of illicit drug arrests in Australia. In 2015-16, of the two million Australians who use cannabis every year there were almost 80,000 cannabis arrests…

Of these arrests, the overwhelming majority (90 per cent) were consumers while the remainder (10 per cent) were providers. Yet in 2017, 92 per cent of drug users reported in a national survey that obtaining hydroponic cannabis was "easy" or "very easy" while 75 per cent reported obtaining bush cannabis was "easy" or "very easy"…

Drug policy has surprisingly little effect, if any, on consumption patterns but does produce serious harm…

A study comparing residents of more liberal Amsterdam and more punitive San Francisco using the same methodology found less illicit drug use (including cannabis) in Amsterdam and a far greater likelihood that San Francisco residents were also offered heroin, cocaine or amphetamine on the most recent occasion of trying to buy cannabis…
Interestingly, there is also growing public acceptance of marijuana, with new polling from Roy Morgan showing that 42% of Australians now support legalisation of marijuana, up 9% points in just four years: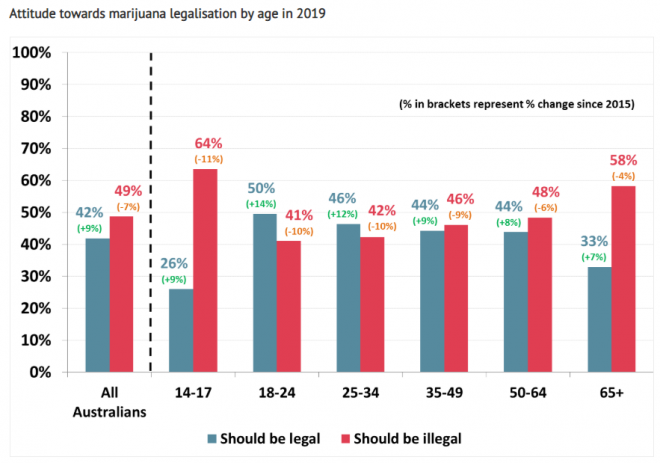 Logically, there is no good reason to prohibit marijuana use when consuming both alcohol and tobacco – both arguably worse substances – are permitted.
Australia's court system and jails should be reserved for genuine criminals.
Latest posts by Leith van Onselen (see all)