As reported last week, via SCMP:
A building frenzy in southern China's answer to Silicon Valley has driven the vacancy in Grade A offices to a record high, putting the squeeze on part-time developers whose blind inexperience have led them into the industry.

A record 1.79 million square metres (19.27 million sq ft) of vacancy, equivalent to 10 of Hong Kong's IFC towers, stood in Shenzhen at the end of June, requiring about two years to fill up, according to the real estate consultancy CBRE. Half of that empty space lies in Nanshan district, home to such Chinese technology behemoths as Tencent, ZTE, and drone maker DJI.

Hubris and herd mentality added hot air to the bubble, as companies invested cash earned from elsewhere into property, in the belief that they too could profit from China's economic growth.
Only four of the 15 builders of Shenzhen's new office towers this year are major developers, while the majority are small builders, investment companies or conglomerates in manufacturing, health care, logistics and retailing.

"Some cash-rich companies from other industries have blindly joined the real estate sector, expecting to earn big bucks," said Yan Yuejin, a research director at Shanghai-based E-House China R&D Institute.

"These are the companies who will suffer the most when the market turns south, as they are not familiar with the products and rules of the real estate industry, and they cannot come up with solutions quickly enough."

Shenzhen's vacancy rate rose to a record 16.6 per cent in the second quarter, up from 15 per cent in the first three months, as take-up slowed with the deteriorating US-China trade war, as start-ups are increasingly ditching their space in staid office towers for hip co-working spaces. Nanshan was the worst affected, with vacancy standing at 20.3 per cent, or 883,126 square metres, in the second quarter.

At the same time, a crackdown on peer-to-peer lenders, unlicensed wealth managers, mezzanine financiers and other forms of errant financial services booted many of these companies out of Grade A offices.

"The trade war is creating the biggest concern for investors and enterprises, and most have held off their expansion plans," said Ivan Ching, head of advisory and transaction services for offices in south China at CBRE. "Some small companies, asset management firms in particular, have started to scale back."

The glut is visible in other China's largest cities, with Beijing's vacancy rate of Grade A offices rising to an eight-year high of 11.5 per cent, according to Colliers' data.

That rate may increase to 15.1 per cent by the end of 2019, as investments by venture capital and private equity investments in technology continue to cool while the country's economy grew 6.2 per cent, the slowest quarterly rate since records began in 1992.

…In Shanghai, the vacancy rate of Grade A offices has jumped by 4.4 percentage points to a decade-high of 18 per cent during the end of the first half, according to CBRE data. Only 140,000 square metres of new office space found tenants, 20 per cent of the take-up a year earlier, the data showed.
More from the FT:
China's office market is suffering from decade-high vacancy rates, according to two leading commercial property companies, as weakening demand, a slowing economy and oversupply drag on the market.

The vacancy rate across the office market in 17 major cities monitored by commercial property group CBRE stood at 21.5 per cent in the third quarter of this year, a level of under-occupation last seen during the financial crisis.

Among the top grade of offices, mainland China vacancy rates were at 20 per cent in the third quarter, according to property consultancy Cushman & Wakefield, which looked at the market in 18 cities. In the same quarter last year, the vacancy rate was 16.7 per cent.

The rise was mainly due to a drying up of demand, rather than oversupply, said Catherine Chen, Cushman & Wakefield's head of forecasting and capital markets research for Greater China.
And Bloomberg:
China's office market is being buffeted by a confluence of forces, driving vacancy rates to the highest among global business centers. Overseas companies are waiting for an end to hostilities in the U.S. trade war before committing to new leases; skyscrapers built during the boom years are unleashing a wave of supply; and cost-conscious tenants are moving to cheaper buildings as the economy slows.
This is where the trade war rubber starts to hit the road for Australia. Office represents roughly 6% of Chinese floor space under construction: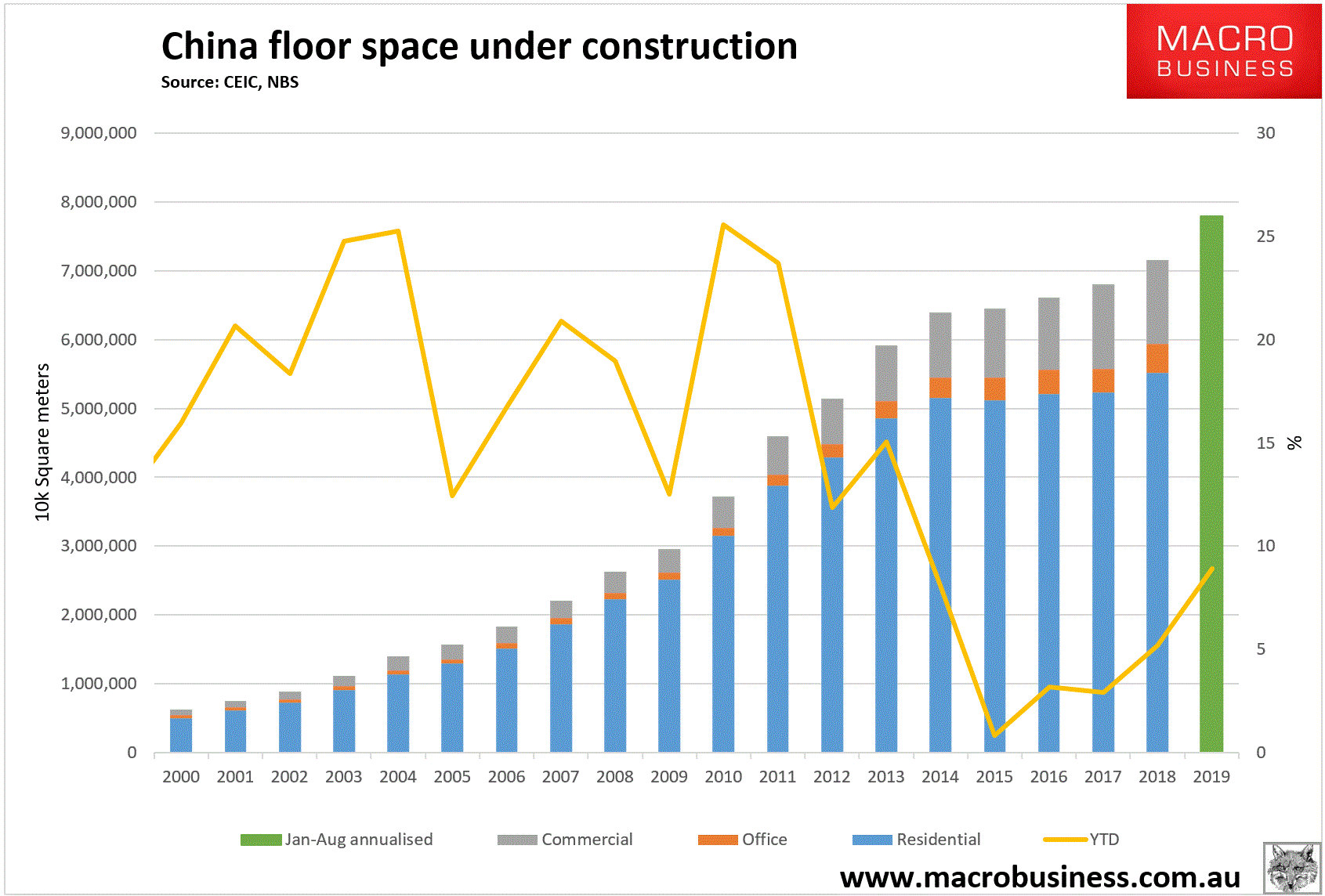 With commercial and residential also under pressure, it's not long before steel output begins to fall from such lofty levels.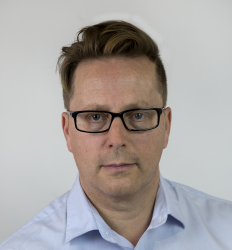 Latest posts by David Llewellyn-Smith
(see all)