It's amazing watching the idiotic non-solutions emerge for Australia's hyper immigration-fuelled population growth.
With Melbourne's population already having increased by around 1.6 million people this century, and projected to balloon by another 5.2 million people over the next 48 years: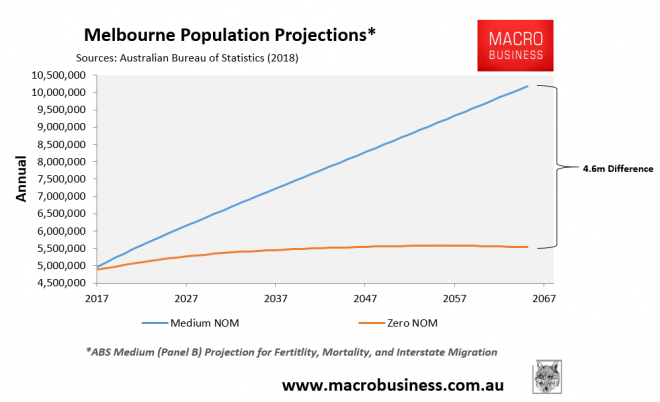 University academics have proposed the hilariously stupid plan of building a series or regional cities the size of Canberra around Melbourne to ease the population crush:
Victoria needs to build a series of new cities housing up to 400,000 people each to offset Melbourne's population crush.

The ring of cities — 100-250km from the CBD — would be built from scratch on greenfield sites…

The ambitious 20-year proposal, outlined in a plan from experts at three of Victoria's top universities, would zero in on locations with existing rail infrastructure that could eventually be upgraded to run high-speed trains.

Around six new cities, which would each have a population of at least 100,000 people, could be eventually be filled over the two decades based on Melbourne's population growth…

"Victorians will be attracted to them because they will offer new employment opportunities, new housing opportunities, and different sorts of living arrangements — as well as being hyperconnected to Melbourne,'' [RMIT University deputy pro vice-chancellor Ralph Horne] said…

"Given the time frame over which Victoria's population is growing, and current building rates, it is prudent to plan for 20-year time frames to establish sustainable new centres," the report said…
Academics and urban planners are always the first to complain about 'urban sprawl', saying it is both environmentally destructive and inefficient. Yet, here are these same hypocrites proposing that we chew up the countryside so that Melbourne can sprawl into a series a far-flung commuter towns.
Prevention is always better than a cure. Instead of proposing to spend possibly trillions of dollars on new commuter towns, why not simply propose slashing immigration to historical levels? This would prevent the population pressures from occurring, spare Australia's delicate ecology from over-development, and save trillions of dollars in housing and infrastructure malinvestment.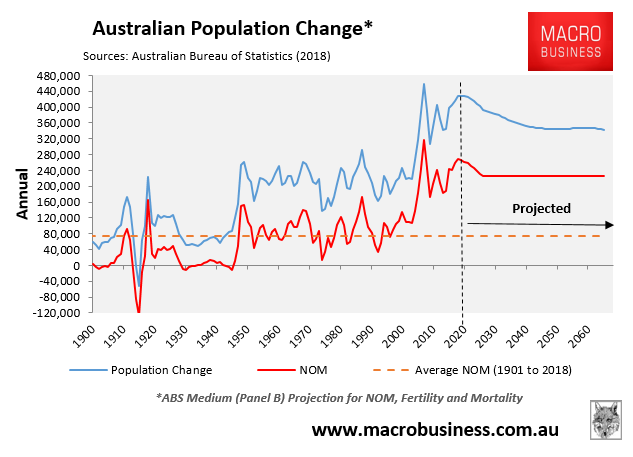 Cutting immigration can also be done with the stroke of a pen by the federal government. It's easy and by far the lowest cost option to maintain living standards.
Latest posts by Leith van Onselen (see all)